B.Tech. Mechanical Engineering - Course Details, Eligibility, Entrance Exam, Top Colleges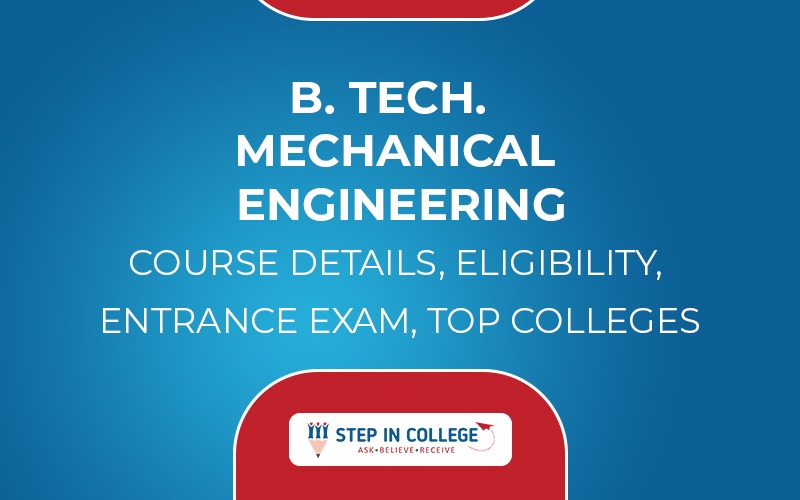 Published by : Step in college
BTech Mechanical Engineering is a degree course with 4 years in undergraduate engineering. The students are trained to become mechanical engineers through this course. One of the traditional areas of engineering that has also played a crucial role in the industrialization of the human race is mechanical engineering. B.Tech in Mechanical Engineering is basically a four-year full-time course offered at many of the nation's engineering institutes, including IITs, NITs, etc. Students in mechanical engineering are educated during the course to create machine designs, to consider their operating and production processes.
B. Tech. Mechanical Engineering Course Details, Eligibility, Syllabus, Entrance Exam, Top Colleges | StepInCollege
One of the oldest engineering fields is BTech Mechanical Engineering. Mechanical engineering is the science that shapes the Engineering, Physics and Materials Science concepts for mechanical systems design, research, manufacturing and maintenance. It is the engineering division that includes design, manufacturing, machinery operation with core areas such as mechanics, kinematics, thermodynamics, material science, structural analysis, electricity, etc.
B.Tech Mechanical Engineering Eligibility Criteria: In order to be eligible for entry into the mechanical engineering program of B.Tech, the candidates have -
To be qualified by a recognized Board 10+2.
In the qualifying test, an aggregate score of 60 percent or above.
To study physics, chemistry, and mathematics at the compulsory qualification stage.
If they belong to the reserved groups, secure at least 55% or above in aggregate.
B.Tech Mechanical Engineering Entrance Exam
JEE Main
WBJEE
BITSAT
SRMJEEE
COMEDK UGET
B.Tech - Mechanical Engineering Syllabus
First Year: English, Physics, Chemistry, Mathematics, Engineering Materials, Engineering Graphics, Environmental Studies, Electronics & Instrumentation, Modern Biology, Electrical Technology, Engineering Mechanics, Value Education & HR, Introduction to Information Technology, Workshops, Practical Sessions
Second Year: Applied Thermodynamics, Mechanics of Solids, Theory of Machines, Mathematics, Fluid Mechanics, Numerical & Statistical Methods, Dynamics of Machinery, Electrical Machines & Control, Kinematics, Manufacturing Processes, Metrology & Instrumentation, Industrial Drafting & Machine Design, Material Technology, Workshops, Practical Sessions
Third Year: Heat and Mass Transfer, Production Technology, Advanced Mechanical Engineering Design, Industrial Engineering & Management, Internal Combustion Engines, Mechanical Vibration, Computer-Aided Design (CAD), Advanced Solid Mechanics, Power Plant Engineering, Control Engineering, Thermal Engineering, Law for Engineers, Mini Project, Workshops, Practical Sessions
Fourth Year: Measurement & Instrumentation, Energy Conservation, Waste Heat Utilisation, Fracture Mechanics, Ergonomics, Maintenance Engineering, Mechanical Handling Equipment, Utilization of Non-Conventional Energy, Operations Research, Production & Industrial Management, Organizational Behaviour, Project Work, Summer Training, Workshops, Practical Sessions
B.Tech - Mechanical Engineering Top Colleges
Sikkim Manipal Institute of Technology
Indian Institute of Technology (IIT), Bombay
Amity School of Engineering and Technology, Noida
K J Somaiya College of Engineering, Mumbai
Parul University, Vadodara
B.Tech - Mechanical Engineering Career Options and Job Prospects: Automotive and Manufacturing Industries give mechanical engineering graduates a multitude of possibilities, more so because the need for machines and human labor automation has risen exponentially with the rapid industrial revolution. There are also many foreign manufacturing firms that have ventured to India with the intention of expanding their business. After appearing in the GATE test, mechanical engineering graduates can either go for higher studies such as M.Tech and Ph.D. or can compete for the government sector and PSU jobs as well. The following are some of the famous businesses that employ mechanical engineers:
Hindustan Petroleum Corporation Limited (HPCL)
Thyssen Krupp
Larsen & Toubro (L&T)
Oil and Natural Gas Corporation Limited (ONGC)
National Thermal Power Corporation Limited (NTPC)
Godrej Group
National Aluminium Company Ltd. (NALCO)
Tata Group