B.Tech. Electrical Engineering details - Entrance Exam, Top Colleges, Job Prospects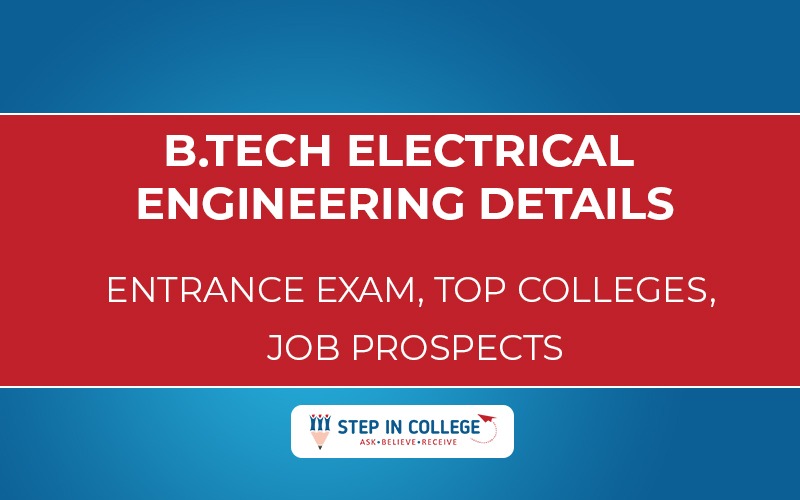 Published by : Step in college
The two most significant sectors of any nation are power generation and power plant management. The most critical aspect of people's lives and for the nation's growth is strength and energy. There is also a tremendous need in the country for proficient electrical engineers. Since there are sufficient jobs available in this sector, one of the most common courses among engineering applicants is BTech in Electrical Engineering.
B.Tech Electrical Engineering details, Eligibility, Syllabus, Entrance Exam, Top Colleges, Job Prospects | Stepincollege
The course trains candidates to understand the structures, processes, and devices that are critical to the development of electricity. There are different industries and businesses that have a market for electrical engineers. The ones listed above are India's top electrical engineering recruiters. Recruitment for organizations such as Indian Railways, Coal India Limited, ISRO, NDMC, and others are carried out on the basis of a written test and interview.
B.Tech Electrical Engineering Eligibility Criteria
Applicants must have passed Class 12 with a mark of at least 50 percent.
Applicants must have studied physics, chemistry, and mathematics as main subjects in the 12th year.
In Electrical Engineering, there is no overall age limit to apply for BTech.
BTech Electrical Engineering Entrance Exam
JEE Main
JEE Advanced
VITEEE
BITSAT
WBJEE
B.Tech in Electrical Engineering Top Institutes/Colleges
Indian Institute of Technology Mumbai
Indian Institute of Technology Delhi
Indian Institute of Technology Banaras Hindu University Varanasi
Indian Institute of Technology Hyderabad
Indian Institute of Technology Indore
Delhi Technological University
Malaviya National Institute of Technology Jaipur
Maulana Azad National Institute of Technology Bhopal
Motilal Nehru National Institute of Technology Allahabad Prayagraj
National Institute of Technology Agartala
National Institute of Technology Arunachal Pradesh
Dr. B R Ambedkar National Institute of Technology Jalandhar
BTech Electrical Engineering Syllabus
Semester I: Communicative English I, Calculus, Matrix Algebra, Physics/Chemistry, Electrical Engineering, Engineering Mechanics / Introduction to Thermodynamics, Computer Programming, Engineering Drawing I, Workshop A / Workshop B, Physics Lab / Chemistry Lab, Cultural Education, Computer Programming Lab.
Semester II: Humanities Elective I, Vector Calculus and Ordinary Differential Equations, Chemistry/Physics, Electronics Engineering, Engineering Mechanics / Introduction to Thermodynamics, Object-Oriented Programming, Engineering Drawing II, Workshop B / Workshop A, Chemistry Lab. / Physics Lab, Cultural Education, Object-Oriented Programming Lab.
Semester III: Integral Transforms and Complex Analysis, Digital Systems, Electric Circuits, Mechanical Engineering, Humanities Elective I, Science Elective I, Electric Circuits Lab, Simulation Lab, and Electrical Workshop.
Semester IV: Mathematical Statistics and Numerical Methods, Electrical Machines I, Electrical Measurements and Instrumentation, Electromagnetic Theory, Humanities Elective II, Science Elective II, Measurements and Digital Circuits Lab, Electrical Machines Lab I, SOFT SKILLS I.
Semester V: Introduction to Microcontrollers and Applications, Microprocessors,
Electronic Circuits II, Analog Communication, Control Engineering, Electronic Circuits Lab II, Microcontroller Lab, SOFT SKILLS II.
Semester VI: VLSI Design, Transmission Lines and Radiating Systems, Digital Communication, Elective I, Environmental Studies, Digital Communication Lab, Seminar, VLSI Design Lab, SOFT SKILLS III.
Semester VII: Power System Protection and Switchgear, Environmental Studies, Electrical Drives, and Control, Elective II, Elective III, Power System Simulation Lab, Principles of Management, Power Electronics Lab.
Semester VIII: Elective IV, Project, Management Elective.
BTech Electrical Engineering Job Prospects: The career growth in electrical engineering in India is splendid. Some of the electrical engineers are also eligible, supervising a team of engineers or technicians, technical managers or program managers, and much more, to reach management positions.
Study and postgraduate programs in the field of electrical engineering have to be followed by applicants who want to go to higher positions. After B.Tech in Electrical Engineering, electrical engineers will look for the following profiles:
Electrical Engineer
Electrical Sales Engineer
Engineering Associate
Professor/ Lecturer
Electrical Design Engineer
Staff Electrical Engineer