B.Tech. Biotechnology - Course Details, Syllabus, Entrance Exam, Top Colleges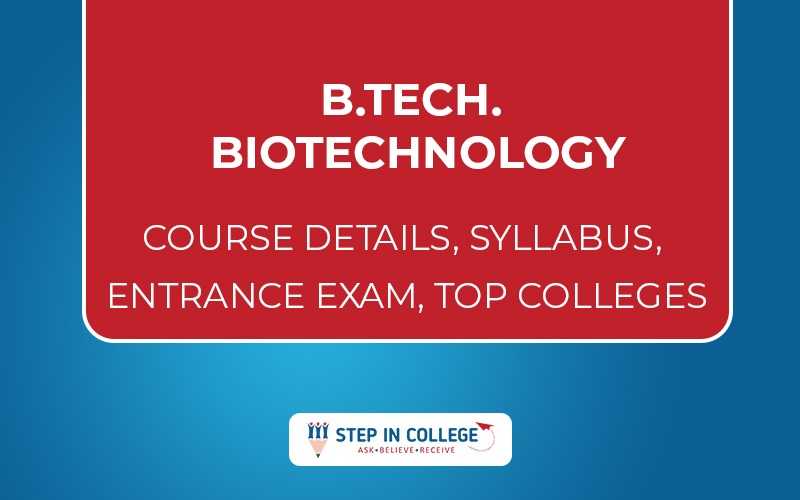 Published by : Step in college
BTech Biotechnology is a bachelor's degree program for 4 years at the undergraduate level. Biotechnology engineering is the study and study of living beings in micro-organisms, bio-organisms, and cell functions. It is actually a mixture of biological science and technology. The field of chemical engineering and applied biology that integrates the use of living things in technology, medicine, engineering, and other essential applications, is biotechnology engineering.
B.Tech. Biotechnology Course Details, Eligibility, Syllabus, Entrance Exam, Top Colleges | StepInCollege
Biotechnology engineering is an applied science undergraduate degree program that fuses facts from both biological sciences and technology. The biological processes involving the analysis of microorganisms or knowledge of antibiotics are used in this study and further applied for different industrial purposes.
BTech Biotechnology Eligibility Criteria: For the applicants who want to go for Biotechnology Engineering, the qualifying requirements are as follows:
He/she should have had 10+2 cleared.
The compulsory subjects must be Physics, Chemistry, and Biology.
Mathematics is also regarded by few institutes as a compulsory subject.
BTech Biotechnology Entrance Exam
JEE Main
JEE Advanced
WBJEE
MHT CET
UPSEE
SRMJEEE
BITSAT
COMEDK
BTech Biotechnology Syllabus
Semester 1: English, Physics, Chemistry, Mathematics I, Engineering Mechanics, Personality Development I, NCC / NSS / NSO & YOGA (Elective), Physics Lab, Chemistry Lab, Engineering Graphics, Workshop Practice
Semester 2: Value Education, Principles of Environmental Science, Electronic Devices, Basics of C programming, Mathematics II, Personality Development II, Computer Lab, Workshop Practice, Electronic Devices Lab, Electrical Machines Lab, Materials Science,
Semester 3: German or Japanese or French Language I, Mathematics III, Fluid Mechanics, Basic Biochemistry, Digital Systems, Circuits & Networks, Personality Development III, Electric and Electronic Circuits Lab, Fluid Mechanics Lab, Digital Systems Lab
Semester 4: German or Japanese or French Language II, Probability and Random Process, Sensors and Measuring Techniques, Basic Human Anatomy and Physiology, Linear Integrated Circuits, Bio Analytical Techniques, Signals and Systems, Biochemistry Lab, Linear Integrated Circuits Lab, Sensors and Measurements Lab
Semester 5: Engineering Economics and Management, Control Systems, Principles of Communication Engineering, Introduction to Medical Physics, Microprocessors and Microcontrollers, Biomedical Instrumentation, Personality Development IV, Biomedical Instrumentation Lab, Industrial Training I, Microprocessor and Microcontroller Lab, Comprehension I
Semester 6: Medical Imaging Techniques, Bio-Signal Processing I, Basic Pathology and Basic Microbiology, Biomaterials and Artificial Organs, Diagnostic Ultrasound in Medicine, Elective- I, Bio- Signal Processing Lab, Pathology and Microbiology Lab, Comprehension II, Personality Development V, Computer skills,
Semester 7: Medical Image Processing, Diagnostic and Therapeutic Equipment, Virtual Instrumentation, Elective III Elective II, Medical Image Processing Lab, Virtual Instrumentation Lab, Industrial Training II
Semester 8: Elective IV, Elective V, Project Work, Advanced Biochemistry Bio-Signal Processing II, Elective VI, Advanced Medical Physics
BTech Biotechnology Top Colleges
Indian Institute of Technology, [IIT] Kharagpur
Indian Institute of Technology, [IIT] Roorkee
Indian Institute of Technology, [IIT] Guwahati
National Institute of Technology, [NIT] Warangal
Netaji Subhas Institute of Technology, [NSIT] New Delhi
P.S.G College of Technology, [PSGCT] Coimbatore
Manipal Institute of Technology, [MIT] Manipal
Vellore Insitute of Technology, [VIT] Vellore
National Institute of Technology, [NIT] Durgapur
BMS College of Engineering, Bangalore
BTech Biotechnology Career Options and Job Prospects: There are many career openings in the field of biotechnological engineering. Graduates of biotechnology engineering are given a good number of jobs by several environmental agencies, healthcare providers, pharmaceutical firms, drug and vaccine companies, etc. In order to develop new products, biotechnology engineers deal with duties such as making use of biological systems. They also work and help in various investigations at universities or industrial laboratories. Every year, companies such as Samsung Healthcare, Stryker, Toshiba Medical Systems, Drager, etc. hire biotechnology engineers, and only in recent years has the scope for biotechnology students expanded. Some of the roles/positions in the job are:
Research Assistant
Technical Assistants
Scientists