B. Tech. Electronics & Communication Engineering: Course details, Top Colleges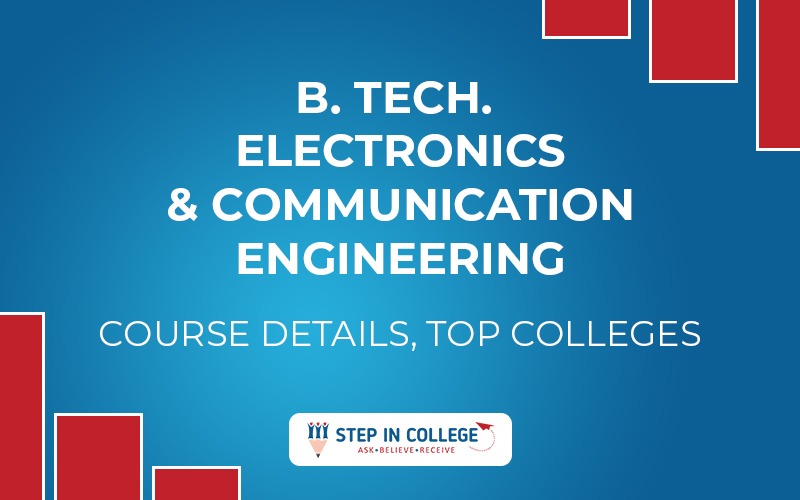 Published by : Step in college
B Tech ECE (Electronics and Communications Engineering) is a 4-year undergraduate program. A course in B can be followed by candidates who have passed 12th or any equivalent degree in any Science stream. ECE Tech (Electronics and Communications Engineering). It is based on electronics research, design, development and testing across different systems.
B. Tech. Electronics & Communication Engineering Course details, Eligibility, Syllabus, Entrance Exam, Top Colleges, Job Prospects | Stepincollege
An understanding of analog transmission, basic electronics, solid state devices, microprocessors, digital and analog communication, analog integrated circuits, satellite communication, microwave engineering, antenna and wave progression are key topics.
B.Tech ECE (Electronics and Communications Engineering) Eligibility Criteria
Applicants must have completed a 12th or equivalent degree from a recognized institution/board.
The candidate must have chosen Mathematics and Physics as the main subjects in Class 12, along with Chemistry/Biology/Biotechnology as one of the optional subjects.
In the qualifying examination, the candidate must have obtained a minimum aggregate of 60 percent (55 percent for the reserved candidates).
Applicants attending the final examination or waiting for the final result may also apply for admission to the BTech ECE (Electronics and Communications Engineering) programme.
BTech ECE Entrance Exams
JEE Main: Examination at national level to secure a seat at the prestigious institutes of India. Physics, Chemistry, and Mathematics are the skills tested in this exam. It is conducted in the month of April.
JEE Advanced: It is for students who want to receive admission to IITs and clear the JEE Main. The questions are from Physics, Chemistry, and Mathematics in this exam. In the month of May, it is carried out.
VITEEE: VIT University conducts it.
BITSAT: BITS Pilani conducts entrance exams across the country to secure admission to its campus.
SRMJEE: It is a common entrance test that is accepted by all four SRM Group campuses.
B.Tech ECE (Electronics and Communications Engineering) Syllabus:
Semester I: Network Synthesis and Analysis, Chemistry, Mathematics, Electrical Engineering,
Fields and Waves, Electromechanical Energy Conversion, Practical
Semester II: Data Structures, Mathematics, Techniques of Computation, Hardware Design, Antenna and Wave Propagation, Basic Engineering, Workshop
Semester III: Mathematics, Signals, Digital Communication, Analog Communication, Satellite Communication
Semester IV: Microprocessor, Analog Transmission, Wave Progression, Microwave Engineering,Digital Electronics
Semester V: Advanced Electronics and Communication Engineering, Sociology, Economics, Communication Management
Semester VI: Open Elective I, Signals and Systems, Digital Transmission, Practical
Semester VII: Open Elective II, Open Elective III, Signal Processing and Management, Electronics, measurement and instrumentation, Practical
Semester VIII: Open Elective IV, Open Elective V, Practical, Project, Internship

IIT Delhi, New DelhiB.Tech ECE Top Colleges
IIT Kharagpur, Kharagpur
IIT Kanpur, Kanpur
NIT Trichy, Tiruchirappalli
IIT BHU, Varanasi
BITS Hyderabad, Hyderabad
Chandigarh University, Chandigarh
Amity School of Engineering and Technology, Noida
The Neotia University, Kolkata
B.Tech ECE Career Options and Job Prospects: Candidates can opt for different career opportunities and job prospects after completing a course in BTech ECE. Applicants who have completed a BTech ECE (Electronics and Communications Engineering) degree can apply to either a government-based or a private industry. Software Engineer, Network Designer, Application Developer, Web Developer, Hardware Engineer, CAD Engineer, Communication Manager, etc. are the different job choices that candidates may dismiss after studying BTech ECE (Electronics and Communications Engineering). A applicant for BTech ECE (Electronics and Communications Engineering) has a starting salary ranging from INR 3 to 6 LPA.