BBA in Hotel Management Course details: Entrance Exam, Top Colleges, Job Prospects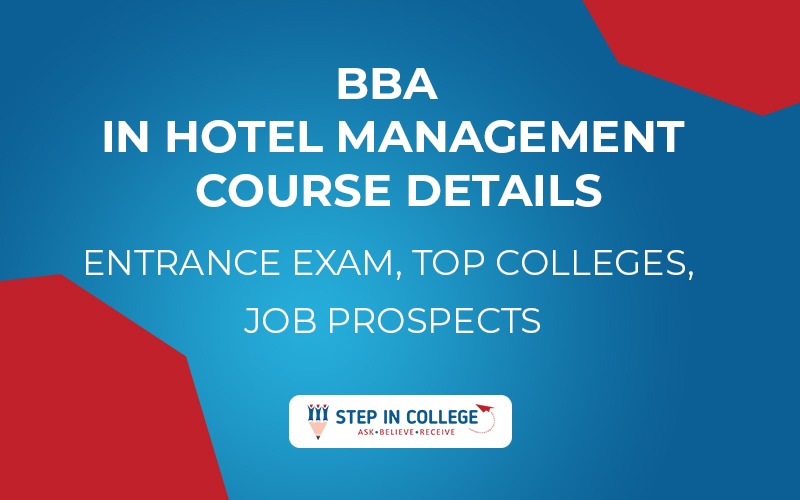 Published by : Step in college
Bachelor of Business Administration in Hotel Management is an Undergraduate 3 years Course. Management of hotels involves managing activities and processes within a resort, hotel, club, or any other industry of hotel management. BBA in Hotel Management provides students with the necessary skills and knowledge for food and beverage services operations, front office operations, food production, housekeeping, and catering services. In addition, the three-year hotel management undergraduate program will also cover subjects related to the management of human resources, financial management, sales and marketing, hotel and catering management, and property management.
BBA in Hotel Management Course details, Eligibility, Syllabus, Entrance Exam, Top Colleges, Job Prospects | Stepincollege
Applicants who are interested in a hotel management career may opt for a BBA in Hotel Management. However, in order to apply for admission, they are required to satisfy all the admission requirements decided upon by the college.
BBA in Hotel Management Eligibility Criteria
From any recognized board, they must have cleared 12th.
The minimum percentage required for BBA admission to Hotel Management will vary from 45% to 50%. Candidates are advised to check the respective college's official website to know the exact percentage limit for admission.
BBA Hotel Management Entrances
NCHMCT JEE
Undergraduate Aptitude Test
BBA in Hotel Management Top Colleges/Universities
Indian Institute of Hotel Management
Indraprastha Institute of Technology and Management
Institute of Hotel Management Catering and Nutrition
IHM Bhubaneswar
Andhra University
Manipal University
IIHM Bangalore
LNCT University
Guru Nanak Institute of Hotel Management
Uttarakhand Technical University
Amity Global Business School
BBA Hotel Management Syllabus
SEMESTER 1: Fundamentals of Management, Hospitality Accounting, Basic Computing Skills, Basic of Front Office Operation, Managing Housekeeping Operation.
SEMESTER 2: Hospitality Marketing, Business Communication, Human Resource Management, Basics of Food Production, Basics of Food & Beverages Service.
SEMESTER 3: Financial Management, Food Production Techniques, Restaurant & Bar operation, Banqueting Management, Housekeeping Management.
SEMESTER 4: Organization Behaviour, Service Marketing, Room Division Management, Personality Development, Communicative English.
SEMESTER 5: Legal Studies, Project and facilities planning, Food production management & Control, Information Technology, Industrial Relation.
SEMESTER 6: Event Management, Institutional Catering, Managerial Communication, Transport Management, Statistics for Manager.
BBA Hotel Management Job Prospects: A variety of job openings in the hotel industry have resulted in growth in the tourism industry. Nearly every sector is now linked directly or indirectly to the hotel industry. Any sector to work in can be chosen by candidates. For ant resort or travel and tourism companies, they can work. They can also apply for in-cabin service jobs and catering for airlines. Hotels also recruit hotel management candidates to manage their operations, security, sales, and marketing.
Some of the job profiles available in Hotel Management after BBA are
Marketing/Sales Executive
Managers/Supervisor
Customer Service Executive
Hotel Manager
Bartender
Sales Manager
Food and Beverage Manager
Front Office Manager
Housekeeping Manager
Banquet Manager
Candidates can apply for a job at the following:
Cruise Lines/Ships
Hotel/ Multinational Companies
Colleges & Universities
National & International Airlines
Guest Houses & Resorts
Hospital Administration & Catering