B.Sc. Nutrition and Dietetics: Course Details, Top Colleges, Job Prospects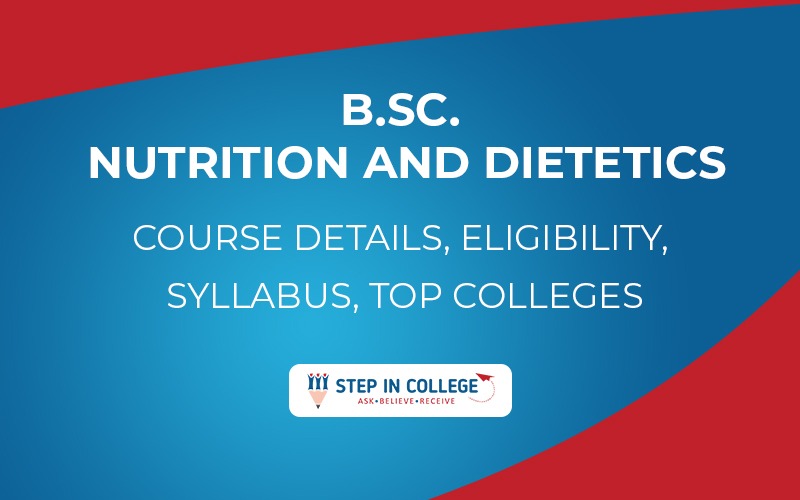 Published by : Step in college
Bachelor of Science in Nutrition and Dietetics is an undergraduate full-time course. The duration of this course is 3 years. BSc Nutrition & Dietetics is a course or module that provides the basis for the management and management of food sciences. It is a course that focuses on different aspects of food for human beings and its nutritional value. The course focuses on the study of the national importance of human-consumed food items. The BSc student in nutrition also studies food management and the promotion of a balanced diet. The course helps students analyze how a healthy diet plan and intake of nutritious food will improve the quality of life.
BSc Nutrition and Dietetics Course Details, Eligibility, Syllabus, Entrance Exam, Top Colleges, Job Prospects | StepInCollege
It is an advanced analysis of the essential nutrients needed for the proper functioning of the body by various groups of people. BSc Nutrition courses may be taken by those who are interested in analyzing human health and well-being through food intake. This course also explores the deeper nutritional needs of an average human being and shows the participants the value and role of different kinds of nutrients within our bodies. This course includes the various disorders and methods of healing from nutrition deficiency. Candidates will learn about various types of diet plans that must be prepared by this course depending on the individual's need.
BSc Nutrition and Dietetics Eligibility Criteria
10+2 education from a recognized educational board
A minimum aggregate score at the 10+2 stage of 50 percent
Physics, chemistry, English, and Biology are the core subjects at the 10+2 level of study.
Some schools and universities also recognize any form of biology at 10+2 levels, instead of botany, zoology, biotechnology, or biochemistry.
BSc Nutrition and Dietetics Entrance Examinations
AIIMS (All India Institute of Medical Sciences) Entrance Test
JNU (Jawaharlal Nehru University) Entrance Examination
DU (University of Delhi) Entrance Examination
JMI (Jamia Milia Islamia) Entrance Exam.
BSc Nutrition and Dietetics Top Colleges
Chandigarh University, Chandigarh
RVS College of Arts and Science, Tamil Nadu
Lovely Professional University, Jalandhar
Shoolini University, Himachal Pradesh
Mount Carmel College, Bangalore
Justice Basheer Ahmed Sayeed College for Women, Tamil Nadu
Andhra University, Andhra Pradesh
SGT University, Haryana
BSc Nutrition and Dietetics Syllabus and Course Description
Year I: Basic Nutrition, Human Physiology, NutritionalBiochemistry, Family meal management, Training
Year II: Basic Dietetics, Food Microbiology, Food Science, Personnel Management, Training
Year III: Community Nutrition, Advanced Dietetics, Dietetics and Counseling, Project Work
BSc Nutrition and Dietetics Career prospects and Job Description
Nutrition and dietetics are increasing rapidly both in academia and in practice in India and abroad. Those involved in working in the industry professionally and seeking profitable positions in or can be self-employed in clinics and hospitals in the private sector. Private sector organizations such as recreational cruise companies and private nursing homes are other employment sectors. Such pupils can also opt to psychiatrically care for patients with emotional or psychological distress caused by unhealthy dietary habits.