BA French: Entrance Exam, Top Colleges, Job Prospects | StepInCollege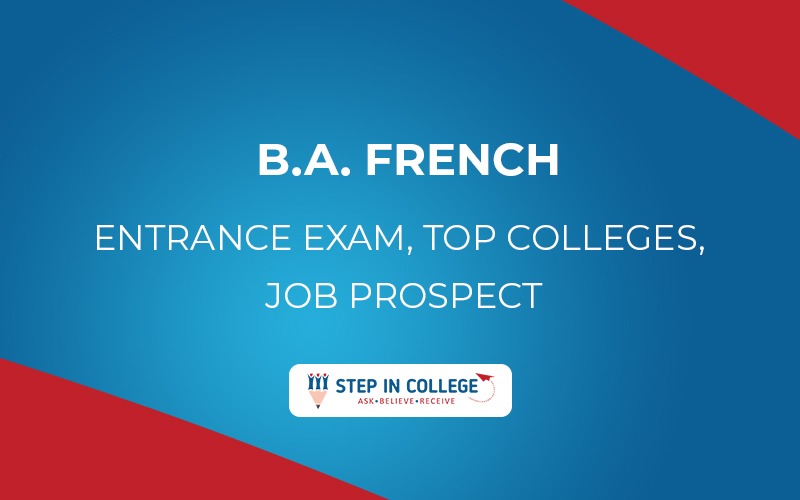 Published by : Step in college
BA in French or a Bachelor of Arts degree in French is an undergraduate 3 years degree. This is one of the premium language courses offered in India by several universities and colleges. In order to gain more information and understand complex language phonetics and linguistic techniques, this course consists of integrated French language and literature, with a focus on spoken French, structure, grammar, and writing skills, as well as learning literature and poems from France. Students are made aware of the nuances of French as a language in this curriculum, along with its ability and application in the current business environment. Students learn the fundamentals of French in this course to be fluent in French in a holistic way in terms of reading and writing, literature and poetry as well as grammatical ethics and enforcement.
BA French Course Details, Eligibility, Syllabus, Entrance Exam, Top Colleges, Job Prospects | StepInCollege
BA in French is important in many ways and can also be used and employed to use the communication skills learned in this course program in sectors such as tourism and hospitality, travel and tours, business administration, and management. Graduates of this discipline can work as tour guides and tour managers in the travel and tourism industry, can also work as a translator or interpreter and can work closely with embassies and international consulates and can help bridge the divide and language gaps between nations, apart from them, people can also work as teachers and lecturers, members of customer service.
BA French Eligibility Criteria: To qualify in order to be qualified for a BA French program, the candidates must -
Pass on your class XII exam from any recognized board
The minimum total of 50 percent (45 percent for OBC/SC/ST)
BA French Entrance Exams
DU BA Entrance Test and Merit List
JNU Entrance Test
BHU UET
BA French Top College
Loyola College, Chennai
St. Xavier's Technical Institute Mumbai
Fergusson College Pune
Department of Germanic and Romance Studies New Delh
BA French Syllabus and Course Description
Semester - I: Oral Expression, Language in Writing, Commutative Grammar I, Concurrent - Qualifying Language
Semester - II: Civilization of French Language, Fundamental of French, Commutative Grammar II, Concurrent - Credit Language
Semester - III: Introduction to Literature I, Basics of French Language, Commutative Grammar III, Language in Writing and Oral Expression, Concurrent - Credit Language
Semester - IV: Scientific French, French II, Theatre, Commutative Grammar - II, Concurrent - Disciplined Centre II
Semester - V: Introduction to Literature II, French Poems, French Commercial, Prose, Translation I
Semester - VI: Functional French, Language for Specific Purposes, Translation II, Introduction to Literature III, Concurrent - Discipline Centred II, Documents Authentic
BA French Career Prospects and Job Description:BA in French provides experience in written and oral French skills that can be used to support Indian-French markets and trade problems in government sectors such as foreign affairs and international trade. Graduates may also work in the designated consulate and embassy positions to work on visa and administration tasks, as well as handling essential documents and data. Individuals can work as sales representatives in the sales and telecommunications sector and can appeal to the needs of the French market by assisting people in general with the smooth flow of services and goods. Candidates can also work in government and private companies as a translator and interpreter to help individuals manage large international transactions and exchange of data without any language anomalies and hindrances.
Career opportunities:
Technical translator
Online content writer
Tourist guide
Teacher
Interpreter
Translator
Job roles:
Schools/Colleges/Universities
Bilingual Offices (where French is one of the languages)
Publishing Houses
Entertainment Industry
Tourism Industry
Embassies