Diploma in Anaesthesia Technology: Top Colleges, Job Prospects, Course Details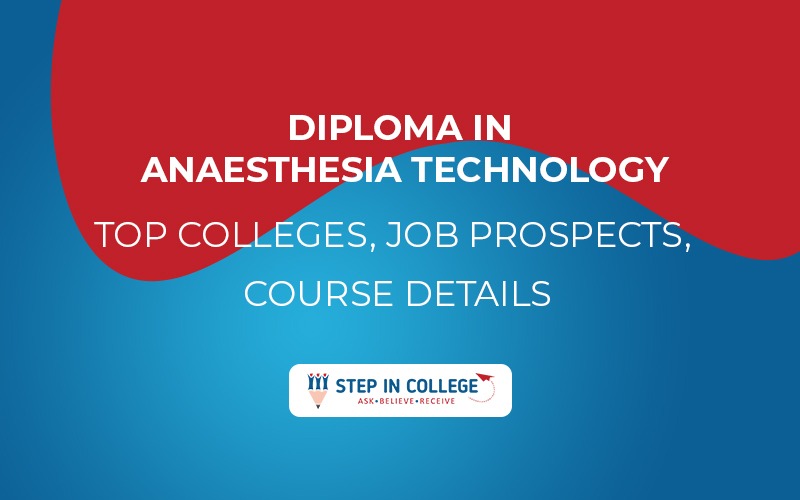 Published by : Step in college
Anaesthesiology technicians are among the common healthcare professionals needed across various fields in the allied healthcare sector. Candidates must complete a 2-year Diploma in Anaesthesia course offered in medical colleges across India to become an anesthesiology technician. The Diploma in Anaesthesia program is designed to provide instruction and comprehension of anesthesia, as well as prescribing anesthesia dosages to patients depending on the severity and type of illness or treatment.
Diploma in Anaesthesia Technology Course Details, Eligibility, Syllabus, Top Colleges, Job Prospects | StepInCollege
The two-year diploma program is intended to provide students with clinical knowledge as well as a theoretical understanding of the effects and applications of various anaesthetics on humans. Graduates of the Diploma in Anaesthesia program have outstanding job opportunities. Due to the high demand for skilled and trained practitioners in surgical and operating rooms around the world, this is likely.
Diploma in Anaesthesia Eligibility Criteria
Candidates must have passed their class 12 board exams in the science stream from a recognized educational board such as the CBSE, ICSE, or State Board.
They must have earned a minimum aggregate score of 45 percent or higher on the qualifying test in subjects such as physics, chemistry, biology, or mathematics.
Candidates must have a legitimate University-level entrance test score/rank since entrance tests can be administered at the university level.
B.Sc. in Anaesthesia Technology: Top Institutes
All India Institute of Medical Sciences (AIIMS), Delhi
Aligarh Muslim University (AMU), Uttar Pradesh
Mahatma Gandhi Mission Institute of Health Sciences (MGMIHS), Mumbai
Indira Gandhi Medical College (IGMC), Shimla
Armed Forces Medical College (AFMC), Pune
Government Medical College and Hospital (GMCH), Chandigarh
KS Hegde Medical Academy (KSHEMA), Mangalore
Diploma in Anaesthesia Syllabus
First Year: Applied Human Physiology and Anatomy, Introduction to Anaesthesia: Physics, Physiology of Anaesthesia, Metabolic Response to Trauma & Stress, Pharmacology of Anaesthesia, Biochemistry, Post-Anaesthesia Care Rooms, Defensive Anaesthesia
Second Year: Computers in Anaesthesia, Cardiovascular Pharmacology, Anaesthetic Techniques, Geriatric/Paediatric Anaesthesia, Anaesthetic Postures, Third World Anaesthesia, Chronic Pain Therapy, Neonatal Resuscitation
Diploma in Anaesthesia Career Options and Job Prospects: As anesthetic technicians are critical components of the healthcare industry, the career scope, and job options are vast. As the number of hospitals and the overall population of the country grows, so will the demand for skilled and qualified anesthesia technicians. There are several job opportunities for graduates of the course who want to work in the field of anesthesia, including:
Government and Private Hospitals
Government and Private Dental Clinics
Health Care Centres
Medical Colleges/Universities
Job Profiles
Anaesthesia Assitant
Clinical Assistant
Technical Assistant
Operation Theatre Technician
Medical Lab Technician