Bachelor of Technology [B.Tech] (Cloud Technology): Course Details, Eligibility, Top Colleges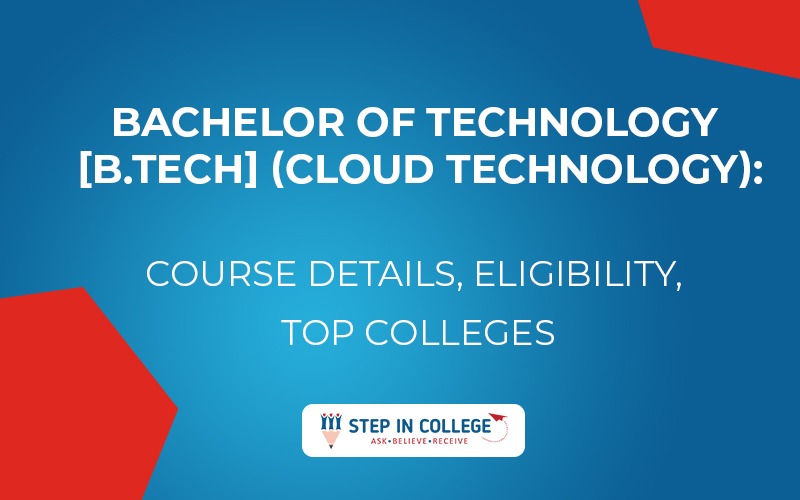 Published by : stepincollege
Bachelor of Technology [B.Tech] (Cloud Technology) Course Details, Eligibility, Syllabus, Top Colleges, Job Prospects | StepInCollege
Bachelor of Technology in Cloud Technology takes four years to complete. Bachelor of Technology in Cloud Technology program focuses on making resources accessible with a single click and is designed to educate candidates about the techniques and methods for internet-based computing (i.e. virtualization), where applications and services are accessed through the web. Cloud computing is a way of delivering customized information, storing data, and powering large immersive online computer games, among other items, in which the cloud infrastructure is maintained by the cloud provider rather than the individual cloud user. Students learn about popular cloud service models, the underlying technologies, the past of the cloud, and its origins in a service-oriented architecture. The course is designed to teach candidates about internet-based computing, which includes providing resources such as servers, storage, and applications to computers and devices in organizations via the internet.
BTech in Cloud Technology Eligibility: Candidates for entry to the program must meet the following minimum requirements:
A minimum aggregate score of 55 percent at the higher and senior secondary levels (classes X and XII), as well as a minimum aggregate score of 60 percent for Physics, Chemistry, and Mathematics as key subjects, from a recognized educational Board.
Candidates who have earned a Diploma in Cloud Technology after class X are eligible for automatic entry to the second year of the program. Admissions standards, on the other hand, can differ between institutes.
B.Tech in Cloud Technology Entrance Exam
JEE MAINS
JEE ADVANCED.
BIT SAT
VITJEEE
SRMJEEE
B.Tech in Cloud Technology Top Institutes
Amity University, Noida
Indian Institute of Technology (ITT), Bombay
Indian Institute of Technology (ITT), Hyderabad
Indian Institute of Technology (ITT), Kanpur
Delhi Technical University (DTU), Delhi
Indian Institute of Technology (ITT), Delhi
B. Tech in Cloud Computing Syllabus & Course Description
SEMESTER I: Logic Building and Problem solving, Physics 1, Mathematics 1, Environment Science, Manufacturing Science Lab, Functional English
SEMESTER II: Advanced Computer Programming ('C'), Mathematics 2, Physics 2, Chemistry, Computer Science Essentials
SEMESTER III: Principles of Object-Oriented Programming using Java, Data Structure using C, Introduction to Open Source Software & Open Standards, Computer Organization & Architecture, Principles of Operating System
SEMESTER IV: Java Programming, Applied Statistical Analysis, Principles of Data-based Management Systems, Introduction to Computer Networks, Web Programming through PHP
SEMESTER V: Data Warehouse & Multidimensional Modeling, Data Mining & Predictive Modeling, Theory of Automata, Introduction to Design Analysis of Algorithms, Software Engineering
SEMESTER VI: Professional Skills Enhancement, Business Intelligence, Compiler Design, Artificial Intelligence, SUMMER TRAINING
SEMESTER VII: Social Web and Mobile Analytics, Big Data Analytics, Project Management
SEMESTER VIII: Advance Computer Architecture, Introduction to Internet of Things, Communication Practices
B. Tech in Cloud Computing: Career Prospects: Today, cloud technology is important since a growing number of businesses are implementing it to avoid the difficulty of maintaining data centers and to benefit from cloud computing. For successful graduates, the course opens doors to a number of career opportunities, some of which are mentioned below, along with the corresponding salaries provided for the different positions.
Job Profile
Cloud Product Manager
Cloud Support Engineer
Cloud Security Specialists
Cloud System Administrator
Senior Cloud Architect