Jecrc University Details: Courses, and fees, Scholarship, Placements, Hostel | StepInCollege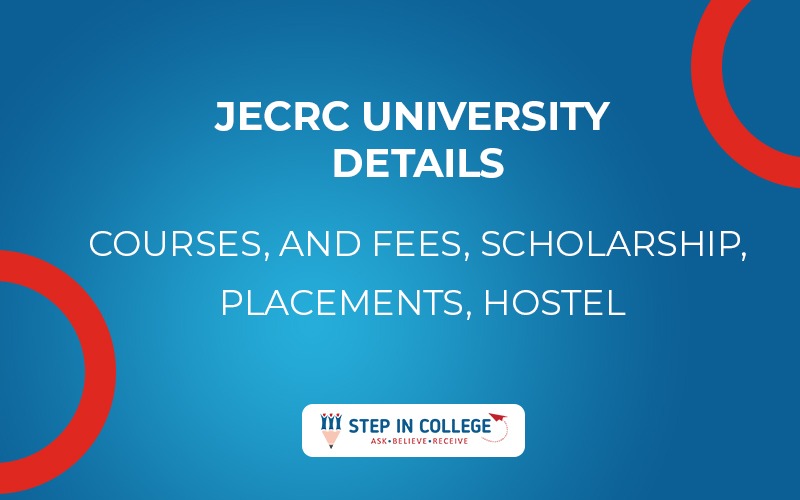 Published by : stepincollege
One of the best campuses in India belongs to JECRC University. JECRC University's 32-acre campus is fully equipped with new facilities and amenities. The campus is mostly covered in greenery, creating a fun and lively learning atmosphere. At JECRC University, rain harvesting ensures that every drop of rain is saved. JECRC University's central library is one of the campus's main attractions. The library is open for twelve hours, and students can use it to access all educational materials. The varsity is gradually converting its library into a digital library in order to provide students with first-hand information.
Jecrc University Details, Courses, and fees, Scholarship, Placements, Hostel | StepInCollege
JECRC University's computer laboratories are equipped with the most up-to-date technology and facilities. The university has 15 computer labs with 500 computers and 25 MBPS internet access. The campus was designed to put together world-class experiences that truly reflect the University's character. The design and layout, landscaping, training and technology infrastructure, residential and recreational facilities all represent this dedication. The campus's architecture, which divides the campus into different zones – Residential, Public Buildings, and Academic Blocks – provides a transitional space and experience that breaks up the monotony.
Courses: The average fees of the courses from Rs.30k- Rs. 2.5lac. JECRC University, Jaipur offers courses in a variety of fields, including Engineering & Technology, Law, Computer Science & Engineering, Design, and Management. The university intends to concentrate on academic excellence and the spirit of creativity that will enhance academic orientation and pursuit at JECRC University through its courses.
Scholarship: JECRC University awards scholarships in the form of fee waivers depending on a student's merit or percentile on qualifying exams. Students in a variety of courses may apply for scholarships or fee waivers. The JECRC scholarship scheme's eligibility requirements for different courses can be found below.
JECRC B.Tech Scholarship Program
JECRC Scholarship Scheme for Integrated Law/ BBA/ B.Com/ B.Sc/ B.Sc Agriculture (Hons)/ B.A English/ B.Des/ BVA/ BA
Placements: JECRC University has a broad history of successful placements. JECRC Placement Cell offers students instruction and coaching in areas such as quantitative aptitude, reasoning, personal competitiveness, problem-solving, decision-making, and basic employability skills, among others. JECRC University takes a constructive approach to develop each student's capability by inviting domain experts in emerging technology fields to train groups of students. The average placement package for students at JECRC University ranges from Rs.3,00,000 to Rs.4,00,000.
The university received an avalanche of applications from businesses in a variety of industries, including IT, Engineering, Consulting, Management, Retail, Education & Management. Some of the top recruiters are TCS, Accenture, Ericsson, Pinnacle, Aon Hewitt, HSBC, Mindtree, Deloitte, EY, Matrix ComSec, Ernst & Young (E&Y), Capgemini, etc.
Hostel: The hostel fees for both Girls/Boys from Rs. 1lac - 1.40lac. The fee is only paid for ten months. Rs. 5000/- as a one-time TV deposit (Optional in AC Rooms only, Non-Refundable). If a student chooses to stay in a hostel for either semester, the cost is 60 percent of the annual fee. Charge for the gym: Rs. 1000/- per semester (Optional, only for hostellers). GST will be charged if necessary.
AC Room: Rs. 140000
Non-AC Room (Four Seated): Rs. 100000
Non-AC Room (Three Seated): Rs. 110000