Dr. K.N. Modi University: Courses and fees, Scholarship, Placements, Ranking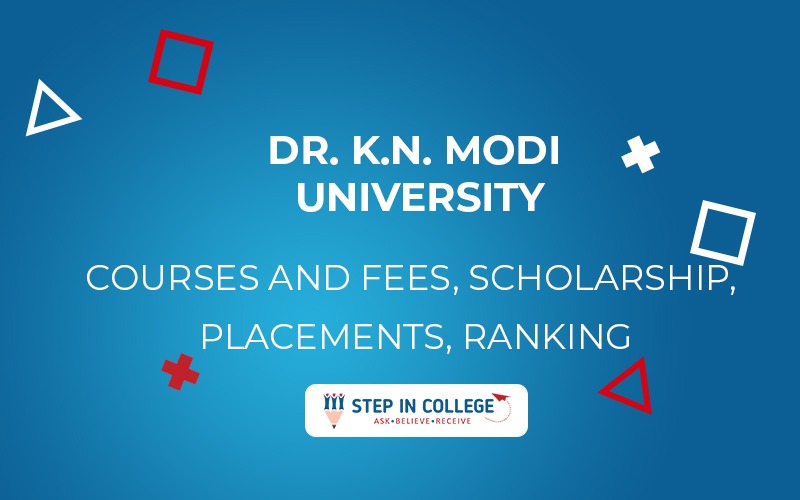 Published by : stepincollege
Dr. K.N. Modi University Details, Ranking, Courses and fees, Scholarship, Placements, Hostel | StepInCollege
Dr. KN Modi University, based in Jaipur, Rajasthan, is a UGC-approved private university run by the Dr. KN Modi Foundation. It promotes India's culture, heritage, tradition, and spirituality through value-based education. KN Modi University offers more than 30 courses across eight streams and 21 specializations.
KN Modi University in Jaipur has a sprawling 45-acre campus in Newai, Rajasthan's Tonk district. Students have access to a 400-seat AC auditorium, a fully fitted gymnasium and health club, an open-air amphitheater, a Wi-Fi-enabled campus with 24x7 connectivity, ATM, medical, and transportation services, among other amenities.
Outdoor sports such as badminton, basketball, golf, cricket, football, athletics, and table tennis are also available, as are yoga, photography, music and dance, and art & craft centers. The university's academic infrastructure includes fully equipped smart classrooms, seminar halls, fully equipped language labs, classrooms, design studios, lecture halls, fully equipped laboratories, and an air-conditioned library, among other things.
Dr. K.N. Modi University Courses:
Dr. KN Modi University in Jaipur is well-known for its diverse course offerings. It offers undergraduate, internship, and certificate/diploma programs in a variety of fields. Bachelor of Arts, Bachelor of Science (Maths), Bachelor of Science (Biology), Bachelor of Science Hons (Agriculture), B.Arch, BA LLB, B.Design Animation and VFX, B.Tech in Civil Engineering, Mechanical Engineering, and other UG courses are available. LLM, MCA, M.Sc (IT), M.Sc (Botany, Life Sciences, Zoology), M.Sc Animation and VFX, MBA, MA All Courses, M Com, M.Tech in Power Electronics, Environmental Engineering are among the postgraduate courses available.
Dr. K.N. Modi University Achievements:
Dr. K N Modi University has recently received an A++ rating from a few of India's leading publications.
Dr. K. N. Modi University was named the Best University for ICT in 2015.
Dr. K.N. Modi University Placements:
Dr. K.N. Modi University is one of the best universities in India, with a high placement rate in some of the country's most prestigious industries. By being placed on campus, students from the university have shown their excellence and skills in some of the best national and foreign businesses. Not only that, but the university recognizes the importance of collaborating with industries for future student placement and has thus joined the Business and National Entrepreneurship Network corporate networks (NEN).
Top Recruiters of DKNMU Rajasthan: Infosys, IBM, HCL, Accenture, Wipro, Religare, Max Life Insurance, IDBI Bank, Citibank, ICICI Bank, Lupin, Cipla, Vodafone, Reliance, Pepsico, Nestle, Parle, Samsung, Sony, Indiabulls, Oriflame, etc.
Dr. K.N. Modi University Scholarship (APPLICABLE FOR FIRST YEAR ONLY)
10% of tuition fees if you live in Rajasthan.
Sibling Discount
Candidates who are female
15% discount on tuition fees if you pass the qualifying exam with a score of at least 70%.
Ex-Servicemen and War Widows
Athlete
For 'Kashmir Refugees' students, there is a 10% first-year scholarship fee.
Dr. K.N. Modi University Hostel
Fees for both Girls/Boys: Rs. 47 k - Rs. 83 k
* Mess Throughout the year, charges are subject to adjustment.
Each category's rooms will be assigned on a first-come, first-served basis.
Students who choose a category will not be able to adjust it during the semester and will be responsible for paying for the category they chose originally.
Except in the foreign group, students will be responsible for their own bedding and mattresses.