Jagan Nath University: Courses and fees, Scholarship, Placements | StepInCollege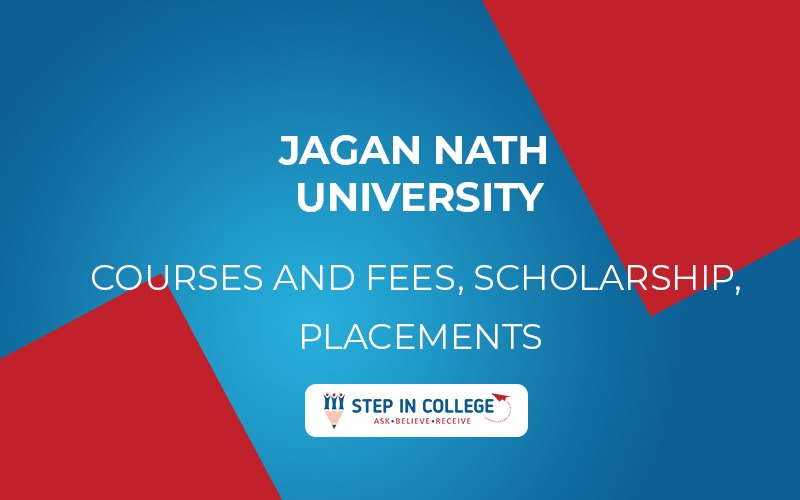 Published by : stepincollege
Jagan Nath University Details, Ranking, Courses and fees, Scholarship, Placements, Hostel | StepInCollege
Jaipur's Jagannath University was established in 2008. The University has received accreditation from a number of bodies, including the NAAC (National Assessment and Accreditation Council), the All India Council for Technical Education (AICTE), the Indian Council of Agriculture Research, the Indian Institute of Architects (IIA), and the University Grants Commission (UGC) (UGC). In the 2018 World Education Summit and Awards, the University was named the "Best Private University with Academic Excellence in Rajasthan." Aside from that, the university received the "Excellence in Academics and Best Private University" award from 94.3(MY FM).
Engineering and Technology, Science, Management, Law, Architecture and Planning, Arts, Education, and Research are among the many programs offered by Jagannath University in Jaipur. The Council of Architecture (COA) recognizes Jagannath University's 5-year B.Arch course, the Bar Council of India (BCI) recognizes 5-year integrated courses (BA.LL.B & BBA.LL.B), the National Council For Teacher Education (NCTE) recognizes 2-year B.ed courses, and the Distance Education Bureau recognizes certain courses such as BBA, MBA, BCA, MCA, and PGDCA Program (DEB). For entry to all programs, the University administers its own entrance exam.
The Jagannath University campus in Jaipur offers a welcoming and diverse atmosphere for students. On the campus, there is also a gymnasium. The college's transportation network reaches almost all surrounding local communities and townships within a 50-kilometer radius. The college library has books and journals from all departments on campus, as well as audio-visual formats and printed resources for students' notes. The University's conference room has the most up-to-date audio-visual and presentation equipment, allowing the college to host workshops, lectures, and other activities.
Courses:
Management, Engineering, Architecture, Law, IT, Commerce, Agriculture Science, Hotel Management, Education, Paramedical & Allied Health, and other fields are covered by Jagannath University's undergraduate, postgraduate, and Ph.D. programs. Other distance education courses offered by Jagannath Univerity include BBA, BCA, MCA, MBA, and PGDCA programs. For these classes, the well-qualified and seasoned faculty serve as mentors to the students, who participate in various research and outreach initiatives. Good business engagement programs, such as conferences, workshops, guest lectures, internships, and placements, complement JU's academic courses.
Scholarships:
For students who are financially disadvantaged, Jagannath University offers a host of scholarships. The university also provides a number of scholarships to SC/ST, OBC, and PWD students that are declared by the Rajasthan state government. Various scholarships are available for students from the SC/ST and other reserved categories, but they will only be awarded after the students have met all of the eligibility requirements.
Placements:
The CRMC is the Placement Cell of Jagannath University in Jaipur, and it is in charge of the students' summer and final placement activities. It serves as a connection between students and the business world. The student participates in Aptitude Tests, Technical Tests, Group Discussions, Resume Writing, and Personality Grooming sessions as part of the in-house preparation. The student also goes through a Psychological Test, Mock Interview Sessions, workshops on voice modulation, Mock presentation sessions, and a workshop on body language as part of their out-of-house preparation. The aim of the campus recruitment training is to prepare students for the workplace while they are still in school.
The Jagannath University Placement Committee plays an important role in assisting students with their planning activities and providing appropriate assistance and advice when it comes to placement. The CRMC team invites leading companies from all industries to participate in the placement process. HCL, IBM, BOSCH, Wipro, Axis Bank, Infosys, Tata Consultancy Service, Girnarsoft, HP, HDFC Bank, and others are among Jagannath University's main recruiters.
Hostel:
Fees Rs.73 k - Rs.1.15 lac
Hostel Fees:-
100,000 per year(for 2 seater)
110,000 per year(for 2 seater- AC Room)
78,000 per year(for 3 seater)
68000 per year (for 4 seater)