Raffles University: Courses and fees, Placements, Hostel | StepInCollege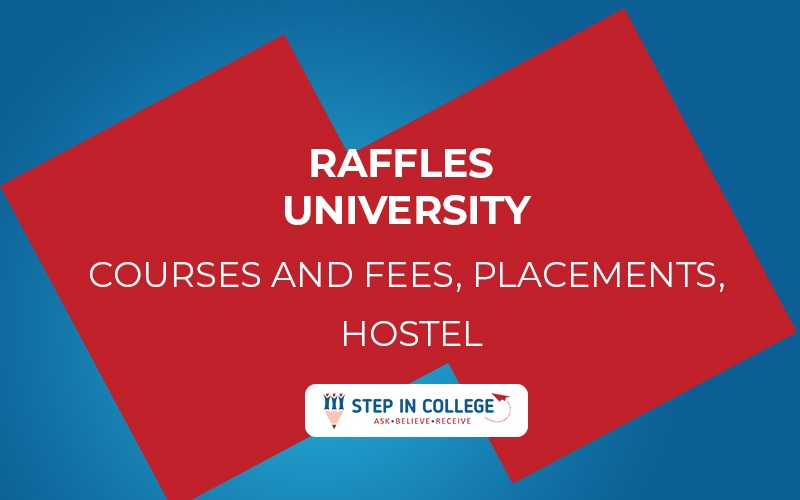 Published by : stepincollege
Raffles University, Neemrana, founded under Section 2(f) of the University Grants Commission Act, is a multi-discipline university that offers world-class education. Raffles University is located in the NCR district, in Neemrana, on the National Highway between New Delhi and Jaipur. Raffles University offers a forum and atmosphere for open dialogue and engagement between faculty and students, with the aim of igniting and fulfilling the desire to explore and learn outside the confines of the classroom. The variety and versatility of course choices enables students to undertake studies that are best suited to their intellect and talent.
Raffles University Details, Ranking, Courses and fees, Scholarship, Placements, Hostel | StepInCollege
Awards and Rankings
Won the SGT University National moot court competition in 2015, second place in the Rastrum Essay writing competition in 2014, and several other awards.
Placements
The placement cell at Raffles University assists students in obtaining internships and participating in various R&D ventures with the aim of developing industry-specific skills. Workshops, conferences, and business training programs are also organized by the placement cell to help students improve their skills and find better job opportunities from some of the top industries in their fields. The placement cell is also in charge of giving students career advice and organizing campus placement drives at the university.
Raffles University's IIPC takes advantage of the institute's proximity to the Neemrana Industrial Area and maintains strong relations with the area's industrial establishments. The university is also a member of the Neemrana Industrial Association (NIA), which provides direct exposure and first-hand knowledge of the workings of companies and organizations to students enrolled in engineering and management courses at RU. DAIKIN, Havell's, Genpact, HomeShop18, HP, Indian Oil, EMAAR, and other well-known companies are among Raffles University's top recruiting partners.
Scholarships
Raffles University provides a range of scholarships to its students in order to make education more accessible to all applicants. Fee exemptions are available for Raffles University scholarships that meet the eligibility requirements. Even if a student qualifies for more than one group, he or she can only receive one scholarship. The following table lists all of the scholarships available at Raffles University.
Early Bird Discount Scheme
Raffles Scholarship Examination
Merit-Based Board Examination Scholarship
Scholarship on the Basis of CLAT/ NEET/ JEE Score
Hostel:
Boys and girls have separate and independent residence halls at the University. On the North West Corner of the campus, the boy's hostel has two separate four-story blocks that are well-spaced for light and ventilation. The girl's hostel is a single four-story structure situated almost directly across from the dining hall, allowing for easy movement of female students. The surrounding areas are all well lit, which adds to the girl's students' safety and security.
The hostel has a well-lit single room with the option of air conditioning for those who want it. The rooms are well-spaced to allow for easy movement and supervision.
On each floor, there are separate washrooms that are easily accessible from their individual rooms. The rooms are equipped with beds, wardrobes, a table and chair for reading and studying, as well as wall-mounted shelves. Each hostel has a resident warden as well as 24-hour security. The presence of the wardens, as well as the system of personal care, particularly in the girls' hostel, contribute to the homely atmosphere. Every effort is made to ensure the inmates' safety and well-being. A conducive environment for study and recreation is created by strict in and out timing and recording of the student movement.
Hostel Fee (AC Single Room): Rs. 1,10,000/- (per year)
Hostel Security (Refundable): Rs. 10,000/- (one time)
Academic Security (Refundable): Rs. 10,000/- (one time)