Master of Arts in Political Science Details: Top Colleges, Entrance Exam, Eligibility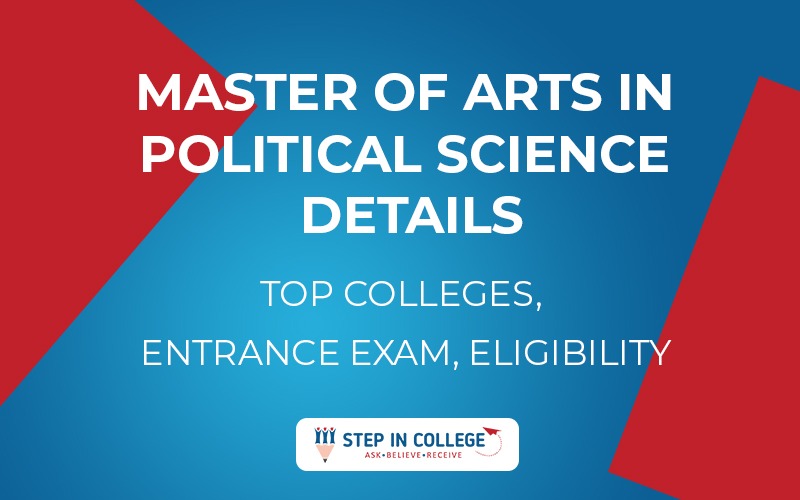 Published by : stepincollege
Master of Arts in Political Science Details, Eligibility, Entrance Exam, Top Colleges, Syllabus, Job Prospects | StepInColleges
Master of Arts in Political Science is a postgraduate 2 years course. The course covers a wide and in-depth analysis of Political Science as a discipline at the graduate level. It includes the examination of political theory and practice, as well as the explanation and study of political structures and behavior. It also includes subjects such as national and international political structures, historical and current political systems, public policy, governmental policies and procedures, international relations, and public affairs. Principles of Political Science, Indian Political System, Major Governments of the World, International Relations, and other topics are studied in this area. Candidates will have a wide variety of career opportunities after completing the course.
M.A. in Political Science Eligibility Criteria
Bachelor's degree in any area, with a preference for the arts and humanities.
Minimum graduation requirements vary from 45 percent to 55 percent, depending on the institution.
Non-humanities courses have a higher minimum pass rate.
M.A. in Political Science Entrance Exams
BHU PET (Banaras Hindu University)
JNUEE (Jawaharlal Nehru University)
IPU CET (Guru Gobind Singh Indraprastha University)
OUCET (Osmania University)
DUCET (Dravidian University)
M.A. in Political Science Top Colleges
Hindu College, Delhi
Presidency College, Chennai
Lady Shri Ram College for Women, Delhi
St. Xavier's College, Kolkata
Gargi College, Delhi
Ramjas College, Delhi
Chandigarh University, Chandigarh
Presidency University, Kolkata
Lady Brabourne College, Kolkata
Osmania University, Hyderabad
M.A. in Political Science Syllabus
Semester - I: Ancient Indian Political Thought, Research Methodology, Contemporary Political Thought, Western Political Thought (Plato to Hegel), Practicals.
Semester - II: Indian Constitutional System, Comparative Politics, Political Thinking since Marx, Political Sociology, Practicals.
Semester - III: Modern Indian Political Thought, Politics in India, International Politics, Public Administration, Practicals.
Semester - IV: Indian Administration, State Politics with Special Reference to U.P, Post-Cold War International Relations, Concept and Issue in Political Science.
M.A. in Political Science Job Prospects
Students with a postgraduate degree in Political Science can select from one of the following career profiles, which are widely available:
Employment Areas
Government Agencies
Public Relations Departments
Colleges and Universities
Diplomatic Offices
Public Policy Organisations
Embassies
Intelligence Wings
Politics
Social Work Organisations
Job Types
Budget Analyst
Campaign Organiser
Budget Examiner
Public Opinion Analyst
Corporate Social Policy Issues Analyst
Legislative Analyst
Corporate Public Affairs Advisor
Legislative Coordinator
Political scientist
Corporation Legislative Issues Manager
Lobbyist