Master of Physiotherapy in Neurology: Entrance Exam, Course Details, Top Colleges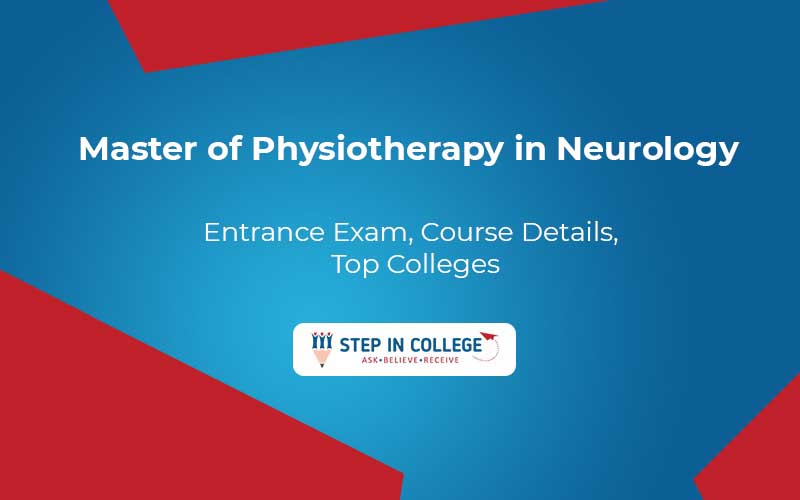 Published by : stepincollege
The MPT in Neurology is a postgraduate 2 years course that focuses on physiotherapy, with the main focus being neurology. Physiotherapy is described as a branch of science that determines, diagnoses manages, and prevents diseases using various electronic medical equipment and special activities. MPT in Neurology focuses on providing practical information to qualifying candidates in order to cultivate in them the requisite skills, information, expertise, and critical thinking used in the case of studies, in addition to offering them practical experience in clinical practice. This academic specialization in Physiotherapy in Neurology uses approaches to aid people with cognitive impairments such as Traumatic Brain Injury or Stroke, Multiple Sclerosis, Spinal Cord Fractures, and Parkinson's disease.
Master Of Physiotherapy in Neurology Course Details, Eligibility, Entrance Exam, Top Colleges, Syllabus, Job Prospects | StepInCollege
Students enrolled in the course are qualified to identify and treat patients with such neurological impairments in order to strengthen and enhance the patient's functional nervous capacity. Physiotherapy is a healthcare allied discipline that focuses on treating a person's physical problems and impairments. This is a drug-free therapy that uses massages, modalities, workouts, and other treatments to restore an individual's normal functioning. Physiotherapy aims to improve a person's quality of life by promoting self-reliance. This industry places a premium on physical health and overall well-being.
MPT in Neurology Eligibility Criteria
BPT (Bachelor of Physiotherapy) degree from a reputable university.
At the graduation mark, a minimum composite score of 50% is needed.
A six-month internship is expected.
MPT in Neurology Entrance Examinations
All India Post Graduate Physiotherapy Entrance Test
CET Entrance Exam for Master's Program
Guru Govind Indraprastha University Physiotherapy Entrance Exam
JIPMER All India Entrance Exam
MPT in Neurology Top Institutes
Himalayan University, Papum Pare
Dr. D Y Patil Vidyapeeth, Pune
Dolphin PG Institute of Biomedical and Natural Sciences, Dehradun
The Tamilnadu Dr. MGR Medical University, Chennai
Jodhpur National University, Jodhpur
SRM University, Kanchipuram
Dayananda Sagar University, Bangalore
SGT University, Gurgaon
RK University, Rajkot
Sri Ramachandra University, Chennai
Kempegowda University of Physiotherapy, Bangalore
RVS College of Physiotherapy, Coimbatore
Sikkim Manipal University, East Sikkim
MS Ramaiah Medical College, Bangalore
Banarsidas Chandiwala Institute of Physiotherapy, Delhi
MPT in Neurology Syllabus
Year 1: Research Methodology and Biostatistics, English Language and Communication Skills, Review of Core Science, Physiotherapy and Functional Diagnosis of Neurological Disorders, Clinical and Journal Club I, Medical and Surgical Aspects of Neuro Disorders, Neurological Physiotherapy I, Physiotherapy in CNS Disorders.
Year 2: Clinical and Journal Club II, Physiotherapy in PNS Disorders, Neuro Surgical Rehabilitation, Clinical and Journal Club III, Dissertation I, Management and Ethics in Physiotherapy, Neurological Physiotherapy II, Dissertation II.
MPT in Neurology Job Prospects
A variety of job opportunities have opened up in fields such as hospitals, nursing homes, recovery centers, public and private clinics, special schools, health and wellness centers, NGOs, and many other industries, leading to the increased awareness of the benefits of physiotherapy in contemporary society. Athletes and old age populations require physiotherapists in particular.
Physiotherapist
Neurologist
Sports Physio Rehabilitator
Osteopath
Therapy Manager
Therapist
Physiotherapy Lecturer