Bachelor of Architecture: Top Colleges, Eligibility, Entrance Exam | StepInColleges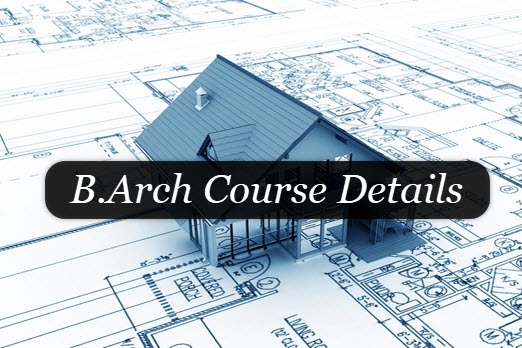 Published by : stepincollege
BArch is a five-year undergraduate program that focuses on providing candidates with training and technical information in the areas of constructing models of structures, planning a construction structure/blueprint using relevant techniques and concepts, and so on. The study of the artistic and organizational aspects of the building is known as architecture.
Bachelor of Architecture Details, Eligibility, Entrance Exam, Top Colleges, Syllabus, Job Prospects | StepInColleges
The BArch curriculum is organized in such a way that you can practice space management for optimum utility as well as architectural planning and design. The use of core mathematics is very restricted in this area. With the advent of technology and the growing rate of urbanisation, it has almost become a necessity to build systems that can meet the needs of the general public. Architects are in high demand for malls, industrial buildings, and flyovers, among other things.
B.Arch Eligibility Criteria
Candidates must have completed class XIIth or similar studies from a recognized Board to be considered.
Candidates must have earned a minimum of 50 percent in their Class XIIth qualifying exams (45 percent for SC/ST candidates).
Those with a diploma in a similar field are also qualified to apply.
B.Arch Entrance Exams
National Aptitude Test in Architecture (NATA)
JEE Main (Paper-II)
WBJEE
JEE Advanced
AMUEEE
B.Arch Top Colleges
IIT Roorkee
School of Planning and Architecture
Sir JJ College of Architecture
School of Planning and Architecture
Jamia Millia Islamia
Birla Institute of Technology Mesra
Manipal University
University of Mysore
Jawaharlal Nehru Architecture and Fine Arts University
BMS College of Architecture
School of Planning and Architecture
Sushant School of Art and Architecture, Ansal University
B.Arch Syllabus
Semester I: Architectural Design I, Visual Arts and Basic Design I, Computer Applications I, Building Construction I, Theory of Structures I, Environmental Studies, Model making and Workshop, Human Settl. & Vernacular Arch, Professional Communications I.
Semester II: Architectural Design II, Visual Arts and Basic Design II, Computer Applications II, Building Construction II, Theory of Structures II, Climate-responsive Design, Surveying and Leveling, History of Architecture I, Sociology and Culture, Professional Communications II.
Semester III: Architectural Design III, Visual Arts and Basic Design III, Computer Applications III, Building and Construction III, Theory of Structures III, Water, Waste, and Sanitation, Site Planning and Landscape Studies, History of Architecture II, Art and Architectural Appreciation I, Research Elective I.
Semester IV: Architectural Design IV, Visual Arts and Basic Design IV, Computer Applications IV, Building and Construction IV, Theory of Structures IV, Electrification, Lighting & Acoustics, Solar Active and Passive Systems, History of Architecture III, Art and Architectural Appreciation II, Research Elective II.
Semester V: Architectural Design V, Building Construction V, Theory of Structures V, HVAC. Mech. Mobility & Fire Safety, Energy System & Renewables, History of Architecture IV, Design Methodology II, Art and Architectural Appreciation III, Arch. Research- Elective III, Arch. Research- Elective IV.
Semester VI: Architectural Design VI, Building Construction VI, Theory of Structure & Design II, Green Systems Integration, Sustainable Urban Habitats, Specifications & Contracts, Contemporary Architecture, Architectural Theories, Art & Architectural Appreciation IV.
Semester VII: Architectural Design VII, Working Drawings, Project Management, Architectural Appreciation IV, Arch. Research Seminar, Arch. Research- Elective V, Arch. Research- Elective VI.
Semester VIII: Practical Training
Semester IX: Architectural Design IX, Professional Practice, Urban Design Studies, Arch. Research Dissertation/ Art Thesis, Arch. Research- Elective VII, Arch. Research- Elective VIII.
Semester X: Architectural Design Thesis, Thesis Design Research, Professional Practice.
B.Arch Job Prospects
After completing the BArch degree, students may either seek employment to gain experience or obtain a MArch degree to specialize in the field of their choosing. Environmental Planning, Urban Planning, Housing, Infrastructure Planning, and other MArch specializations are among the choices.
Top recruiters
Manchanda Associates
Chitra Vishwanath Architects
Larsen & Toubro
IMAXE
DLF
Sahara Group
Architect Consultants
Edifice Architects Pvt. Ltd.
Jindals
Jones Lang LaSalle Meghraj
VSA Space Design (P) Ltd.