Amity University (AU) Jaipur Laboratories – StepInCollege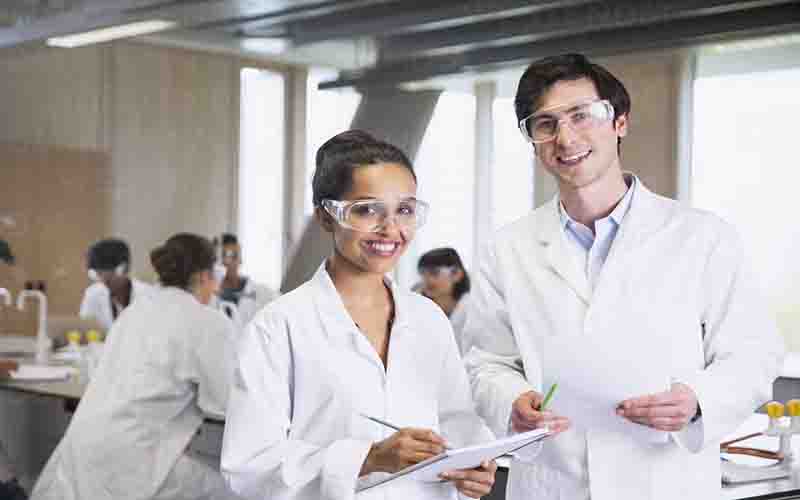 Published by : stepincollege
Amity University Jaipur Laboratories
Amity University provides world-class lab facilities in a variety of fields, including engineering, biotechnology, mass media, architecture, fashion technology, and hotel management. Under the supervision of an accomplished and well-trained faculty, students work with cutting-edge computers.
Mass Communication:
A cutting-edge TV studio and a cutting-edge video editing room are among the laboratories at Amity School of Communication. To record news bulletins, produce newscasts, documentaries, and even feature films, the TV Studio is outfitted with high-end digital and video cameras, teleprompter, professional studio lights, chroma screen, mixing and video editing units, and applications such as Final Cut Pro. As part of their daily course, students are given this equipment to make films and shoot photo features.
A Media Lab with 35 cutting-edge computer consoles is available in the department. The computers have highly advanced multi-media-based applications installed. Adobe Illustrator, Adobe Photoshop, Adobe InDesign, Coral Draw, Adobe Flash/Adobe Animate, Sonic Foundry Sound Forge, Adobe Premiere, Final Cut Pro, HTML & Dream Weaver, Autodesk 3Ds Max 2021 with V-Ray plugins, Autodesk Maya 2021, Pixologic Z-Brush 2020, Adobe After Effects, Foundry Nuke 12.1, Fusion, Smoke, Blackmagic Fusion 16.0, Adobe Premiere, Final Cut Pro, HTML & Dream.
Architecture Lab:
Amity School of Architecture and Planning offers state-of-the-art infrastructure and services in terms of laboratories, including centrally air-conditioned studios, climatology and surveying labs, and a carpentry workshop. These facilities are equipped with cutting-edge specialized equipment and apparatus that aid in the transmission of theoretical and practical information to students.
Advanced instruments such as a rain gauge, anemometer, dry and wet thermometers, Surface temperature measuring thermometers, and others are used in the lab to help students learn the details of climate-sensitive design through hands-on learning.
Chemistry Lab
Aside from the instruments listed above, the lab or surveying includes all of the instruments needed to perform field surveys for various sites defined for proposed developments, such as level rods, tripods, tape measures, chaining pins, and other typical surveying tools, as well as ancillary equipment. This lab is important for grasping the complexities of architecture and design. The Carpentry and Model Making Workshop allows students to create 3D models in order to visualize the projects they are working on.
Amity School of Applied Sciences stands out from the competition because it provides unrivaled infrastructure, which is managed by a team of academicians, researchers, and faculty with a national and international track record, as well as professionally qualified technicians. ASAS also has ICT-enabled lecture halls, fully air-conditioned classrooms, a faculty room, and cutting-edge laboratories. Here's a look at some of the laboratories and equipment that ASAS students use. ASAS has I an Applied Chemistry Lab for Undergraduates (ii) a Chemistry Research Lab for Undergraduates (iii) an Applied Physics Lab for Undergraduates (iv) a Physics Research Lab for Undergraduates.
Engineering Lab
The Robotics Automation and Internet of Things Laboratory, developed by the Department of CSE & IT, has begun research and development in the fields of robotics, automation, and the Internet of Things in order to unleash students' research potential and to promote students' innovative ideas and projects into motion (RAIOT Lab).
The RAIOT lab has completed projects such as the 17 DOF Humanoid, Home Automation System, Quadcopter, Kick O' Wheelz: An Automation Powered Gaming Console, and others.
Bio-Technology
Amity Institute of Biotechnology provides world-class lab facilities for biotechnology research. Students work hands-on with cutting-edge equipment under the supervision of seasoned and well-trained faculty. Advanced Research Laboratory, Fermentation Technology Laboratory, Microbiology Laboratory, Molecular Biology Laboratory, Biochemistry Laboratory, Food Technology Laboratory, and Bioinformatics Laboratory with 21 computers, Plant Tissue Culture Laboratory, Botany Laboratory, and Amity University Scientific Instrumentation Center are among the well-equipped laboratories at Amity Institute of Biotechnology.
Fine Arts
Amity School of Fine Arts has a state-of-the-art lab where all students can demonstrate their creative abilities. The lab assists students in developing their inner cunning artist. The lab is outfitted with all of the required instruments and materials for students to practice painting and sculpture, as well as handicrafts.
Fashion Technology
The Fashion Studio at Amity School of Fashion Design and Technology is state-of-the-art. ASFT students take part in exciting activities such as creating fully accessorized looks on female mannequins based on human personalities, which aid in the development of fast thinking and understanding through the use of eco-friendly textiles.
It also has a Garment Construction Lab, where students can get hands-on experience designing garments while keeping in mind the global fashion industry and fabric textures. Students create prototypes for intricate learning, which they then use to further turn their theoretical understanding into practical experience. They have access to well-equipped embroidering and sewing devices.
Students are given a forum in the printing and dyeing lab to understand and learn about different types of dyes and printing techniques. The Fashion CAD lab is well-equipped with cutting-edge hardware and software.
Performing Arts
To meet students' academic and research training needs, AIBAS has a well-equipped laboratory with the latest tests and instruments such as Biofeedback, AIIMS Neuropsychological battery, Weschler Adult Intelligence Scale (WAIS), Malins Intelligence Scale for Indian Children (MISIC), Developmental Screening Test (DST), Vineland Social Maturity Scale (VSMS). For students from other departments, we provide psychometric testing to aid in recruiting, selection, and career guidance.
Hospitality
Amity School of Hospitality has state-of-the-art facilities and well-equipped laboratories to provide practical work, hands-on training, lab assignments, practical training in food and beverage processing, tests, and operations to all students.
The Front Office lab is well-equipped and built to provide real knowledge of all operations such as room registration, room reservation, complaint handling, phone handling, and guest check-out procedures. The lab is well-equipped with property management software IDS-Next, which students can use to develop their technical skills and function as hotel software.
ASH has a modern "Model Space" and a well-equipped dry and wet laboratory. The dry lab is well-equipped with different room cleaning equipment, and it is here that we teach students about room cleaning requirements and public areas. We have a variety of laundry chemicals in the wet lab to teach standard linen care procedures. Our Model Room is tastefully furnished and equipped with all of the amenities found in a five-star hotel.
ASH has a well-equipped Training Restaurant with a mock bar for students to learn Gueridon service, fine dining service, and the preparation of creative and classic cocktails and mocktails to international standards. This lab has all of the basic and advanced training facilities that students can use to improve their practical knowledge of food and beverage operations.ASH has three well-equipped food processing laboratories to help students realize their dreams of being top-notch, imaginative, and inventive chefs in the food industry. The lab is well-equipped with all of the required tools for preparing the meal and delectable cuisine.
Bakery and Confectionary Lab and Food Production Lab are two separate labs at ASH.
Language Lab
The Amity School of Languages has a cutting-edge Language Lab with 60 computers and advanced Rosetta Software for French, German, Spanish, and Chinese. Our students appreciate this autodidactic and immersive approach to studying foreign languages, which is part of the Language Lab's continuous assessment criteria. ASL ensures immersive language learning to keep up with global standards.
Mechanical Lab
One of the most important subjects of engineering is engineering mechanics, which deals with the mechanics of different structures and components. Protection, strength, rigidity, durability, and behaviors of mechanical beams, trusses, struts, joints, and other technical aspects are ensured by laboratory results. The Mass Transfer Lab is designed to implement a fundamental analysis of mass transfer phenomena, establish methodologies for solving a broad range of practical engineering problems, and comprehend separation equipment in the process industry. It also ensures that unit processes are thoroughly comprehended. Diffusion mass transfer, cooling tower operation, dryer operation, crystallization, and absorption are among the topics covered by students.
Civil Lab
The Fluid Mechanics lab is held in conjunction with the Fluid Mechanics theory course. The flow behavior, fluid forces, and analysis methods are introduced in this introductory course.
The experiments aim to determine the forces produced when fluid flow passes over a solid material, to apply the control volume approach, to demonstrate the momentum and energy equations, to calculate viscosity, and find engineering correlations. Separations and transitions to turbulence are examples of complex flow phenomena.
Computer Lab
Computer laboratories with the most up-to-date configurations of computer systems and applications are available at Amity Institute of Information Technology and Amity School of Engineering. Practical preparation is prioritized in order to improve the student's programming skills and application-oriented approach. Software for different areas of computer science, such as programming, database management, computer networking, and website design, is available from tech laboratories.
Automotive Engineering Lab
Students learn about the design, production, research, application, modification, and maintenance of vehicles and their components for use in transportation systems in the automotive engineering lab. Students learn about internal combustion engines, fuel injection systems, braking systems, and other automotive accessories.
Process Control Lab
This laboratory course will teach you about feedback control systems in the chemical and process industries. The course includes complex control system analysis as well as hands-on training.
CAD Lab
The Amity School of Engineering and Technology's CAD lab at Amity University in Rajasthan is a central facility where all ASET students, research scholars, and faculty can use 2-D and 3-D design and analysis tools. Users are encouraged to read, practise, and apply their newfound knowledge to their own research. In the CAD lab's digitally integrated world, users can plan, test, simulate, and build components.