M.A. Psychology – Specialization offered Clinical/Counseling Psychology at Amity University, Jaipur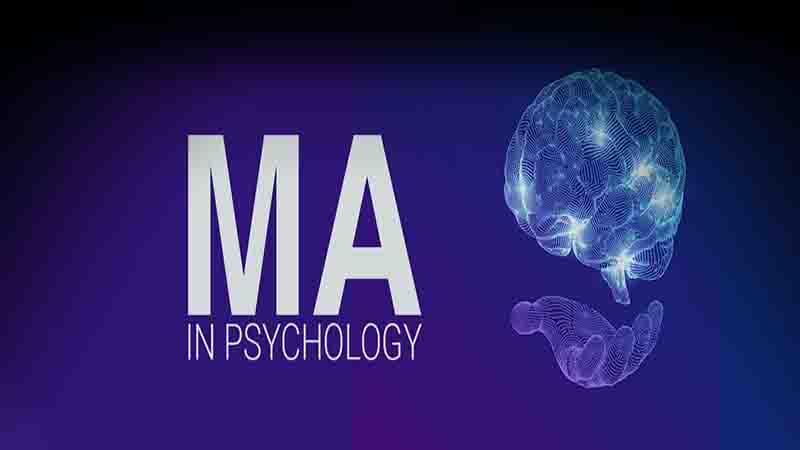 Published by : stepincollege
M.A. Psychology – Specialization offered Clinical/Counseling Psychology at Amity University, Jaipur
MA Psychology is a 2-year postgraduate programme in psychology. Clinical psychology, health psychology, industrial psychology, and other specialisations are all available. Candidates with a bachelor's degree in psychology are qualified to apply for the programme. Psychology is one of the most common specialisations in the Master of Arts degree programme (MA). Students studying in the course study human behaviour and psychology, and the class is devoted to psychology. The MA in Psychology offers a systematic and in-depth look at psychology as a discipline. Crisis management, inspiration and the essence of mind, mental mechanisms, dispute resolution, reactions, groupthink, thoughts, and other topics are discussed in the MA in Psychology programme.
The aim of the MA Psychology programme is to prepare students to recognise mental, psychological, and behavioural problems as well as particular disorders. Students gain a thorough understanding of human psychology, behaviour, and how people communicate with one another and their environment. MA in Psychology is a course that provides students with an understanding of the deeper and advanced aspects of psychology as a discipline while also assisting them in understanding the professional aspects of it. An MA degree in any specialisation implies a stronger liberal arts emphasis, and students with an MA degree are given priority in the job market.
Human development theories, research methodologies, and ethical principles are often discussed in MA Counseling Psychology programmes. For students who have completed a bachelor's degree in psychology or a related area, obtaining an MA in Counselling Psychology is a fantastic choice. Working with individuals and organisations to establish diagnoses, set goals, and treat emotional problems is what counselling psychology entails. Students learn about ethnic sensitivity, clients as people, and personality theories in most programmes. Some programmes enable students to specialise in a field such as family therapy, adult professional counselling, or adolescent counselling.
Eligibility Criteria for M.A. Psychology
To be eligible, applicants must have earned Bachelor's degree in Psychology, or an equivalent degree from a recognized university.
Selection Proces for M.A. Psychology
Entrance exam performance, Master's degree merit, English Language Test, and Personal Interview
Program Fee for M.A. Psychology
1st Year Non Sponsored Semester Fee: Rs. 45,000
Duration for M.Phil Clinical Psychology
This program will take 2 years to complete.
Course Curriculum Syllabus for M.Phil Clinical Psychology
| | |
| --- | --- |
| Semester 1 | Semester 2 |
| History & Schools of Psychology | Review Article |
| Cognitive Psychology | Indian Approaches to Psychology |
| Research Methodology | ANANDAM-II |
| Psychological Measurement and Statistics | Communication Skills - II |
| Practicum - I | Behavioural Science - II (Behavioral Communication and Relationship Management) |
| ANANDAM-I | Advanced Social Psychology |
| Behavioural Science I (Self Dovelopment and Interpersonal Skills) | Psychometrics |
| Communication Skills - I | Human Development in Social Context |
| Neurological Basis of Behaviour | Practicum- II |
| Personality Theories | Life Skills |
| Term Paper | Experimental Design in Behavioural Research |
| Seminar | Advanced Counseling Skills |
| French | French |
| German | German |
| SPANISH | Spanish |
| Chinese | Chinese |
| Semester 3 | Semester 4 |
| Practicum- III | Dissertation |
| Behavioral Science III (Leading Through Teams) | Conduction of Supervised Workshops |
| Communication Skills - III | Internship in Clinical setting |
| Community Psychology | Internship in NGO/ Rehabilitation Center |
| Summer Internship Evaluation | Conduction of Supervised Workshops |
| Guided Counseling | Internship in Community setting |
| Scientific Research Paper | Internship in NGO/ Rehabilitation Center |
| Counseling for Diverse & Vulnerable Population | - |
| Behavioural Problems of Children & Adolescents | - |
| Methods and Approaches in Counseling | - |
| Assessment and Research in Counseling | - |
| Areas and Related Disciplines of Counseling | - |
| Psychopathology | - |
| Clinical Psychology: Positive Psychology Approach | - |
| Psychotherapy | - |
| Introduction to Clinical Psychology | - |
| French | - |
| German | - |
| Spanish | - |
| Chinese | - |
Career Options and Job Prospects for M.A. Psychology
Professional psychology is in high demand in a variety of fields these days. With people now becoming able to speak about their mental health problems, the need for psychologists is becoming more significant. Many schools and colleges have counsellors or counsellors on staff so that students can seek help if they are experiencing mental health issues. At welfare organisations, regional mental health centres, schools, hospitals, and clinics, for example, trained people with a thorough understanding of psychology are sought.
Graduates have advanced knowledge of counselling concepts as well as the necessary professional experience to work in both private and public practises as counsellors.Students who pursue a career in counselling psychology will be able to apply their experience of psychology to the benefit of those suffering from different psychological and emotional disorders. An M.A. in counselling psychology may be pursued by students who have a bachelor's degree in a similar area.
Graduates can find work in the following fields:
Counselors who specialise in addiction and drug abuse
Counselors of mental health
Therapists who specialise in marriage and family therapy
Counselors in rehabilitation
The following are some of the most popular job roles for postgraduates with an MA in Psychology.
Counsellor
Teacher
Psychologist
Doctor
Clinical Psychologist
Therapist
Career Advisor
Community Relations Officer
Social Worker
Placements for M.A. Psychology
Multispecialty hospitals, psychiatric clinics, NGOs, educational institutions, rehabilitation centers, and wellness centers are among our top recruiters. Students from AIBAS are also working as mental health experts, faculty in national and foreign universities, NCERT-Delhi, Concentrix, Radio Mirchi, NDTV, researchers, and employees of the federal and state governments.
Top Recruiters
Success Neeti
Rajasthan Mahila Kalyan Mandal Sanstha
Mind15.eu
Manas
Scholarships for Academic Excellence for 2021
Criteria for 100% Scholarship:
Students in CBSE/ ISC/ State Boards in Class XII must achieve a minimum of 93 percent in aggregate and 80 percent in graduation.
Physical Education, Fine Arts, Performing Arts, Vocational, and non-written subjects are not included in the total.
Criteria for a 50% Scholarship:
Minimum of 88 percent in aggregate in CBSE/ ISC/ State Boards Class XII students and 75 percent in graduation
Physical Education, Fine Arts, Performing Arts, Vocational, and non-written subjects are not included in the total.
Institute: Amity Institute of Behavioral and Allied Sciences (AIBAS)
Amity Institute of Behavioral and Allied Sciences (AIBAS) is dedicated to excellence in teaching, learning, and analysis, as well as developing the best in the field of psychology. Amity University is one of India's most prestigious academic and research institutions.
Establishment of this Institute (AIBAS): Since 2007, when the Amity Institute of Behavioral and Allied Sciences was created, it has pushed for new ways of thinking (AIBAS). Because of its excellent facilities, the university draws students from all over the world. AIBAS was founded and is run by a company with over 13 years of outstanding experience and performance excellence. Since 2011, AIBAS has become the first institution in Rajasthan to offer an M. Phil. in Clinical Psychology, which is recognized by the Rehabilitation Council of India (RCI).
For its students, AIBAS offers a splendid and extensive range of facilities on campus. The department's classrooms are modern, with LCD projectors fixed on the ceiling and computers. To improve the skills and personality grooming of students, the department regularly organizes National and International level Conferences and Seminars, Workshops, educational and cultural activities, field trips, and FDP on a variety of topics and disciplines.
AIBAS has a variety of Facilities
The AIBAS auditoriums are equipped with cutting-edge multimedia systems that can be used for lectures, conferences, festivals, and other academic activities. Students can find a large selection of books, journals, magazines, and newspapers in the various libraries. The laboratories provide students with hands-on experience with different subjects and enable them to experiment with what they have learned in class. AIBAS offers a veritable treasure trove of services to which a student has access. There are services that can assist any student in achieving his or her educational goals, ranging from undergraduate programmes to study.
A well-equipped psychology lab that can perform the most up-to-date research and studies.
Machines and studies applicable to advanced neuropsychology.
Both the UG and PG programmes have special NTCC for internship and research preparation.
Clinical and counselling specialisations are available at the graduate level, with open electives such as forensic psychology, organisational psychology, and others available at the undergraduate level.
Both students, teachers, staff, and others have access to a counselling cell, and PG students receive training in supervised counselling.
Students are given additional Behavioral science classes during their UG and PG semesters, as well as throughout the university, in order to provide them with realistic personality development instruction.
About the Organization
Amity Institute of Behavioural and Allied Sciences (AIBAS) was established in 2007 with the aim of developing leaders and practising psychologists who are ethical and morally sound. AIBAS aims to provide the following resources to aspiring psychologists:
The ability to study human behaviour and apply it in a variety of contexts, as well as the experience and skills to do so.
Techniques for diagnosing and treating a wide range of mental health issues in a diverse population
The opportunity to maximise students' potential, hone their creativity and abilities, and cultivate core competencies in order to prepare them for the demands of today's workplace.
To foster acceptable behavioural skills and principles of a healthy human being, AIBAS uses an inter-disciplinary approach to research.
Courses Offer: In Psychology and Behavioural Science, it offers undergraduate, graduate, and doctoral programmes.
Academicians and academics with extensive expertise in the fields of psychology and behavioural science make up our esteemed faculty. Faculty and industry experts direct the teaching and testing activities. Our professors are also active in research projects in cooperation with prestigious institutions.
Career Options: Industry integration and interface with businesses and organisations operating in a variety of realms is a requirement of the programme, which includes hospitals, NGOs, corporate sectors, development agencies, advocacy groups, counselling centres, educational institutes, research laboratories, and global organisations, among others.
Stress and wellbeing, ageing, substance abuse, community mental health, disability, recovery, individual emotional well-being, and other contemporary socio-cultural concerns are addressed in the teaching, study, and field training.
Amity University academic courses cover the most recent developments in psychology and place a strong focus on hands-on training and field work. The courses are designed to help students gain knowledge and skills by focusing on theoretical understanding and practical applications. Experiential learning, lectures, meetings, interviews, declamation, and peer discussions, as well as conferences, campaigns, field studies, and hands-on training, are all part of our creative pedagogy.
Advantage of AIBAS:
Since 2011, AIBAS has become the first institution in Rajasthan to offer an M. Phil. in Clinical Psychology, which is recognised by the Rehabilitation Council of India (RCI). Aside from theoretical knowledge, AIBAS provides students with opportunities to gain practical knowledge through summer internships, field studies, experiential learning, and projects. We send AIBAS students to various hospitals, rehabilitation centres, laboratories, and organisations that seek to improve people's mental and emotional well-being for field training. Summer preparation and practical experience are given to students at the following locations:
Multispecialty hospitals and Psychiatric Centers like VIMHANS, Delhi and Jaipur, Gautam Hospital and Research Institute
Rehabilitation Centers
Institute of Human Development, Delhi
NGOs: Umang, Prayas and Disha
Industries and offices/branches of Multinational Corporate (MNC)
Counseling centers, educational institutions, training centers of international repute
AIBAS offers therapy services to all university students, professors, and staff to help them with academic, mental, and behavioural issues. For this reason, a full-time counsellor has been assigned. AIBAS faculty members are all trained in therapy techniques.
Students may take advantage of the department's value-added courses. Among them are-
Credit System with Several Options: Students at the undergraduate and postgraduate levels use the Choice-Based Credit System (CBCS), which is an interdisciplinary 'cafeteria' approach that allows students to choose courses from various colleges, disciplines, and programmes; learn at their own rate, take additional courses, and receive more credits than are available. After earning the requisite credits, students can earn a major in Psychology and a minor in their chosen discipline.
Behavioural Science: It teaches students how to strengthen their psychosocial and emotional skills in order to cope effectively with their personal and professional lives. The course promotes students' mental and emotional well-being. The course emphasises activity-based learning of psychology's basic concepts for personality development.
Languages Other Than English: The course teaches students how to improve their language skills, such as accuracy and precision, which are essential for assertiveness and proficiency in professional communication.
Ability to Communicate: The course assists students in improving their reading, writing, and communication skills in one foreign language of their choosing. Students who have developed strong communication skills are more secure in their ability to complete cross-cultural assignments.
AIBAS performs psychometric profiling for freshmen students to assist them in determining their strengths, weaknesses, and virtues. It enables them to look for ways to improve themselves on a daily basis and efficiently communicate with others.
Publication of Research: As a research-intensive institution, AIBAS strives to acquire the skills necessary to perform high-quality research and publish papers in reputable journals. All AIBAS students take part in a research-based activity that is supervised by knowledgeable professors.