Ph.D. Political Science Course at Amity University Jaipur, Course Curriculum & Syllabus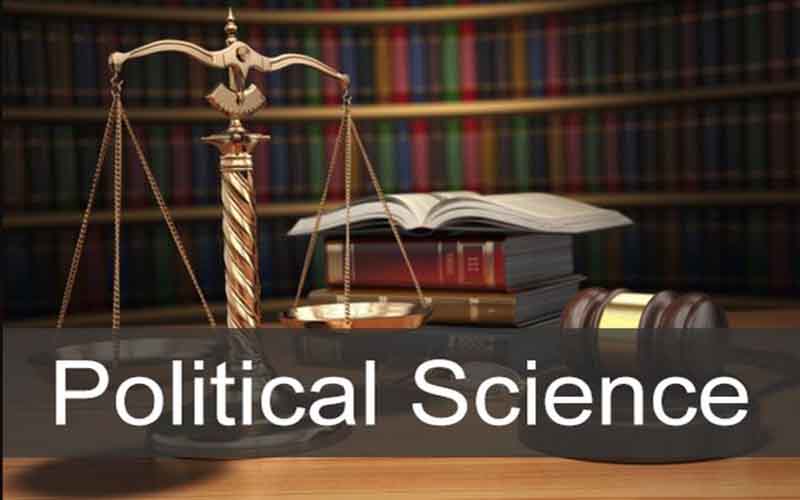 Published by : stepincollege
Ph.D. Political Science Course at Amity University, Jaipur
Ph.D. in Political Science, also known as a Doctor of Philosophy in Political Science, is a doctoral-level course that lasts 3 years. Ph.D. in Political Science encompasses all facets of the political science field in which the candidate has chosen to conduct their study. This course necessitates a thorough understanding of Indian politics, as well as the political landscapes of other relevant countries, with a focus on Governance, Community Empowerment, Economy, Decentralization, and Development in India. These subjects will be distributed on a yearly basis, depending on the mode of education chosen, such as full-time or part-time. Candidates must choose a research subject on which to conduct their research. More information on the chosen topics will be presented to the candidates. Students will be required to conduct case studies on the Indian economy and politics and present the findings in their thesis. Candidates could apply for a post-doctoral degree in Political Science after completing this course. The majority of PG graduates want to pursue a Ph.D. in Political Science for the following reasons:
Research Opportunities: Postgraduate candidates appear to be passionate about Indian politics, economy, and progress. As a result, a doctoral degree would provide them with many research opportunities as well as experience in their chosen field.
Works that will be supported have the following scope: Doctoral holders of Political Science have a better chance of receiving government and non-government grants for their studies.
Good Annual CTC: Because of their lack of research skills and experience, PG graduates in Political Science typically earn a lower annual CTC. Ph.D. Political Science holders, on the other hand, appear to earn a higher annual CTC of about 10 lakhs because they have a wide range of research skills and experience in politics and the Indian economy.
Studying Abroad's Scope: These doctoral holders have a chance to get placed or work in many foreign countries because they hold one of the most prestigious degrees in the discipline and have been exposed to continuous information gathering in many countries' politics.
Possibility of working in polling firms: Since these candidates are experts in Indian and other countries' politics, they might be able to work in polling firms that determine leadership in some countries.
Eligibility Criteria for Ph.D. Political Science
A master's degree in political science, international relations, or public administration from an accredited Indian or foreign university with a minimum grade of 55 percent or equivalent.
Selection Process for Ph.D. Political Science
Score on the Ph.D. Entrance Exam
The written exam is not open to candidates who have passed the UGC NET / CSIR / ICAR (ASRB) / GPAT / ICMR / GATE in the previous two years.
Candidates who have completed an M.Phil. in the relevant subject are eligible for Ph.D. programs.
A combined grade point average of 60 percent or higher in 10th, 10+2, and Bachelor's Degree is required for admission to the Ph.D. program.
Candidates for the Ph.D. in Commerce must have an ICWAI/ICSI from the "University of Chartered Accountants of India" (ICAI) with a minimum of 55 percent.
The admissions process for the Ph.D. program takes place twice a year, in January and July.
Program Fee for Ph.D. Political Science
1st Year Non Sponsored Semester Fee: Rs. 42,000
Program Fee for Ph.D. Political Science (Part-Time)
1st Year Non Sponsored Semester Fee: Rs. 27,000
Duration for Ph.D. Political Science
This curriculum will take 3 years to complete.
Duration for Ph.D. Political Science (Part-Time)
This curriculum will take 4.5 years to complete.
Course Curriculum Syllabus for Ph.D. Political Science
Semester 1
Research Methodology
Review of Published Research Work
Research & Publication Ethics
International Politics
Political Dynamics and Contemporary Politics
Fellowships at the Amity University
The Amity Science, Technology, and Innovation Foundation (ASTIF) grants Fellowships to promising young scholars and scientists as part of its Nation Building initiatives. Fellowships are available in all disciplines, and there is no limit on the number of individuals who may apply. For more information, go to www.amity.edu/astif/astifnew/.
Eligibility for a Ph.D. Fellowship
The applicant must have a perfect academic record, up to and including a Master's Degree from a prestigious college or university. The ASTIF Fellowship will be awarded to applicants who have not previously earned a fellowship from another institution and have made significant progress in their study since enrolling in Amity's Ph.D. program.
Career Prospects for a Ph.D. Political Science
After completing a Ph.D. in Political Science, research scholars are primarily employed in industries that require knowledge of the Indian economy, politics, and innovations. Market trend Research Analysts, Political Scientists, Public Relations Specialists, Survey Researchers, and Research Analysts are the most important positions for Ph.D. Political Science holders. The average salary for these doctorate holders is between INR 5 and 15 lakhs per annum. Companies such as NDTV, Transoplanet, Times of India, Pollstar |, QuisLex, India Today, Oxynello, and others are hiring for political and research/analysis-related positions.
Job Profile
Political Scientist
Market trend Research Analysts
Professor
Public Relations Specialists
Survey Researchers
Research Analysts
Placements
ASL graduates are highly qualified, experienced, and sought after by a variety of academic and corporate sectors. ASL graduates have been hired as content authors, translators, and instructors, among other positions. In order to transform vision into practice, the institute aims to create the right environment and strike a balance between imagination and information dissemination.
With the help of specialist institutions, we hope to train the brightest minds to contribute to nation-building through their skill sets. Several notable organizations have successfully put our students. Through the initiatives and activities of the Placement Cell, ASL's contribution to grooming knowledgeable practitioners in the fields of language, literature, and culture studies finds meaning and speech.
Top Recruiters
Vidhiaagaz
Direct Dialogue
Vervelogic
ACF
Times
Indian Institute of Code Network & Security
Collegedunia
JDBINFOTECH
Phia
NETTV4U
Amity School Of Liberal Arts
Amity University offers a variety of excellent academic programs, with Liberal Arts being one of the most common. What are liberal arts, exactly? The European Science Foundation provides a clear definition: the liberal arts are those topics that study and describe human beings. This can be done in a number of ways, from understanding how minds operate to understanding how communities function as a whole. It is one of the world's oldest disciplines. It is a method of education that enables an individual to better prepare for the opportunities and challenges of everyday life. It offers a diverse selection of courses, including Political Science, Economics, History, and Philosophy, to name a few. Undergraduate courses in Political Science, Economics, History, and Philosophy are currently taught at Amity University, with several more new subjects on the horizon, such as Sociology, Geography, and others, as well as Masters in all disciplines to be launched soon. As we have Honors courses, it provides specialized knowledge and understanding to the students.
Students will pursue careers in a variety of fields by studying Liberal Arts, including the Indian Administrative Services (IAS), State Administrative Services (PCS), Combined Defense Services (CDS), and other competitive exams, higher education teaching and research, the United Nations, Amnesty International, various positions in journalism, Social Work, Economist, Financial Analyst, Archeologist, Museulogist, and Me. The aim of the course is to improve leadership skills in students so that they can lead effectively once they enter the real world.
Institute's Benefits
Throughout the semester, ASLA hosts monthly invited Guest Lectures and workshops for its students to add value to their classroom learning.
Visits for collaboration and training
ASLA has partnered with Arizona State University in the United States and Wilfred Laurier University in Canada to provide international recognition and opportunities for students to engage with international students and faculty.
Credit System with Several Options
Department Electives are available to ASLA students via a choice-based credit scheme.
Career at ASLA
Amity Education Group is India's largest educational conglomerate, with campuses spanning 1,200 acres and including nine world-class universities in Delhi-NCR, Lucknow, Jaipur, Gwalior, Mumbai, Raipur, Ranchi, and Kolkata; 25 colleges; over 150 top-ranked institutions; 15 global business schools across India; and 12 international campuses in the United Kingdom, the United States, China, the United Arab Emirates, Romania, Amsterdam, and South Africa.
Over 1,50,000 students are enrolled in over 300 programs at the Group. Amity University's campuses were created by an Act of the State Legislature and are recognized by the UGC, as well as receiving a NAAC grade of "A." It is one of India's first universities to be accredited by ASIC in the United Kingdom and listed on the UN's list of Global Universities.
The Government of India's Department of Science and Technology recognizes Amity University as a scientific and research institution. Amity has earned several international accolades, including 'Premier' status accreditation from ASIC in the United Kingdom; accreditation from the ACBSP in the United States; accreditation from the IET in the United Kingdom; and accreditation from the Bar Council of India, Council of Architecture, National Council of Teachers Education, Pharmacy Council of India, and Rehabilitation Council of India. Amity University has been ranked among the top universities in Asia for the past two years by the British Quacquarellin Symonds (QS), and is the only university from India to make the list. ASL is looking for extremely talented and driven people who have a proven track record of high-quality research and a deep dedication to teaching.