Life at Mody University, Facilities, Safety, Courses in foreign languages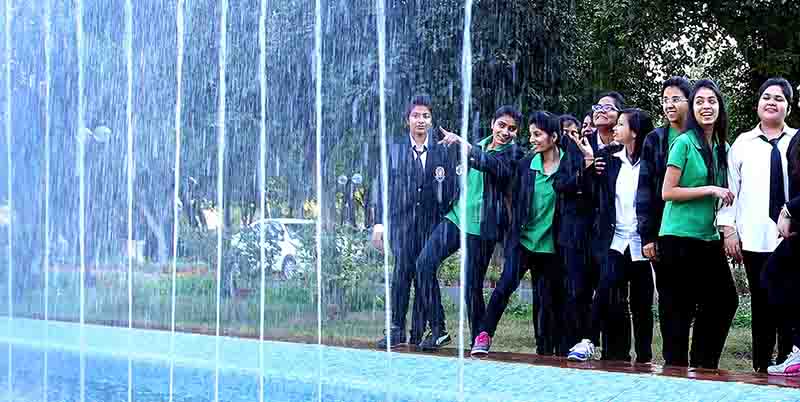 Published by : stepincollege
Life at Mody University
Mody University is a place where education empowers people to think outside of the box in search of new ideas. The attitude can be found all over our campus, in education, scholarship, and science.
Extracurricular activities include:
Mody University's campus not only improves education and academics, but it also promotes sportsmanship among students by providing a forum for them to play and grow their personal skills through co-curricular activities.
Mody University's extracurricular programs
Indoor and outdoor sports such as tennis, badminton, and others.
The girls are also sent for summer internships in the best companies as part of their curriculum.
Within the University, seminars and special lectures are also attended and organized.
The students practice meditation and yoga on a daily basis.
Cultural activities are held on a regular basis, and every girl student is expected and encouraged to attend.
Mody University has a number of student groups that address socially responsible and serious issues.
Modeling for electronics
Production of software
Dance is a great way to express yourself
Theatrics
Crafts & Art
Deliberation
Cooking
Philately
Within the Campus, blood donation camps are also held.
Tree planting is also carried out here.
The girls are given NCC training.
Workshops and Seminars
Engineering and Technology School
Faculty members at the School of Engineering and Technology are encouraged to attend numerous conferences and symposia held throughout the world. During this time, faculty members from the School of Engineering and Technology have published 129 papers in a variety of international journals and conferences.
Students from the School of Engineering and Technology also attend student conferences, symposia, and contests for research paper presentations regularly. This year, our students received several awards at other institutions' paper presentation competitions.
School of Liberal Arts and Sciences
From March 29 to March 31, 2012, the Department of Science, School of Liberal Arts & Sciences, hosted an International Conference on Microbial, Plant, and Animal Research (ICMPAR), which was funded by the Department of Biotechnology, ICMR, and the Ministry of Environment and Forests, Government of India, New Delhi. About 300 delegates, including scientists, academicians, and research scholars from India and abroad, attended. Prof. Thomas Hohn, Director of Bio-centre, University of Basel, Switzerland, who was also the keynote speaker, officially opened the conference.
The Department of Arts also hosted Orientation Programs for faculty members on "Incentives of Multi-Skills" and "Education Reforms," as well as a Workshop on "Ethics, Linguistics, and Communication in Teaching."
Business School
Workshops on topics such as cultivating a positive mindset, positive thinking, time management, developing interpersonal skills, developing listening skills, developing talent for handling interviews, and participation skills in group discussions are held regularly to strengthen students' communication skills and provide a solid base in language communication.
Every Tuesday, workshops are held to keep students up to date on current management issues and to keep up with the evolving world. Faculty members and students give speeches on current management trends.
School of Law
Prof. Satish C. Shastri, Dean, College of Law and Governance, was invited to (a) preside over a session on Environmental and Law at an International Conference on Sociology of Law. The International Sociological Association and the Central University of Himachal Pradesh jointly organized the conference, which took place in Dharmshala from September 10 to 12.
He was also an 'invited speaker' at the President of India's inaugural International Seminar on 'Global Environment and Disaster Management: Law and Society (July 22-24, 2011).'
On September 29, 2011, and November 22, 2011, two seminars were held on 'The Competition Act, 2000' and 'Law and Medicine.'
Sporting Events
Mody University has taken a significant step forward in ensuring that the students it produces are mentally and physically healthy. Even though it is a women's institution, it does not want to fall behind any other educational institution in terms of producing ideal students. Mody University's sports facilities are particularly commendable since it makes a concerted effort to provide women with self-defense skills.
Sports are an important part of growing up safe and confident and taking care of your life with passion and excitement. Mody Institute makes sure that all of its graduates are mentally and physically fit. Floodlit playfields are huge, and students who enjoy workouts and outdoor sports use them even in the early mornings and late evenings.
Equestrian sports: The promotion of equestrian skills takes pride of place among the many activities that are practiced on campus. The goal is to instill a true love and reverence for animals, in addition to cultivating bravery, faith, and poise. Both students are qualified to join the Equestrian Club. The Institute has 55 magnificent horses for this sport and seeing young girls riding them serves as a reminder of the royal princesses who once roamed these pastures with carefree glee.
Tennis: Tennis is one of the most popular sports in the world. Both Institute students are qualified to join the Tennis Club. Our state-of-the-art Tennis Court and Practice Wall, both of which are flood-lit, have truly become a breeding ground for future Sania Mirzas. In the future, there will be a total of 21 tennis courts, all of which will meet international standards, as well as a grand Central Court.
Other sports include: Volleyball, hockey, football, cricket, basketball, and badminton are only a few of the outdoor sports available at the Institute. Indoor games such as table tennis, chess, and carom, among others, are also available. These matches are held under the supervision of their respective coaches.
Sporting events: The campus has an 8-acre Sports Arena with various facilities, including an Obstacle Course modeled after Army formations, Shot-Put, Discus-Throw, Javelin-Throw Long-Jump, Triple-Jump, Water-Jump, High-Jump, and Pole-Vault.
Yoga and Martial Arts: The Institute also teaches Martial Arts and Yoga, which are true healers, uplifting both emotionally and physically.
Despite a large number of facilities and events on campus, there is military-style synchronization and coordination. Every operation is meticulously designed and conducted, as shown by the campus's appearance. This is backed up by a list of our students' sporting accomplishments, which are listed below.
1) Major Sports Meets 'MST 11' was held at MNIT Jaipur from the 18th to the 20th of February.
(a) Trophy for the Overall Championship.
(b) A monetary award of Rs 3,000 for the best women's team.
c) Basketball, volleyball, and badminton championship trophies
d) Table Tennis Runner-Up Trophy
2) UDGHOSH–11 is number two. From September 23 to 25, 2011, IIT Kanpur hosted a conference.
(a) The Volleyball Championship Trophy.
(b) Best Volleyball Player Gift Voucher.
c) Athletics: 2 gold and 5 silver medals.
12 SPARDHA From the 23rd to the 26th of February 2012, it was held at IIT BHU Varanasi.
(a) Trophy for the Best Outstation Team
(b) Basketball, Badminton, Table Tennis, Handball, Kho-Kho, Athletics, Volleyball, and Lawn Tennis championship trophies.
(c) Basketball, Badminton, Table Tennis, Handball, and Kho-Kho Best Player Awards.
(d) Individual Athlete of the Year.
e) Athletics: 14 gold, 1 silver, and 8 bronze medals.
UDGHOSH-2 was held at IIT Kanpur from September 27 to September 30, 2012.
(a) Volleyball Championship Trophy
b) Basketball Runners-Up Trophy
(c) Volleyball Best Player Gift Voucher
d) In athletics, 2 gold and 6 silver medals.
13 SPARDHA From the 22nd to the 25th of February 2013, it was held at IIT BHU in Varanasi.
(a) Volleyball, Basketball, Handball, Table Tennis, and Lawn Tennis championship trophies.
b) Athletics Runner-Up Trophy
c) Awards for the best players in table tennis, basketball, handball, and lawn tennis
d) Athletics: 11 gold, 2 silver, and 2 bronze medals
UDGHOSH 13
From the 26th to the 29th of September 2013, IIT Kanpur hosted a conference.
(a) The Volleyball Championship Trophy.
b) Badminton Runners-Up Trophy; c) Athletics: 1 Gold, 2 Silver, and 1 Bronze medal.
Interactions between industries
The girls at Mody University are allowed to gain academic knowledge and are also introduced to the professional world. Complete professional exposure contributes to a person's overall growth by increasing her level of trust.
When it comes to student-industry engagement, Mody University makes certain of the following:
Mody University maintains strong relations with prestigious international universities and institutes such as Carleton University in Canada, GSI Helmholtz in Darmstadt, Germany, and the GE Foundation in the United States. We've also signed Memorandums of Understanding with CSIR Laboratories including CEERI-Pilani and CMERI-Durgapur, which have all been operational since they were signed.
In new fields of research such as Solar Energy and Nanotechnology, active cooperation is underway to work toward a research partnership with GE's John F. Welch Technology Centre in the United States.
In the areas of research and development, Mody University has signed MOUs with the University of Missouri, Columbia.
One student in her third year of B.Tech. (I.T.) is doing a two-month summer internship at GSI in Darmstadt, Germany, thanks to a GSI scholarship and travel assistance.
Four M.Tech (VLSI) students have been chosen for a summer internship at GSI in Darmstadt, Germany.
In November 2010, Carleton University's Director of the Real-Time and Distributed System Laboratory paid a visit to our institute.
Two of our B.Tech. one from the Department of Computer Science & Engineering and the other from the Department of Electronics & Communication Engineering has been awarded two G.E. Foundation Scholarships worth the US $4500 each, tenable for two years.
Courses in foreign languages
Do you want your daughter to be a foreign language aficionado? Mody University has gone to great lengths to have the best classes for teaching your daughters important foreign languages.
Mody University students are required to learn at least one foreign language. The diverse nature of the business world necessitates professionals gaining proficiency in foreign languages in order to work with international clients.
One-year certificate courses in the following languages are available:
Japanese
French
German
Spanish
Chinese
Students can also be found in the following places:
New Delhi's CFE Alliance Francaise (French)
Max- Muller, Goethe Institute, New Delhi, START DEUTSCH 1 (A1) (German)
The Japan Foundation, New Delhi, JLPT-4 (Japanese)
Defense & Safety
When it comes to a girl's admission to an educational institute, the welfare, and protection of their daughters are top priorities for parents. The Mody University of Technology and Science provides full safety for your daughter and guarantees the highest level of security both on campus and in the hostels.
How do you keep your daughter safe?
Skilled security guards are stationed around the Institute 24 hours a day, 7 days a week. The guards' unwavering diligence ensures that the campus is completely secure.
All must adhere to strict guidelines in order to uphold the Institute's decorum and ensure that the safety of every student is not jeopardized.
All resident students are only permitted to leave the building with proper gate passes signed by the Dean or the departmental wardens.
The entry gate keeps track of the students' and teachers' regular arrivals and departures.
The security department has a list of four guests, each with a photograph of each student.
After being paired with the photograph and name on the visitors' pass, visitors may visit the respective students.
Campus's Safety Measures
In Auditoriums and large classrooms/labs, effective security and safety arrangements with emergency exits and ventilation/ exhaust are required.
Both buildings have different stairwells.
Ramps for mentally disabled University students.
Both classrooms and laboratories have adequate space and ventilation.
Inside the laboratories, students are required to wear aprons and safety shoes.
Each laboratory should hold no more than 20 to 30 students at a time.
Inside the buildings, there is a high level of security
Checking wiring and electrical systems for leaks and other faults on a regular basis.
Electrical earthing is thoroughly checked in all buildings to ensure the protection of equipment and workers. They are tested every six months to ensure that they are in good working order.
During the rainy season, all buildings and laboratories are inspected for any seepage of water that could cause electrical shocks.
In the case of powerhouse maintenance, statutory requirements are met.
Fire extinguishers and firefighting equipment are installed in all buildings and laboratories.
For handling dangerous chemicals, adequate safety guidelines are given.
Every student receives training in firefighting, hazardous chemical handling, and other related activities.
Life in the Spirit
Importance of Aesthetics
Mody University establishes itself as the best forum for combining education, leisure, and spirituality. Students on campus have the opportunity to study both their subjects and moral beliefs at the same time. Aside from that, they are given the opportunity to relax by participating in yoga and meditation.
Students can more easily understand the lessons and other teachings while they are in a calm mental condition. Tapovan is a location in Mody University where the girls are provided with a blended dais for leisure, spirituality, and faith in order to help them achieve total serenity.
Tapovan is subdivided into three sections:
Temple is a place of worship
Yagnashala is a place where you can perform yagna
Hall for meditation
Mody University's Tapovan area includes the Temple, Yagnashala, and Meditation Space. Because of the efforts of Mr. Rajendra Prasad Mody, Chairman of Mody University Shaskiya Parishad, this spiritual journey started on February 8, 2011.
Beautiful statues of Shri Ramchandraji, Mata Sita, Laxman, and Hanumanji adorn the shrine. This is why it is referred to as "The Ram Darbar." At the Shikhar, the temple's wide dome, the idol of Surya Dev with his seven horses is also crafted. This piece of art exemplifies the students' fast-paced lifestyle. Priests from Banaras are summoned to the Yagnashala to recite the Vedas. All students are required to attend the yagnas that are held on a regular basis. Tapovan's Meditation Hall will hold up to 500 people at a time for meditation. You are a parent, and you would be ecstatic to learn that your daughter is spiritual as well as having dynamic professional qualities.
Clubs for Students
Aside from their studies, Mody University students organize a number of clubs and societies to organize various events and activities on the university grounds. Students from Mody University's four colleges have founded a number of organizations.
School of Engineering and Technology
Several clubs and societies in the College of Engineering & Technology are made up of highly talented and dedicated students. These student clubs are tasked with various roles and have various characteristics. They have the following names and characteristics:
Utkarsh (Utkarsh) hosts a variety of activities, such as game and operating system programming, quizzes, and seminars on emerging technologies in the IT industry.
a guiding light It is an organization run by Electronics and Communication Engineering students. BEACON stands for "Batch of Engineers Acquiring Confidence over Novelty" and is an acronym for "Batch of Engineers Acquiring Confidence over Novelty."
Karuna is a character in the film Karuna It is a social service agency that was established in 2006 with the primary purpose of assisting and driving positive change within educational institutions/organizations that focus on children's education as well as community growth.
Robota is a robot. A society of CET students, established in 2009, offers a forum for students to demonstrate their technological intelligence by hosting technical seminars, workshops, and other events.
Anhata is a term used to describe an individual Mody University-CET founded a cultural society in 2010. It allows students to showcase their talent while also enhancing their cultural abilities.
Xperia In 2010, the Society for Mathematical Sciences, Engineering Technology, and Personal Development was established. Its goal is to bring out students' hidden abilities for the benefit of society.
Athlon is a sports team from the United States. Mody University-CET founded a society in 2008 to create and encourage student sports and athletic activities.
Enginium is a metal that is used in engineering.
This is one of the university's most influential student organizations. Enginium magazine is published once a year and highlights a wide range of student interests and expertise. This publication highlights the writing abilities of students who are frequently overlooked or undervalued.
School of Business
Club of Marketing: The Marketing Club at Mody University's School of Business aims to provide MBA students with the expertise, information, experience, and encouragement they need to succeed in their marketing careers. The club serves as a focal point for the growing community of marketing students, faculty, and alumni, allowing for ongoing engagement and support.
Club for Social Impact: The Social Impact Club is a group of Mody University School of Business students who are dedicated to making a positive difference in the public, private, and nonprofit sectors. It encompasses social entrepreneurship, socially responsible investing, long-term corporate practices, international developments, education, and healthcare. The Social Club's goal is to provide its members and alumni with the network, expertise, and resources they need to make a positive social impact anywhere in the world, regardless of industry.
Club Finance: Investment Banking, Capital Markets, Non-banking Corporate Finance, Private Client Services, and International Finance are some of the fields of finance where the club focuses. Members of the club collaborate closely with Career Management and corporate recruiters to plan student activities. To support MBA students in their preparation for careers in finance by supporting career development activities and maintaining club relationships with members of the financial community. To foster contact between current members of The Finance Club and Mody University School of Business alumni who have pursued careers in finance.
Khushi: This is the section of the School of Business that is concerned with community service. The School of Business students aims to make the lives of the underprivileged children at the nearby Government Primary School more enjoyable by supplying them with winter clothing and additional educational input on a regular basis.