Campus Life at VGU Jaipur, Academic Event, Cultural Events, Social Events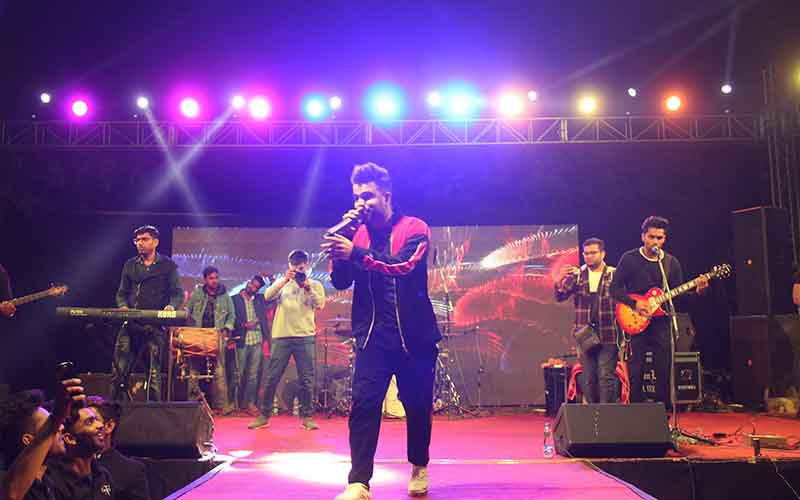 Published by : stepincollege
Campus Life at VGU, Jaipur
Holistic Development
VGU promises all-around global holistic growth, with day-to-day experiences improving students' academic, physical, mental, emotional, and social values. In today's world, students must be aware of their own inner power. VGU believes that students must learn not only academically, but also in order to succeed in the modern world. Holistic learning aims to bring the mind, body, and spirit together. It's about building safe and supportive relationships with their friends and families, as well as social and intellectual growth, leadership skills, global awareness, and improving their mental health.
Community development at Vivekananda Global University-VGU organises various events outside of the classroom and encourages students to engage in those that concern them. The university hosts a number of talks and seminars on personality growth, stress management, and spiritual practice to help students understand the meaning of life by connecting them to their environment, the natural world, and humanitarian values like compassion, peace, and the role of their Heart. Vivekananda Global Univerisity-VGU is the best university in Rajasthan and North India as a result of these activities.
Aspects Of Holistic Development At VGU
World-Class Academic Curriculum
The first and most significant step in holistic growth is world-class, truly global education.
Physical Development With Sports
Physical education is as essential as any other aspect of education. We make it a priority to encourage students to engage in sports and physical activity so that they can maximise their physical development.
Mental Development with Hands-on Practical Knowledge
One of the most critical aspects of a student's life is having a stable and strong mind. A healthy mind is a secret to all of life's success. We pay close attention to our students' mental development because these are formative years of their lives.
Social & Emotional development
Social and emotional growth – a socially and emotionally mature boy is far superior to a physically mature guy. VGU's professors and mentors treat students like relatives, offering emotional support and social values.
Academic Networking
Academic activities held during the year provide students with a greater forum for all-around development and networking in their fields of interest.
Students participate in a variety of learning activities and learn in their own unique way.
National & Interantional Confrances
VGU organised a number of national and international conferences and seminars to teach students about global values and ethics while also linking them with academics. This gave students a global perspective and enabled them to network in their fields of interest.
Hostel Life At VGU
Excellent infrastructure and world-class hostel facilities on campus.
Vivekananda Global University is one of the best universities in North India, with a 45-acre campus. One of our greatest assets is our excellent infrastructure and world-class on-campus hostel facilities. Every effort has been made by the management and other administrative boards to ensure that every student finds VGU Hostels to be a very lively, fun, and resourceful atmosphere in which to spend their academic years.
VGU strives to encourage, launch, and develop any and all projects to mould the minds of our nation's and world's future leaders, aware of the impact these active years can have. Students are exposed to a competitive atmosphere not only within the university but also with reputable universities and colleges around the world, by bringing hostel clubs and hostel festivals to campus.
Academic Event
At VGU, year-round out-of-the-box academic activities are a tradition.
At VGU, we have a tradition of providing students with year-round out-of-the-classroom learning opportunities and opportunities to showcase their abilities. Academic activities connect students' learning to their behaviour. Every year, VGU hosts over 50 academic events, boosting student success and providing sufficient opportunities for everyone to interact, collaborate, study, and learn with, from, and from industry leaders.
At a glance: academic activities!
KHOJ PRAYAS
Our event, VGU Khoj Prayas, aims to provide a forum for various scholars to come forward and present their research and studies to fellow scholars. Our Research Journal "Khoj" publishes the white papers.
This is a yearly research and project showcase.
NATIONAL PROJECT EXHIBITION
National Project Exhibition is a national-level project exhibition seminar that allows students to demonstrate their abilities by displaying their projects in front of renowned professors and dignitaries. The dignitaries' advice also helps them to take their project work to the next level.
WEEKLY CONFERENCES
All academic departments at VGU are committed to holding one conference or seminar per week to keep students informed and linked.
These seminars are always brimming with information, energy, and current events.
Team VGU makes every effort to provide their students with a world-class mentor as well as material for the conference and seminar.
ENTREPRENEURSHIP BOOT CAMP
VGU has a long history of student startups; each year, a group of students band together and, with VGU's support, begin their journey toward entrepreneurship.
Boot camp is the first step in the process, and while it is open to everyone, it is a dream event for many students.
HR CONCLAVE
Stambh is the annual event of the Department of Architecture & Design ( Also Kown as CODE VGU or Centre for design excellence VGU).
Stambh is a well-known annual event that attracts over 2000 people from all over India.
STAMBH
Stambh is the Department of Architecture & Design's annual case ( Also Kown as CODE VGU or Centre for design excellence VGU).
Stambh is a well-known annual event that attracts over 2000 people from all over India.
COMPUTATIA
The aim of the conference is to bring together experts, scholars, faculty members, students, and industry leaders to share their knowledge and expertise in the field of computer and mathematical sciences. Computatia's goal is to bring together ideas from various fields to create a specific approach to the subjects that allows for perspectives not possible in any one discipline.
RAPSE
The conference provided an opportunity for academics and practising engineers to collaborate on cutting-edge power system issues. The main goal of the conference was to share ideas about recent technological advances in power system engineering and to improve awareness about current electrical engineering trends.
Cultural Events
The Vivekananda Global University VGU's cultural committee works with the goal of enhancing students' academic and cultural skills, strengthening their ability to function as a team, and increasing their self-confidence in communicating with fellow students and peers.
The committee's cultural events include the three-day annual cultural festival "PANACHE," which takes place in January and includes a variety of intra and inter-college competitions.
At a glance, here's what's going on in the world of culture.
Panache
Panache, our Technical-cum-Cultural-cum-Sports extravaganza, takes place over three days on our campus and is a real heartfelt celebration. The festival includes a variety of activities organised by the university in areas such as cultural, technical, sports, literature, and management, among others. This festival is open to students and faculty from a variety of colleges around the country. Thousands of people, many of whom are real enthusiasts, have flocked to the campus over the last three days to take part in the various activities. Kavi Samelan, Robotron, Fashion Show, Dance Competition, Coding, Gaming, and other activities are the event's heart and soul. Panache has been honoured by the auspicious presence of dignitaries on the eve of the festival over the years. Pawani Pandey, Suresh Albela, and previous year's celebrities like Millinad Gaba, Akil, Parmish Verma, and Sunburn's DJ O2B, DJ Akshat Panwar, and DJ Trone, to name a few, have graced us with their gracious presence.
Fresh Chill
Fresh Chill – VGU's official Fresher Party for the newest members of the VGU family, the first-year students. The 2nd year students typically plan the party for the new incoming class. The group features a variety of cultural activities, as well as a lunch catered specifically for the new entrants.
Pratishtha
Pratishtha is a Vivekananda global university VGU annual sports festival coordinated by a student representative committee. Pratishtha is the region's largest sports festival, with more than 300 national teams and 500 universities participating. It's a seven-day festival with over 50 outdoor and indoor sports.
Prathishtha has produced and nurtured many national and foreign athletes in a variety of sports.
E-Week
E-Week is a celebration of students' entrepreneurial spirit. It provides a forum for students to highlight their achievements and even rewards them for them, as they work throughout the year to fulfil their entrepreneurial dreams. It is a week-long event during which the entrepreneurial flame is rekindled and entrepreneurial awareness is shared across different communities.
Sayonara
Sayonara - Our farewell party for the graduating class, i.e. the seniors. The party is hosted by pre-final year participants. The final year students are facilitated by various honours like Mr Talented, Ms Talented, Mr Handsome, Ms Handsome, Mr Technical, Ms Technical, Mr Placement, Ms Placement etc. accompanied by a cultural evening and a dinner treat for the outgoing batch.
Vivekotsav
Every year on the eve of Swami Vivekananda's birth anniversary, Vivekotsav is observed. Eminent speakers enlighten students with great vision and various teachings of Swami Vivekananda.
Social Initiatives & Responsibility
VGU believes that it is our responsibility to care for our surroundings and environment as a responsible university. We are fully dedicated to Mother Nature. We have planted over 200 trees around our campus to help reduce our carbon footprint. We are also working on solar plants and have rainwater harvesting systems in place. We also collaborate with a number of NGOs and other social service organisations in order to contribute to society. We also have a dedicated group of social workers who strive to inspire the next generation and instil in them the joy of giving back.
Social Events at VGU
Blood Donation Camps
Every year, the trust and its institution, in collaboration with various non-governmental organisations (NGOs) such as the Rotary Club and Lion's Club, as well as social organisations such as the NCC, NSS, and local hospitals, hold numerous blood donation camps. This effort collects about 2000 units of blood per year. This year, HDFC Bank, SMS Hospital, EHCC, Mahatma Gandhi Hospital, and Swastha Kalyan came together to support this worthy cause.
Tree Plantation
Greenery is now a big problem all over the world. With the expansion of industrialization and townships, tree replanting has become a mandatory practise to protect the environment. The trust, along with its affiliated organisations, has set out on a mission to make Rajasthan more environmentally friendly. Every year, we plant about 5000 saplings across the state as part of the same initiative. Saplings have a 60 percent survival rate after five years.
Swaruchi Kendra
In the evenings, our students and faculty members at Swaruchi Kendra teach and mentor underprivileged children. For the holistic growth of the children, we concentrate not only on their academics but also on public speaking, yoga, dancing, athletics, and theatre.
Marathon of Women's Day
Every year On 1 st Sep, we celebrate the birthday of our founder day with the kids of Asha Tirth Ashram. We play different games & chanted prayers with them. Gifts & Chocolates and food is distributed to Ashram kids.
Aashram Visit
Marathon was held on our campus on International Women's Day with the support of nine volunteers. The Run was attended by nearly 1500 students. The aim of this marathon was to raise public awareness about women's health.
Food donation drive
VGU always go out of the way to assist those in need. VGU has a tradition of monthly food donation drives in which all students volunteer.
During the COVID 19 Lockdown, VGU provided food to thousands of people in need.
Bagaria Education Trust CSR Activity
CSR activities and funding:
BET is actively interested in having a positive social impact and transforming people's lives. Apart from daily education, BET has worked on the following projects:
Skill Development – In the state of Rajasthan, BET and its institutions have initiated a variety of supported and non-funded skill development programmes. The trust is licenced by the Ministry of New and Renewable Energy (MNRE), the Ministry of Rural Development (MORD), and the AICTE to provide a variety of skill-based services, including training and job placement. At the moment, we have over 1000 students enrolled in various schemes for the same. BET has recently been awarded a DDU-GKY (Skill Development Project) by the Indian government in the states of Rajasthan and Jharkhand. Our target in Rajasthan (Bikaner) is to train 380 students, while in Jharkhand (Bokaro), we want to train 500 students.
Scholarship Program– BET offers financial aid to needy and meritorious students with the support of corporate sponsors and its own fund. The emphasis will continue to be on educating rural girl children and ensuring that they complete their education without financial hardship. At the moment, there are about 75 girls who are receiving free education as part of this programme.
Gramothan (Village Development)– Under this scheme, the donor's (individual or corporate) money is used by the trust and its affiliated institutions to adopt a village and provide any required basic facilities for the villagers' day-to-day activities. We also host free educational camps where our faculty and students teach courses on fundamental topics such as computer education. Basic necessities such as clothing, stationery, and solar-powered bulbs are also provided to needy students. We're also working on a draught plan that includes facility renovations and the digitalization of underserved villages.
Incubation of rural technology businesses – We, as a trust, want to create goods that will make the lives of rural people easier. At a very low cost, we built and commercialised an Alovera peeling system. We hold training sessions for farmers on such emerging technologies on a regular basis. DST, Rajasthan's Department of Science and Technology, recently approved us as a Rural Technology Business Incubator. Our main emphasis is on assisting people with new ideas and supporting startups in the agricultural and rural technology sectors. We've also begun incubating startups.
Camps for Blood Donation– Every year, the trust and its institution, in collaboration with various NGO's such as the Rotary Club and Lion's Club, as well as social bodies such as the NCC, NSS, and local hospitals, hold numerous blood donation camps. This effort collects about 2000 units of blood per year. This year, HDFC Bank, SMS Hospital, EHCC, Mahatma Gandhi Hospital, and Swastha Kalyan came together to support this worthwhile cause.
Plantation of trees– Greenery is now a big problem all over the world. With the expansion of industrialization and townships, tree replanting has become a mandatory practise to protect the environment. The trust, along with its affiliated organisations, has set out on a mission to make Rajasthan more environmentally friendly. Every year, we plant about 5000 saplings across the state as part of the same initiative. Saplings have a 60 percent survival rate after five years.
Conservation of Water and Soil – We are all aware that a safe and healthy ecosystem is critical to our survival. The confidence is based on one of the most important issues concerning our environment: water and soil conservation. Trust is committed to looking after the world as a whole, with the support of a team of specialists. From counselling youths on the value of water and soil conservation to completing water and soil conservation projects, the trust has always tried to do its part for the environment. This domain is being worked on by a specialist team at Trust.
Entrepreneurship Training - Our mission is to transform students into entrepreneurs. We are a PM Yuva Yojana-approved institution under the Ministry of Skill Development and Entrepreneurship. It's an online course that teaches those who want to start their own business about Opportunity Evaluation, Business Model, Business Plan, Finance, Marketing, and Project Management. Every year, we host Entrepreneurship Awareness Camps, reaching out to approximately 500 students.
Camp for Health – The aim of the health camp was to raise public awareness about general health, provide general health care services, and counsel people on basic healthcare and hygiene. Trust is devoted to the same goal of holding health camps. Trust organises monthly health camps with the assistance of its team and physicians, who are always willing to assist the vulnerable and educate them on basic healthcare and hygiene. These camps are provided at no cost.
The efficiency of Energy Use- Increasing India's energy efficiency (EE) is low-hanging fruit in the country's efforts to meet its commitment to reduce pollution and achieve the goal of making economic growth and development more inclusive and sustainable. Since the implementation of energy-saving initiatives necessitates greater end-user support, it is critical that they have a thorough understanding of the topic as well as the advantages of using energy-saving appliances. As a consumer organisation, VBSC, in collaboration with its strategic partners, wants to raise consumer awareness and create confidence in innovative and affordable technologies.
Fitness and Sports
Physical development is just as important as mental development. VGU has an indoor gym that is open to all residents and local students and has all of the requisite machines and fitness equipment. VGU offers more than 30 indoor and outdoor games and sports on campus to help students grow physically and mentally.
Fitness is one of the most important aspects of our lives, and we have it covered at VGU.
VGU Fitness Centers And Activity
On the campus GYMNASIUM.
Yoga sessions.
Tracking yards.
In campus athletics Grounds.
Indoor Games
VGU, as a residential campus, has all of the indoor sports venues that someone would like to participate in.
Gymnasium
Table Tennis
Carrom and Chess
Snooker and Pool & Many more.
Outdoor Games
Basketball
Volleyball
Kabaddi
Athletics
Badminton
Cricket
Football
NCC & Scout
True Leadership & Nation-Building Spirit
The National Cadet Corps (NCC) is an organisation that promotes youth growth. It has tremendous nation-building potential. The NCC provides opportunities for the country's youth to develop as leaders and people by instilling in them a sense of responsibility, engagement, determination, discipline, and moral values. The cadets are exposed to a wide variety of programmes at the NCC, including a focus on social welfare, discipline, and adventure training. The NCC is a charitable organisation open to all everyday students in schools and colleges. Active military service carries no risk for the students.
NCC and Scouting Goals
Character, commandership, discipline, leadership, a secular outlook, a spirit of adventure, and selfless service ideas among the country's youth
To develop a human resource of well-organized, well-trained, and well-motivated youth capable of providing leadership in all aspects of life and who are always willing to serve the country.
To provide a conducive atmosphere for young people to consider joining the military.
N.C.C. is a vibrant organisation that brings together young boys and girls from all over India. It is critical in instilling values of character, patriotism, solidarity, and selfless service in the youth. It aids in the development of disciplined, responsible Indian people. NCC offers a forum for self-development and assists in channelling individuals' energies and capacity into nation-building.
Army, Navy, and Air Force are the three wings of the N.C.C.
The National Cadet Corps was founded on July 15, 1948, under the National Cadet Corps Act.
The NCC Act XXXI of 1948, administered by the Ministry of Defence, had the following objectives:
(a) To instil in the country's youth character, comradeship, discipline, leadership, a secular mindset, a spirit of adventure, sportsmanship, and values of selfless service.
(b) To develop a human resource of coordinated, educated, and driven youth who can lead in all aspects of life and are always willing to serve the country.
(c) To provide a conducive atmosphere for young people to consider joining the Armed Forces.
The Aim of Course:
Duration: For three years, every Sunday from July to January, about 4 to 5 hours in the morning.
Internal training: Internal training consists of cross country, physical activity, and a parade. Every Sunday, Army Staff give lectures and theory on military subjects, geography and military subjects, leadership skills, and management 'B' and 'C' Certificate syllabus.
Practical: Drilling with and without weapons, firearm training with the 0.303 dp rifle S.L.R. is an abbreviated form of S.L.R
External Education: Each year, each NCC cadet must choose and attend at least one training camp. ATC (Annual Training Camp), TSC (Trial Selection Camp), AAC (Army Attachment Camp), NIC (National Integration Camp), and the most prestigious RDC (Republic Day Camp), Adventure and Trekking Camps are all organised by Group Head Quarters throughout India. Weapons preparation for the AK-57 LMG (Light Machine Gun), firing, map reading, distance judging, sports, and cultural events.
Activities for Adventurers: Hiking, river crossings, rock climbing, horseback riding, parasailing, paragliding, cycling, motorcycling, Vehicle Expedition Rallies, and camel safaris are all available to NCC Cadets.
Youth Exchange Programme (YEP): If an NCC Cadet has a strong personality and outstanding communication skills, he will be chosen for the YEP programme, which allows him to travel abroad and interact with NCC cadets from other countries.
Social Interactions: Cadets must participate in social activities such as blood donation, tree planting, Ganpati Utsav duties, Elections, Polio Organization, and Traffic Control as part of their NCC training.
Certificates 'B' and 'C': Cadets can take the 'B' Certificate Examination after completing two years and at least one camp, and the 'C' Certificate Examination after completing three years and at least two camps.
NCC'S Benefits Include:
Education is provided for free, with yearly stipends.
Per year, ten grace marks are awarded.
With a high school diploma and an NCC 'C' certificate, you can enter the Army, Navy, or Air Force without taking any UPSC exams.
In-State Government Services, There Are Reservations
Admission to professional courses such as D.Ed., B.Ed. in Medical and Engineering are granted additional grace marks.
Every year, a large number of NCC Cadets are eligible for scholarships ranging from Rs.2,000 to Rs.30,000.
For various jobs, several private industries offer preference to NCC 'C' Certificate holders.
NCC also compensates high-risk NCC practises appropriately.
NCC cultivates a self-assured attitude that can excel in their chosen field.
Concessions and Privileges:
NCC 'C' Certificate holders are eligible to apply for the following positions in the military.
i) Army: Every year, the Indian Military Academy (IMA) in Dehradun fills 64 vacancies via UPSC and SSB interviews. OTA (Officers Training Academy) in Chennai has 100 vacancies for short service commission every year; there are no UPSC exams, just SSB interviews.
ii) Navy: 6 vacancies for a course that requires no UPSC examinations but does require an SSB interview. NCC 'C' Certificate holders are eligible for a 2-year age reduction.
iii) Indian Air Force: 10% vacancies around the board, including flying school. There will be no UPSC review, just an SSB interview.
VGU's International Students
VGU has foreign students from more than 30 countries studying on campus. Students from all over the world have enrolled at VGU to further their studies. We assume that one of the main factors that distinguish us from other universities is that in order to educate foreign students, you must develop in accordance with international educational standards. We are proud to be a globally recognised university.