SNAP 2021: Exam Date, Eligibility Criteria, Registration, Admit Card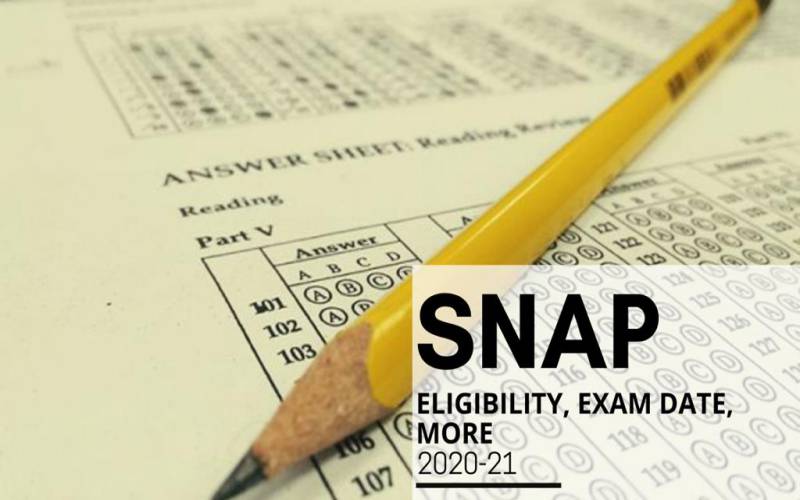 Published by : Step in college
The complete form of SNAP is a Symbiosis National Aptitude Test, a frequently written test and carried out in Pune, University of Symbiosis. This institution is part of one of India's most renowned exercises. The SNAP 2021 exam offers admissions to an MBA course and offers the program to top Institutes affiliated with the University of Symbiosis (SIU), at Pune.
SNAP 2021: Exam Date, Eligibility Criteria, Registration, Admit Card
The SNAP test takes place online and the advisory process includes candidates who will secure the leading position in the test and will naturally qualify for the SNAP 2021 cut-off. A Symbiosis National Aptitude Test is an MBA entry test that has been attempted to ensure admission to the Symbiosis Business Schools by almost 2 lakh students across India. Symbiosis International University is responsible for the SNAP test (SIU). A total of 16 SIU-affiliated Symbiosis Institutes.
SNAP 2021 Exam Date:
| | |
| --- | --- |
| Event | Date |
| SNAP 2021 Registration Start | 2nd week of August 2021 |
| SNAP 2021 Application Form Last Date | Last week of November 2021 |
| SNAP 2021 Application Fee last Date | Last week of November 2021 |
| SNAP 2021 Admit Card Release Date | The first week of December 2021 |
| SNAP 2021 Exam Date | The second week of December 2021 |
| SNAP 2021 Result Date | The second week of January 2022 |
| Shortlisting for further procedure begins on | The third week of January 2022 |
| GE, PI and WAT rounds date | The first week of February 2022 |
| SNAP 2021 Final Merit List | Fourth week of February 2022 |
SNAP 2021 Eligibility Criteria:
Applicants must have an accredited university bachelor's degree of 50%.
The aggregate marks should be 45 percent for SC/ST category candidates.
The applicants have to be an Indian citizens.
No age or number of attempts are allowed.
Eligible candidates are also foreign graduates, but those candidates are expected to obtain an equivalence certificate from the Indigenous Universities Association.
Candidates who appeared to the bachelor's final examination are also eligible to submit an application, but their admission is temporary and will be canceled if the above-mentioned eligibility is not fulfilled.
SNAP 2021 Registration:
Official website online registration – from 16 August to 23 November 2021.
Complete all the information required such as name, birth date, category and city of choice for the exam.
A freshly colored passport size picture was scanned for upload.
Check all the information you have filled out, as once payment is processed, no changes are necessary.
SNAP 2021 Selection Procedure: The selection process for SNAP will begin from February 2021 after the declaration of results in January 2021. SNAP is owned by Symbiosis International and its affiliated institutions for admissions to postgraduate management or MSc programs.
Upon the declaration of the outcome, each college declares a SNAP cut-off.
Candidates who secure limited marks shall be shortlisted to engage in rounds to perform their admission processes for Group Exercise, Personal Contact, and Writing Skill Test.
All rounds must be accepted. It is compulsory to appear.
These rounds are held in February 2022 and detailed below: The following are:
Exercise group: The purpose of this round is to test the application of logic and argument by candidates. Emphasizes the decision-making and management skills of the applicant. The weight of this exercise is 10 points.
Written skill test: Applicants must write an essay on a subject relevant to the business or to some other subject of the course with a weight of 10 points.
Personal interaction: this is a face-to-face evaluation of the confidence and overall personality of the applicant. The 30-mark round is the most critical round of the whole admission process.
Applicants must go to all of the above-listed rounds to be admitted to their program option and organization, if they do not appear for all of the above exams, eligibility will not be fulfilled and admission canceled. Candidates must also be made aware that admittance is temporary and fee payment needs to be made to obtain a seat.
SNAP 2021 Admit Card: In the first week of December 2021, the SNAP 2021 admit card will be available. You can download the admission pass. It is obligatory that the carrying admission card is eligible for the exam. Download the admission card SNAP 2021 in the following steps:
Official website login. Login.
Select 'Receive Card Download.'
Enter the user name and security code. Enter password.
Click on password. Click on login.
Appears on the show with the SNAP 2021 Admit card.
Print at least three copies, and review and check all the information.