BTech Civil Engineering: Course Details, Entrance Exam, Top Colleges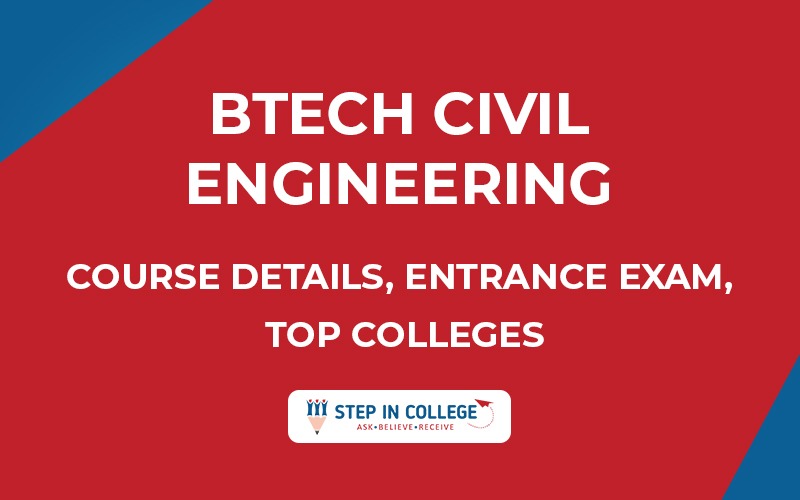 Published by : Step in college
The civil engineering industry in India and abroad is one of the oldest and most popular engineering branches. As well as various opportunities in the government sector, aspirants aim for BTech in civil engineering. In order to develop infrastructure entities such as roads, buildings, dams, canals, etc, a civil engineer is required. BTech is a traditional engineering company dedicated to the design and organization of buildings, bridges, roads, dams, and other buildings. Some of the most lucrative technology jobs can be provided by civil engineering. Another benefit is that after learning how to operate certain civil engineering programs civil engineers are able to apply for IT jobs.
BTech Civil Engineering Course Details, Eligibility, Entrance Exam, Top Colleges | StepInCollege
BTech Civil Engineering Eligibility Criteria: The applicants must fulfill all of the following eligibility criteria for B.Tech in Civil Engineering, a reputable institution – -
Studies of the science stream by a recognized Board should have ended in their Class XII.
Students should have completed compulsory qualifications in Physics, Chemistry, and Mathematics
In the abovementioned areas, students should have obtained at the qualification level a minimum total of 50 percent and must pass marks in the other subjects (varies from institute to institute)
B.Tech Civil Engineering Program also includes students who have a diploma in their relevant discipline after their Xth/XIIth studies.
B.Tech - Civil Engineering Syllabus
First Year: Professional Communication, Engineering Mathematics – 1, Engineering Chemistry,
Fundamentals of Electronics Engineering, Environmental Studies, Engineering Physics, Fundamentals of Electrical Engineering, Engineering Drawing, Fundamentals of Mechanical Engineering, Engineering Mathematics – 2, Technical Communication, Fundamentals of Computer
Second Year: Strength of Material, Fluid Mechanics, Electronics and Instrumentation, Engineering Geology, Building Technology, Open Channel Hydraulic Machinery, Structural Analysis, Transportation Engineering, Civil Engineering Drawing, Geotechnical Engineering
Third Year: Transportation Engineering, Design of Hydraulic Structures, Irrigation Engineering, Numerical Methods and Operations Research, Environmental Engineering, Advanced Foundation Design, Engineering Economics and Principles of Management, Advanced Structural Design, Design and Drawing of RC Structures, Ground Water Hydrology
Fourth Year: Building Maintenance, Construction Engineering and Management, Architecture and Town Planning, Coastal Engineering and Marine Structures, Advance Surveying and Remote ESensing, Earth and Rockfill Dam Engineering, Transportation Engineering, Environmental Pollution Control Engineering, Quantity Surveying and Valuation, Finite Element Method, Advanced Mathematics
BTech Civil Engineering Top Entrance Exams
JEE Main
JEE Advanced
MHT CET
KCET
GATE
BITSAT
BTech in Civil Engineering Top Colleges
Indian Institute of Technology, Madras
Indian Institute of Technology, Kharagpur
Indian Institute of Technology, Bombay
Christ University, Bangalore
Vellore Institute of Technology, Vellore
National Institute of Technology, Warangal
SRM University, Chennai
Delhi Technological University, Delhi
BTech in Civil Engineering Job Prospects: Especially in developing countries, as in India, civil engineers are in demand. Both the government and private programs begin each year and are employed by civil engineers. Jobs are also available in countries such as the UAE and South Africa which also offer fresher graduates strong salary packages.
Via admission tests for each agency, applicants may apply for government opportunities. One may be examined by the Indian Engineering Services (IES) in order to apply for officer posts in the civil engineering field. Some profiles for civil engineers are given below:
Structure Analyst
Structure Designer
CAD Designer
Construction Engineer
Construction Manager
Infrastructural Consultant