B.Com LLB Course: Details, Entrance Exams, Eligibility, Top Colleges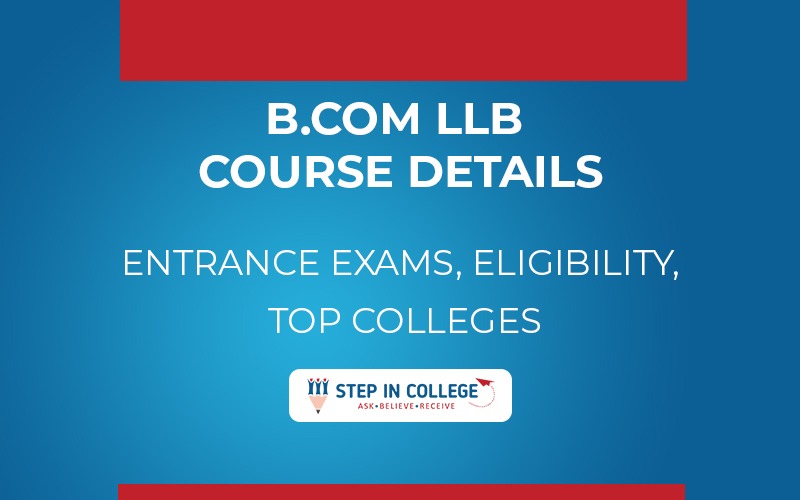 Published by : Step in college
B.Com LLB Course Details, Eligibility, Entrance Exams, Top Colleges| StepInCollege
B.COM LLB
A five-year undergraduate program that is a mixture of law and trade studies is BCom + LLB. The course is divided into ten semesters aimed at providing students with knowledge of trade and business subjects along with various laws essential to a professional environment.
For those who have an interest in business and law together, BCom+ LLB is a perfect career choice as it enables candidates to obtain complete knowledge and earn two degrees within the span of five years, i.e. Bachelors of Commerce and Bachelor of Legislative Law. In most colleges, English is the medium of instruction for B.Com + LLB.
B.Com LLB Eligibility
In the qualifying test, the aspirant must have obtained a minimum of 50 percent marks in the aggregate. Persons belonging to scheduled caste, scheduled tribes, and backward classes(OBC) shall be qualified to apply if they secure at least 40 percent marks in the qualifying examination. In the case of candidates belonging to the general category, the age of the applicant shall not be above 20 years and shall be eligible to apply if they secure at least 40 percent marks in the qualifying examination.
B.Com LLB Entrance Exam
Lovely Professional University National Eligibility and Scholarship Test [LPUNEST]
Law School Admission Test [LSAT]
Symbiosis Entrance Test [SET Exam]
All India Law Entrance Test [AILET]
Mahatma Gandhi University Common Admission Test [MGU CAT]
Telangana State Law Common Entrance Test [TS LAWCET]
B.Com LLB List Of Top Colleges
National Law School of India University, [NLSIU] Bangalore
Faculty of Law Jamia Millia Islamia, New Delhi
NALSAR University of Law, Hyderabad
The West Bengal National University of Juridical Sciences, Kolkata
National Law Institute University, [NLIU] Bhopal
Symbiosis Law School, Pune
Gujarat National Law University, Gandhinagar
Faculty of Law, [FL] Varanasi
Amity Law School, [ALS] Delhi
School of Legal Studies CUSAT, Kochi
B.Com LLB Syllabus
First Year: Business Statistics, Auditing 1, Business Communication, Financial Auditing, Women, Child & Law, Economics, English 1, Law of Contract 1, Law of Contract 2.
Second Year: Consumer Protection Law, Corporate Accounting, Constitutional Law 1, Environmental Studies, Business Communication 2, Law of Crimes 1, Proficiency, Law of Contract 3, History of Courts & Legislation in India.
Third Year: Family Law 1, Research Methodology, Foreign Language, Civil Procedure 1, Civil Procedure 2, Labor Law 1, Jurisprudence 1, Jurisprudence 2, Labor Law 2.
Fourth Year: Moot Court 1, Proficiency, International Law, Banking & Financial Institution & Dispute Systems, Administrative Law, Property Law, Seminar 1/2/3, Intellectual Property Rights, Taxation.
Fifth Year: Moot Court 4, Penology, Professional Ethics, Moot Court 5, Public International Law, Proficiency, Criminology, Pre-trial Preparation, Project Report.
Job Prospects
It is mandatory for students to complete 20 weeks of internship during their 5 years of coursework after completing a dual degree in BCom + LLB, after which applicants are eligible to work. Sales, Tax & Excise, Consultancies, State Police Departments, Banks and Universities are the numerous job areas for graduates of the industry.
Employment Areas
Law Firms
Government Jobs
Corporate Giants
Pharmaceutical Companies
Casting Agencies
Private Practice
Consultancy Firms
Job Roles/ Profiles
HR Manager
Lawyer
Advocate
Legal Advisor
Corporate Lawyer
Attorney General
Law Officer
Assistant Officer
Law Reporter
Management Accountant
Top Recruiters
ICICI Bank
LexisNexis
Kia-Tencor Corporation
Archer Daniels Midland Company
Jacobs Engineering Group Inc