B.Tech Course Details: Eligibility, Entrance Exams, Top Colleges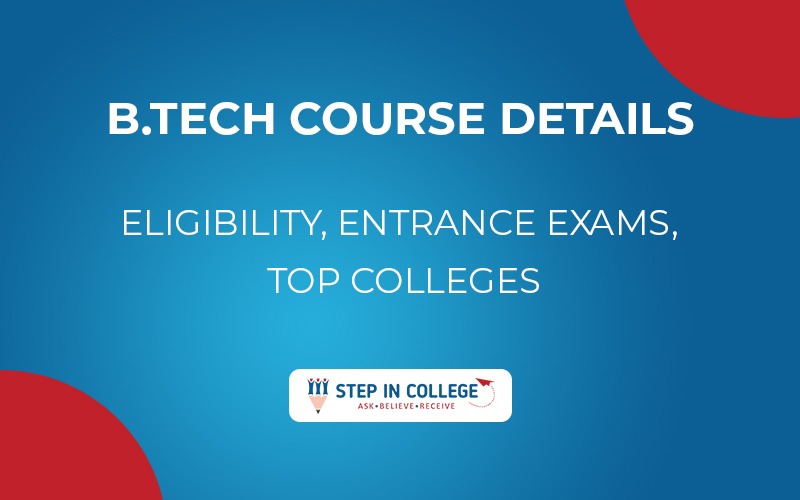 Published by : Step in college
B.Tech
Bachelors of Technology also referred to as BTech, is a full-time, four-year course covering various engineering and technology fields. The goal of the course is to improve the technical skills of applicants who want to work in the core technology and development industry. Both theoretical and practical knowledge are part of BTech. In order to learn how various software and hardware are run in their respective fields, students are also given hands-on experience.
B.Tech Course Details, Eligibility, Entrance Exams, Top Colleges| StepInCollege
BTech allows applicants to work in the fields of information technology, data processing, consulting and management, aside from the main engineering sectors. Bachelor of Technology graduates with strong technical skills may also apply for employment in various public sector undertakings (PSUs) and other government sector jobs.
B.Tech Course Eligibility
The required eligibility requirements for regular applicants include a pass certificate in 10+2, A-Level, IB, American 12th grade or equivalent to Physics, Mathematics, and English as compulsory subjects, along with Chemistry or Biology or any technical specialist subjects as optional subjects with a minimum of 50% mark in Physics, Mathematics and any of the choices.
For Lateral Entry Applicants, the required eligibility requirements include a degree of at least 45 percent marks from a recognized university and a pass certificate with Mathematics as a subject in the XII standard.
B.Tech Entrance Exams
Joint Entrance Exam Main
Joint Entrance Exam Advanced
Birla Institute of Technology and Science Admission Test
VIT Engineering Entrance Examination
West Bengal Joint Entrance Examination
Maharashtra Common Entrance Test
Karnataka Common Entrance Test
Andhra Pradesh Engineering, Agriculture, and Medical Common Entrance Test
Uttar Pradesh State Entrance Exam
Kalinga Institute of Industrial Technology Entrance Examination
SRM Institute of Science and Technology Joint Entrance Examination
Amrita Entrance Examination- Engineering
Indian Institute of Science Education and Research Aptitude Test
A consortium of Medical, Engineering and Dental Colleges of Karnataka Undergraduate Entrance Test
Manipal University Online Entrance Examination
Telangana State Engineering, Agriculture, and Medical Common Entrance Test
Indraprastha University Common Entrance Test
Symbiosis Entrance Test
B.Tech List of Top Colleges
IIT Kanpur
IIT Kharagpur
IIT Bombay
IIT Madras
IIT Delhi
BITS Pilani
IIT Roorkee
IIT-BHU
IIT Guwahati
NIT Warangal
BTech Syllabus
B Tech Chemical Engineering Syllabus: Physical and Analytical Chemistry, Chemical Process Calculations, Industrial Organic Chemistry, Mechanical Operations, Chemical Process Technology, Process Heat Transfer, Principles of Mass Transfer, Mass Transfer Applications.
BTech Civil Engineering Syllabus: Strength of Materials, Building Material Science, Structural Design, Engineering Geology, Mechanics of Solids, Principles of Architecture, Engineering Surveying, Constructional Technology.
BTech Mechanical Engineering Syllabus: Mechanics of Solids, Thermodynamics, Manufacturing Engineering, Manufacturing Technology, Computer-Aided Design and Analysis, Engineering Mechanics, Fluid Mechanics, Applied Thermal Engineering.
BTech Computer Science Engineering Syllabus: Algorithm Design and Analysis, Artificial Intelligence, Compiler Design, Computer System Architecture, Digital System Design, Data Structures, Microprocessors and Microcontrollers, Operating Systems.
BTech Electrical and Electronics Engineering Syllabus: Analysis of Electrical Circuits, Electrical Machines, Electromagnetic Theory, Electron Devices and Circuits, Control Systems, Power Electronics, Power System Protection, Microcontrollers.
BTech Aerospace Engineering Syllabus: AeroSpace Structures, Aerodynamics, Elements of Avionics, Flight Mechanics, Aircraft Maintenance Practices, Flight Dynamics, Aerodynamics Design, Advanced Aerodynamics.
BTech Job Prospects
One of the most widely accepted programs is the Bachelor of Technology. Since technological development is taking place in almost every sector, BTech graduates have countless opportunities. Because of their technological skills, Bachelor of Technology students gain a great deal of benefit during work interviews.
For graduates of the Bachelor of Technology [B.ech] program in the public & private sector, a wide variety of job opportunities are available, such as:
Aerospace Engineer
CAD Technician
Design Engineer
Maintenance Engineer
Manufacturing System Engineer
Materials Engineer
Mechanical Engineer
Automotive Engineer
Control and Instrumentation Engineer
Energy Engineer
Patent Attorney
Production Manager
Quality Manager
Technical Sales Engineer
Web Designer
UI/UX Designer
Software Designer
Software Tester
Mobile Application Developer
IOT Specialist
Robotics Specialist
Arduino Expert
Technical Supervisor