BBA Course Details: Eligibility, Entrance Exams, Syllabus Top Colleges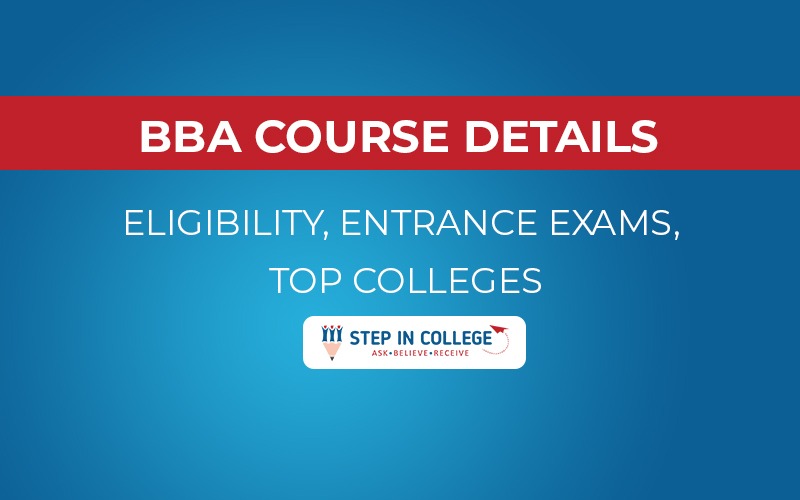 Published by : Step in college
BBA LLB
The Bachelor of Business Administration and Bachelor of Legislative Law (BBA + LLB) is a five-year integrated dual degree course that offers a fully separate, integrated study of management studies and legislative law. English is the medium of instruction for the course and is provided by some of the best law schools in the world.
BBA Course Details, Eligibility, Entrance Exams, Top Colleges| StepInCollege
The syllabus includes the study of commerce, business, and economics, as well as a profound insight into the law and legislature of the nation. The course makes students ready for jobs in different industries and gives them the ability to increase their market value.
BBA LLB Course Eligibility
The minimum percentage of marks not less than 50 percent of the total marks in the case of general category applicants and 40 percent of the total marks in the case of SC, ST, and OBC applicants, as provided for by the stipulation of the Bar Council of India, is to be obtained in the form of the qualifying test, such as the 10+2 examination.
BBA LLB Entrance Exams
Common-Law Admission Test [CLAT]
All India Law Entrance Test [AILET]
Law School Admission Test [LSAT]
Symbiosis Law Admission Test [SLAT]
Christ University Entrance Test [CUET]
List of BBA LLB Colleges
National Law School University of India, Bangalore
Gauhati University, Guwahati.
National Law University - NLU Jodhpur
NALSAR Hyderabad
GNLU, Gujrat
Army Institute Law
NLIU, Bhopal
Aligarh Muslim University
BBA LLB Syllabus
First Year: English, Fundamental of Business Organization, Case Studies 1, Consumer Protection Laws 1, Economics, Law of Torts, Accounting 1, Principles of Management, Consumer Protection Laws 2.
Second Year: Law of Crime Paper 1, Property Law 2, Constitutional Law 1, Law of Crime Paper 2, Family Law 1, Constitutional Law 2, Property Law 1, Family Law 2, Organizational Behavior.
Third Year: Law of Evidence, International Banking, Limitation Act 1, Civil Procedure Code, International Finance, Limitation Act 2, Insurance Law, General Agreement on Tariff & Code, Public International Law.
Fourth & Fifth Year: Professional Ethics, Labor Law, Macro & Micro Economics 2, Professional Accounting Systems, Cyber Law, Projects & Presentation, Financial & System Fraud, Moot Course Exercise & Internship, Services & Trade in Emigration,
BBA Job Prospects
There are various career opportunities for candidates with a degree in BBA + LLB, such as accounting, management, industrial sector, legal profession and administration. The Revenue Department, Banks, Consultancies, Income Tax, and Consultancies are the job areas for BBA + LLB graduates. For a BBA LLB graduate, the typical job functions are as follows:
Lawyer
Business Analyst
Finance Manager
Legal Advisor
Law Officer
District & Session Judge
HR Manager
Company Secretary
Management Accountants
Attorney General