BCA Course Details: Eligibility, Entrance Exams, Syllabus, Top Colleges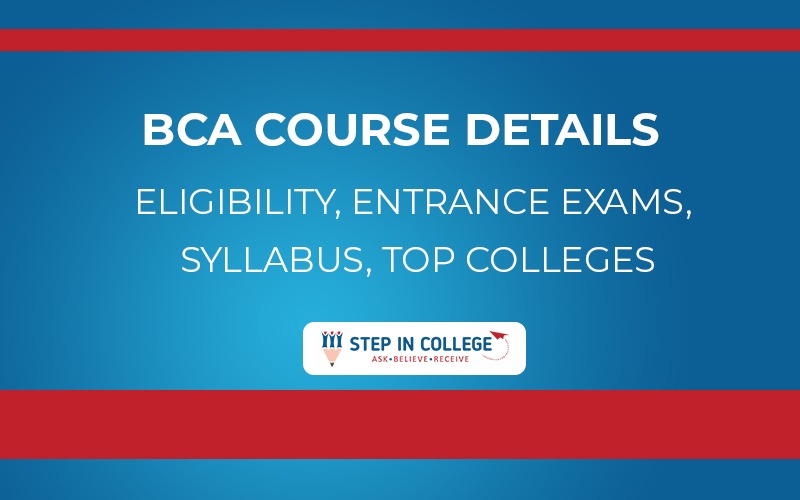 Published by : Step in college
BCA
A three-year undergraduate course dealing with information technology and computer applications is a Bachelor of Computer Applications course. The course offers knowledge of various computer systems and how the issues resulting from a computer and its applications can be solved and resolved. The course contains topics such as Java and C++ core programming languages, data structure, networking, and others. BCA provides students who wish to pursue their career in IT and software with different opportunities.
BCA Course Details, Eligibility, Entrance Exams, Top Colleges| StepInCollege
Both a standard degree and distance learning are available. Candidates are free to choose according to their desires and skills.
BCA Eligibility
Students who have completed 10+2 in any recognized board of education with minimum marks of 45 to 60 percent are eligible for BCA admission to colleges.
BCA Entrance Exams
IPU-CET
AIMA UGAT
BUMAT
SET
GSAT
SUAT
BCA List of Top Colleges
Symbiosis Institute of Computer Science and Research, Pune
Christ University, Bangalore
Loyola College, Chennai
Amity Institute of Information Technology, U.P
Kristu Jayanti College, Bangalore
Women's Christian College, Chennai
Stella Maris College, Chennai
Presidency College, Bangalore
DAV College, Punjab
Madras Christian College, Chennai
BCA Syllabus
Semester 1: Hardware Lab, Creative English, Foundational Mathematics,Statistics I For BCA, Digital Computer Fundamentals, Introduction To Programming Using C, C Programming Lab, PC Software Lab.
Semester 2: Case Tools Lab , Communicative English, Basic Discrete Mathematics,Operating Systems, Data Structures,Data Structures Lab,Visual Programming Lab.
Semester 3: Interpersonal Communication, Introductory Algebra, Financial Accounting, Software Engineering, Database Management Systems, Object-Oriented Programming, UsingC++, C++ Lab, Oracle Lab, Domain Lab.
Semester 4: Professional English, Financial Management, Computer Networks,
Programming In Java, Java Programming Lab, DBMS Project Lab, Web Technology Lab, Language Lab.
Semester 5: Unix Programming, OOAD Using UML, User Interface Design, Graphics And Animation, Python Programming, Business Intelligence, Graphics And Animation Lab, Python Programming Lab, Unix Lab, Web Designing Project, Business Intelligence Lab.
Semester 6: Design And Analysis Of Algorithms, Client-Server Computing, Client-Server Computing, Cloud Computing, Multimedia Applications, Introduction To Soft Computing, Advanced Database Management System.
BCA Job Prospects
There are numerous career options available for candidates across the country after BCA graduation. For higher studies in the same field as an MCA degree, interested students can go. It is a postgraduate degree in the application of computers. MCA degrees are offered by various top colleges in India.
Students have ample job options in the area of IT and software after completing the course. Thousands of MNCs have invested in India with the boom in the technology arena. These businesses are always on the hunt for qualified professionals in computing. They may also seek work in private, public, banking, education, stock markets, marketing for insurance, and e-commerce.
Below is the list of popular job roles after graduation from BCA:
Teacher & Lecturer
Computer Programmer
Software Developer
Marketing Manager
Business Consultant
Computer Systems Analyst
Finance Manager
Computer Support Specialist
Service Support Specialist