BA LLB Course Details: Eligibility, Entrance Exams, Top Colleges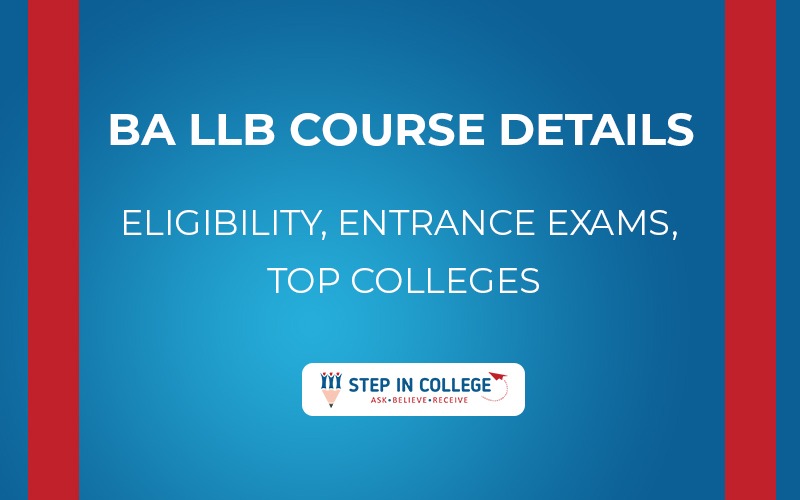 Published by : Step in college
BA LLB
A five-year dual degree course in the field of administrative law is a Bachelor of Arts + Bachelor of Law (BA LLB). During the five-year course, the students cover various arts subjects from various fields, such as Indian Culture, Political Science, English/ Hindi, Economics, Sociology, World History, and Sociopolitical Issues, as well as advanced courses in the country's administrative law and legislature.
BA LLB Course Details, Eligibility, Entrance Exams, Top Colleges| stepInCollege
The students mainly concentrate on different laws namely Criminal law, Labor Law, Civil Law, Tax Law, Administrative Law, Corporate Laws, Patents Law and others that form an indispensable part in maintaining law and order of the country.
BA LLB Eligibility
The basic eligibility requirement for pursuing a BA LLB Course is Pass in the Higher Secondary School Examination (10+2) framework with aggregate not less than 50 percent of the total marks or an equivalent examination from a recognised board.
Applicants who have earned a + 2 Higher Secondary Pass Certificate or First Degree Certificate after completing distance learning or correspondence studies are also deemed to be eligible for entry.
The maximum age for applying for admission to an integrated bachelor's degree programme is limited to 20 years for the general category of applicants and 22 (twenty-two) years for applicants from SC, ST and other backward groups.
BA LLB Entrance Exams
AILET
CLAT
LSAT
TS LAWCET
AP LAWCET
MHT CET
BA LLB List of Top Colleges
National Law School Of University
National Law School Of India University
Rajiv Gandhi School of Intellectual Property Law
Nalsar University of Law
National Law University, Jodhpur
West Bengal National University of Juridical Sciences
Faculty of Law, University of Delhi
Rajiv Gandhi National University of Law
KIIT School of Law
Bangalore Institute of Legal Studies
BA LLB Syllabus
Semester I : Legal Method, Law of Contract-I , Legal English and Communication Skills, History-I, Sociology-I.
Semester II : Law of Contract -II, Law of Torts and Consumer Protection, History-II
Sociology-II, Political Science-I.
Semester III : Family Law-I, Constitutional Law-I, Law of Crimes-I, Economics-I ,Political Science-II
Semester IV : Family Law-II, Constitutional Law-II,Law of Crimes-II, Administrative Law, Economics-II
Semester V : Environmental Studies and Environmental Laws, Law of Evidence, Corporate Law, Code of Civil Procedure, Alternative Dispute Resolution (ADR).
Semester VI : Jurisprudence, International Law ,Property Law, Investment and Competition Law ,Code of Criminal Procedure.
Semester VII : Labour Law-I, Tax Law, Law and Emerging Technologies, Human Rights, Seminar Paper-I.
Semester VIII: Intellectual Property Rights, Labour Law-II, Interpretation of Statutes,
International Trade Law, Seminar Paper-II.
Semester IX: Legal Ethics and Court Crafts,Drafting, Pleading and Conveyancing, Land and Real Estate Laws, Seminar Paper-III, Seminar Paper-IV,
Semester X: Dissertation, Internship (Lawyers / Law firms).
BA LLB Job Prospects
B.A.+ LLB is one of the highly popular courses across the country as it opens numerous job opportunities in both government and the private sector. The graduates after completing the dual degree course are also qualifying for Indian Civil Services, State Legal Services, and Public Service Commission Entrance exams.
Since it is one of the most lucrative careers all over the globe, the common job areas for the graduates are banks, consultancies, Judiciary, MNCs, Selling Tax & Excise Departments, and others.
Some of the employment areas for a law graduate are
Revenue Department
State law Department
Banks(Legal Department)
Consultancies
Excise Departments
Judiciary
Business Houses
Sales Tax
Law Firms