B.Tech. Mechatronics Course Details - Eligibility, Syllabus, Entrance Exam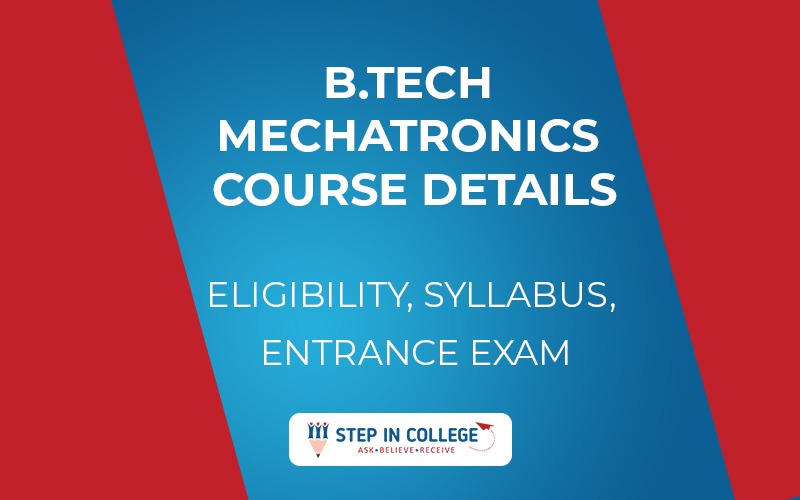 Published by : Step in college
BTech in Mechatronics Engineering is a diverse engineering division that encompasses different fields of engineering such as mechanics, electronics, computers, and controls. The comprehensive syllabus is designed to help candidates understand how effective development and production can be accomplished by using these divisions.
BTech Mechatronics Course Details, Eligibility, Syllabus, Entrance Exam, Top Colleges | StepInCollege
The aim of this program is to understand the function of advanced hybrid systems control. It also increases the candidates' numerical ability and helps them to understand instruments useful in different mechanical activities. The course is intended to encourage students to manage electrical and mechanical devices and machines that are involved in different technological processes.
Mechatronics Engineering has gained a great deal of importance since automation has taken over most of the industries, as professional engineers are expected to deal with development, manufacturing, and customer service as well.
BTech Mechatronics Eligibility criteria
Applicants seeking admission to BTech Mechatronics must have passed Class 12 with at least 50% of the marks. The applicants must have studied physics, chemistry, and mathematics in the 12th year.
BTech Mechatronics Syllabus
Semester 1: Physics I, Chemistry, Mathematics I, Design Thinking, Environmental Skills, Engineering Mechanics, Workshop Technology, Engineering Workshop Lab,
Physics Lab I, Chemistry Lab.
Semester 2: Physics II, Mathematics II, English Communication, Engineering Graphics,
Basic Electrical and Electronics, Computer Programming, Electrical & Electronics Lab, Physics II Lab, Computer Programming Lab.
Semester 3: Mathematics III, OOPs with C++, Engineering Thermodynamics, Analog, and Digital Electronics, Electrical Machine, Open Elective I, OOPs Lab, Engineering Graphics Lab II, Electrical Drives and Electronics Lab.
Semester 4: Materials Technology, Embedded System, Mechanics of Solids, Theory of Machine, Instrumentation & Control, Open Elective II, Materials Testing Lab, Embedded System Programming Lab, Theory of Machine Lab.
Semester 5: Manufacturing Technology, Fluid Mechanics & Machinery, Robotics & Control, Open Elective III, Program Elective I, Manufacturing Technology Lab, Fluid Mechanics & Machinery Lab, Robotics & Control Lab, Minor Project I, Program Elective Lab.
Semester 6: Design of Machine Elements, Program Logic Controller & HMI, Hydraulics and Pneumatics, CAD/CAM, Program Elective II, Hydraulics and Pneumatics Lab, CAD/CAM Lab, PLC & HMI Lab, Minor Project II, Industrial Visit.
Semester 7: Digital Signal Processing, Mechatronics System Design, Distributed Control System, Program Elective III, Mechatronics Lab, Digital Signal Processing Lab, Comprehensive Viva, Major Project I, Summer Internship.
Semester 8: Theory of Automation, Program Elective IV, Program Elective V, Major Project II
BTech Mechatronics Entrance Exams
JEE Main
JEE Advanced
WBJEE
VITEEE
BTech Mechatronics Top Colleges
SRM Engineering College, Kanchipuram
SASTRA University, Thanjavur
KIIT, Bhubaneswar
MIT, Manipal
JNTUH, Hyderabad
GGSIPU, New Delhi
Indian Institute of Technology Madras (IIT Madras), Chennai
Indian Institute of Technology(IIT), Kharagpur
Birla Institute of Technology and Science (BITS), Pilani
SEA Group Of Institutions (SEA College), Bangalore
BTech Mechatronics Job Prospects: There is a strong demand for mechatronics engineers due to the automation of various market and production processes. Graduates will apply for lucrative jobs in the manufacturing and production sector after pursuing a BTech in Mechatronics Engineering. The following are some of the profiles that graduates will apply for after completing BTech Mechatronics Engineering:
Design and Development Engineer
Mechatronics Architect
Custom Support Engineer
Marketing Engineer
Automation Engineer
Research Assistant
Production Engineer