B. Tech. Cyber security Course details: Eligibility, Top Colleges | Stepincollege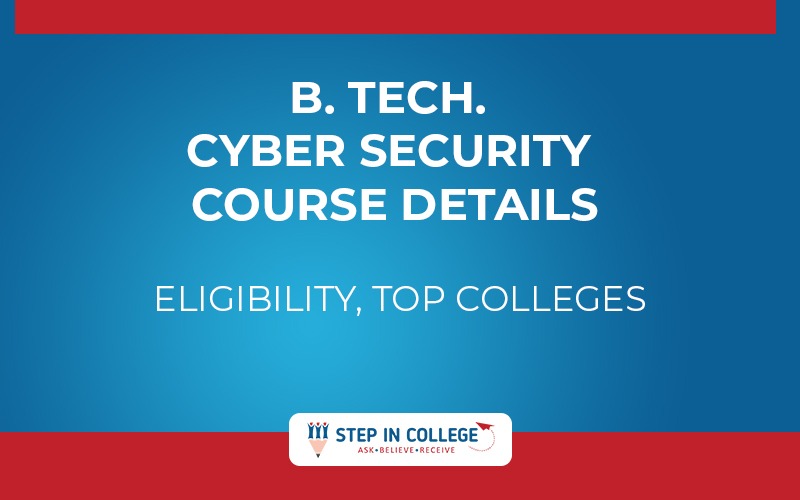 Published by : Step in college
B Tech Cyber Security is a 4-year degree course for undergraduates. The course covers a wide range of topics, such as data structures, digital principles and system design, programming for Java, system software and algorithm design and analysis. Cyber Security is a specialized field of information technology that in computer science is considered a substream. Cyber Security courses seek to provide students with the requisite information and skills to protect cyber attacks against computer operating systems, networks and data. Over the years, cyber security as a discipline has grown, which is why the incidence of cyber crime is rising. To safeguard its date from such criminals, any industry that transacts electronically or carries sensitive data requires a cyber security professional. The spectrum of cybersecurity is similarly distributed across the globe, being a popular medium that is accessible by everyone from any corner of the globe.
B. Tech. CYBER SECURITY Course details, Eligibility, Syllabus, Entrance Exam, Top Colleges, Job Prospects | Stepincollege
BTech Cyber Security Eligibility: The minimum criteria that candidates interested in pursuing the course are required to meet in order to be eligible to apply for the course are listed below.
As compulsory subjects and from a recognized board, 10+2 finished with Math, Physics and Chemistry.
A 50 percent minimum aggregate score at the 10+2 level.
BTech Cyber Security Entrance Exams:
Joint Entrance Examination (JEE) Main: In the month of April, the main Joint Entrance Examination (JEE) is held. In the months of November and December, the exam application forms are out. For admission to this course, the combination of marks scored in the 10+2 level examination and in the Joint Entrance Examination, JEE (Mains) is considered.
BTech Cyber Security Syllabus
Data structures: Systematic way of solving problems, Organization of huge amount of data, Program in C, Sorting techniques, Graphs and routing algorithms
Digital principles and system design: Boolean functions, Combinational circuits, HDL, Sequential circuits, Different types of hazards
System software: System software and machine architecture, Design and implementation of assemblers, Design and implementation of loaders, Design and implementation of linkers, Macroprocessors
Training
Project
List of electives:-
Software Engineering
Network Security
Cyber Crime Investigation and Digital Forensics
Applied Cryptography
Intrusion Detection and Prevention System
BTech Cyber Security Top Colleges
Galgotias University, Greater Noida
Hindustan Institute of Technology and Science, Chennai
Graphic Era University, Dehradun
Chandigarh University, Chandigarh
UPES, Dehradun
BITS, Hyderabad, Hyderabad
Sushant University, Gurgaon
Ganpat University, Gujarat
Raksha Shakti University, Ahmedabad
GNA University, Phagwara
The Neotia University, Kolkata
BTech Cyber Security Career Opportunities:
Information Security Analyst
InfoSec Trainer
Information Risk Analyst
Junior Cyber Security Analyst / Cyber Security Analyst
Infosec Analyst and Trainer
Internal Auditor
Sales – Cyber Product and Services
Technical Support Engineer (InfoSec)
Network Security Engineer