BBA Finance: Course details,Top Colleges, Job Prospects | Stepincollege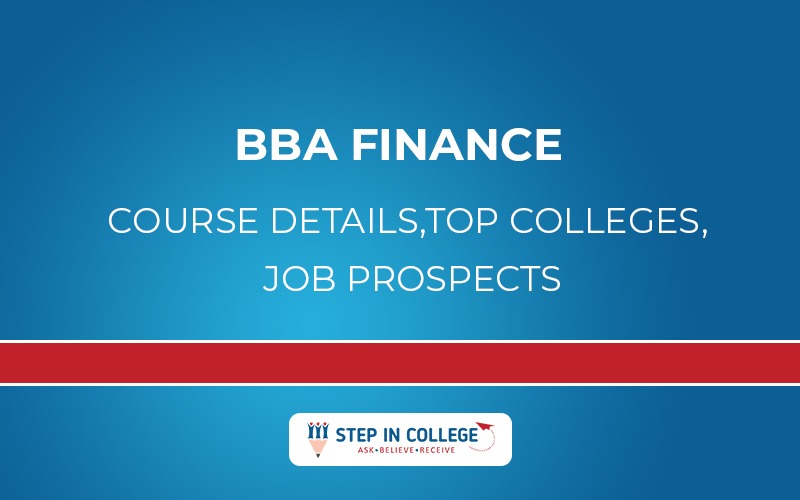 Published by : Step in college
The graduate level program is a Bachelor of Business Administration in Finance. This course has a length of 3 years. The Bachelor of Business Administration in Finance course was taught to make educated insurance and investment predictions. After completing the BBA Finance course, applicants can take an MBA in Finance, a postgraduate course in finance, and a postgraduate course in human resources management. These postgraduate courses help BBA applicants get better jobs. The purpose of the BBA Finance course is to provide students with practical and theoretical knowledge of various financial components, such as savings, insurance, etc.
BBA Finance Course details, Eligibility, Syllabus, Entrance Exam, Top Colleges, Job Prospects | Stepincollege
Students from BBA Finance should make educated investment and insurance projections and forecasts.This course is intended to prepare graduate students for success in finance and business at the entry level. BBA Finance's course covers subjects such as Basic Business Statics, Modern Business Introduction, Basic Business Communication, Business Rules, Computer Introduction, Communication and Soft Skills, Microeconomics, Organizational Behavior, Operational Analysis, Basic Accounting, Macroeconomics, etc.
Eligibility Criteria for BBA in Finance
The 10+2 pass is valid for admission to the Bachelor of Business Administration course in Finance.
In most of the institutes, students have to score 50 percent marks in 10+2 classes to take admission.
Any of the institutes have a 60% percentage criterion.
Entrance Exams for BBA in Finance
IPM Test
DU JAT
SET BBA
GGSIPU CET BBA
Top Colleges for BBA in Finance
Madras Christen College, MCC, Chennai
Quantum University, Roorkee
Amity International Business School, Noida
Christ University, Bangalore, Bangalore
Institute of Management Studies, Noida
Faculty of Management, Banasthali University, Jaipur
Mount Carmel College, Bangalore
Lala Lajpat Rai College of Communication & Economics, Mumbai
Department of Business Administration - SRM University, Chennai
Ethiraj College for Women, Chennai
M.S. Ramaiah College of Arts, Science and Commerce, Bangalore
Syllabus and Course Description for BBA in Finance
Business Law: Labor Laws, Employment Laws, Contract Laws, Corporate Law
Basic Accounting Course: Accounting Principal, Accounting Cycle, Financial Ratios, Financial Statements, Assets
Introduction to Computers: What Is Computer, Components of Computers, Advantages,Disadvantages of Computer of Computer
Career prospects and job Description for BBA Finance: The undergraduate financial management course is BBA Finance or Bachelor of Business Administration in Finance. The aim of BBA finance is to provide students with an excellent understanding of how the domestic and global financial system operates. BBA Finance students gain practical and theoretical knowledge of different financial elements, such as financial engineering, portfolio management, etc.In different sectors with different profiles, BBA Finance students may do work. BBA finance students are able to do jobs in mutual funds, commercial banking, investment banking, life insurance, health care, etc.