BBA in Banking and Insurance: Eligibility, Syllabus, Entrance Exam, Top Colleges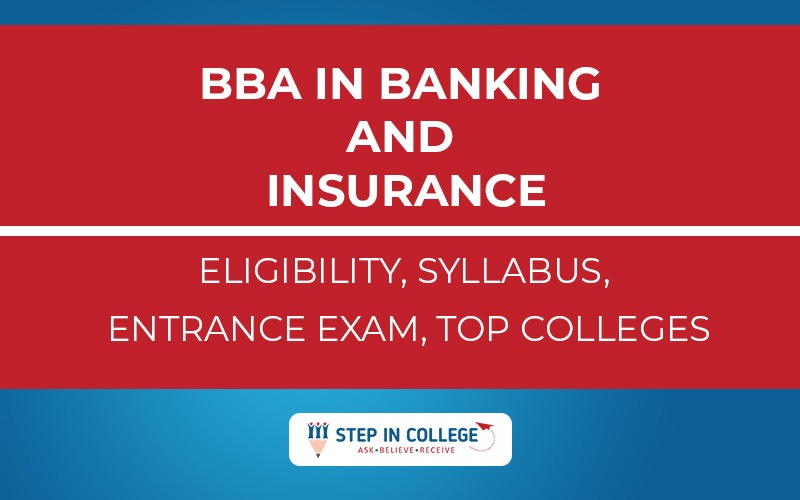 Published by : Step in college
The B.B.A. in Banking and Insurance is a three-year full-time undergraduate course split into six semesters. The curriculum includes applying the fundamentals and concepts used and practiced in the banking and insurance industries to the concepts of banking and insurance studies. Banking programs initiated by different government and private organizations as an academic discipline seek to equip students with principles, tools and techniques in the banking field, for example, generally, the Bachelor's degree program in Banking and Insurance provides specialization in the following areas: Financial Services Climate and Management, Micro Economics, Efficient Banking Com., Banking Quantitative Techniques.
BBA in Banking and Insurance Course details, Eligibility, Syllabus, Entrance Exam, Top Colleges, Job Prospects | Stepincollege
It includes the study of the fundamental principles of management with specialized training in areas such as Treasury Operations, International Banking and Insurance, Investment Banking, Risk Management, Project & Infrastructure, etc. The BBA programs and the last two concentrate on specialized subjects and topics specific to the Banking & Insurance fields and focus on them. The software is a specialized study of banking principles used in phases such as Advance Banking Technology (ATM, Internet Banking, etc.), Counter Operations, Savings Fund, Current Account and Remittances, Economics for Managers of Financial Services of Corporate Insurance, Housing, etc.
B.B.A. in Banking and Insurance Eligibility: The minimum eligibility requirements that candidates interested in pursuing the course are expected to meet in order to be qualified to apply for the course are listed below.
In either stream, completed by a recognized educational board, the applicants should complete their 10+2 or its equivalent exam.
A 50 percent minimum passing score (45 percent for SC/ST candidates) at the level of 10+2.
B.B.A. in Banking and Insurance Entrance Exam
B.B.A. in Banking and Insurance Top Institutes
Manav Rachna International University, Faridabad
Icfai University, Ranchi
Sharda University,Greater Noida
Gla Institute Of Business Management, Mathura
Elphinstone College, Mumbai
Noida International University, Noida
Amity University, Noida
Suresh Gyan Vihar University, Jaipur
Gla University, Mathura
B.B.A. in Banking and Insurance: Syllabus and Course Description
SEMESTER I: Management Foundation, Business Environment, Micro Economics for Business, Computers in Management, Financial Accounting - I, Business Mathematics, Principles of Banking, Principles of Insurance, Behavioral Science - I, English
SEMESTER II: Macro Economics for Business, Financial Accounting - II, Organizational Behavior, Data Base Management Systems, Business Statistics, Environmental Management, Banking System, Practice of Life Insurance, Behavioral Science - II, English
SEMESTER III: Operations Research, Financial Management - I, Management Information Systems, Marketing Management - I, Cost & Management Accounting, Business Law, Banking Law & Practice, Practice of General Insurance, Communication Skills - I, Behavioral Science - III
SEMESTER IV: Financial Management - II, Marketing Management - II, Research Methodology & Report Preparation, Analytical Skill Building,System Analysis & Design, Marketing of Banking Products & Services, Regulatory Frame Work, Insurance Regulations, Fire Insurance, Communication Skills - II, Behavioral Science - IV
SEMESTER V: Taxation Laws & Practice, Human Resource Management, Sales & Distribution Management, Management of Commercial Banks, Motor Insurance, Applications of Life Insurance, Communication Skills - III, Dissertation Project
SEMESTER VI: Business Policy & Strategic Management, Product & Operations Management
Health Insurance, Introduction to International Banking & Forex, Retail Banking, Values & Ethics in Business, Communication Skills - IV
B.B.A. in Banking and Insurance: Career Prospects: On the basis of the All India Examination, graduates are often employed by government banks for different posts. On the other side, across All India examinations, specialists such as doctors, lawyers, engineers etc. are employed for higher posts. Commerce stream graduates are given more priority, but anyone from either stream is qualified to enter this field by qualifying banks for entry examinations every year. Banks look for seasoned bankers at senior levels. In general, banks look for applicants who have strong communication skills and the ability to manage clients and basic industry knowledge.