BBA in Hospitality and Tourism Course details: Entrance Exam, Top Colleges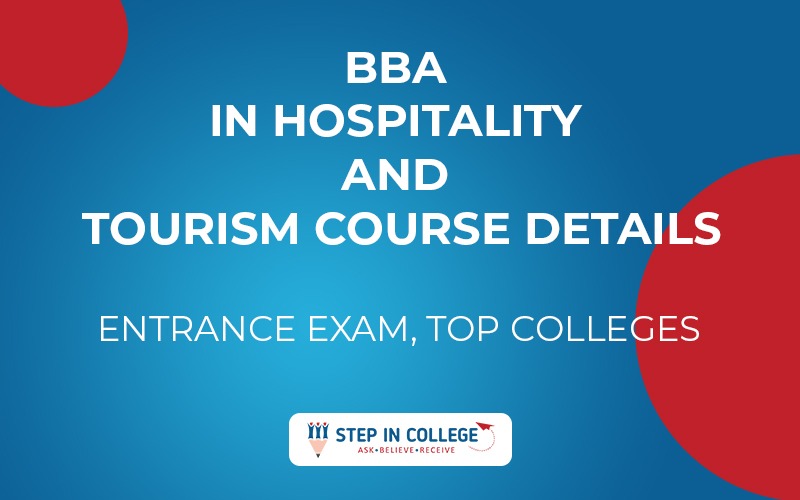 Published by : Step in college
Bachelor of Business Administration (BBA) in Hospitality and Tourism is a full-time undergraduate 3 Years course. One of the world's fastest-growing industries today is hospitality and tourism. They are currently the biggest contributors to the world economy. Due to the enormous market potential of hospitality & tourism, students in India have become one of the top career choices.
BBA in Hospitality and Tourism Course details, Eligibility, Syllabus, Entrance Exam, Top Colleges, Job Prospects | Stepincollege
BBA (Hospitality & Tourism Operations) is a dual specialization program for aspiring hospitality and tourism aspirants, providing the skills and expertise to play key roles in the leisure industry, hotels, resorts, travel & tourism, airlines, cruise lines, banks, event management, and other service sectors.
BBA in Hospitality and Tourism Eligibility Criteria
The applicant must have passed a Senior Secondary (10+2) examination from any of the recognized boards or an equivalent qualification.
Students can opt for the course with at least 40-50 percent marks in total from any stream.
In the qualifying aggregate score for the reserved categories in most institutes, there is relaxation.
BBA in Hospitality and Tourism: Entrance Exams
BBA in Hospitality and Tourism Top Colleges
ICFAI University, Mizoram
Himalayan Garhwal University, Uttarakhand
Lovely Professional University (LPU), Punjab
Manipal University, Jaipur
JECRC University, Jaipur
Kaziranga University, Assam
Tilak Maharastra Vidyapeeth, Maharashtra
RIMT University, Punjab
Singhania University, Rajasthan
ICFAI University, Directorate of Distance Education, Agartala
BBA in Hospitality and Tourism Syllabus
FIRST YEAR
SEMESTER I: Business Organization, Fundamentals Of Travel & Tourism, Business Mathematics, Business Accounting, Business Communication - I, Business Computing, Principles of Management and Organization Behaviour, Science of Tourism, Destination Mapping (India), Managerial Economics.
SEMESTER II: Organizational Behaviour, Business Economics - I, Business Statistics, Iata Travel & Tourism, Business Communication-II, Fundamentals Of Hospitality Management, India Cultural Heritage: Tourism Perspective, Environmental Science, Destination Mapping (World), Human Resource Management.
SECOND YEAR
SEMESTER III: Marketing Management, Research Methodology & Report Writing, Foreign Language, Financial Management, Business Economics - II, Human Resource Management, Marketing Innovations, Tourism, and Hospitality, Adventure and Wildlife Tourism, Personality Development & Presentation Skills, Tourism Impacts.
SEMESTER IV: Business Communication - II, Business Law, Marketing Communication, Consumer Behaviour & Market Research, Travel Agency & Tour Operation, Tour Operation, Front Office Management, Research Methodology in Tourism, Services Marketing, Safety and Hygiene.
THIRD YEAR
SEMESTER V: Essentials Of Strategic Management, Customer Relationship Management, International Tourism, Food And Beverage Management, Dissertation - I, Summer Internship, Business Ethics and Values, Strategic Management in Tourism and Hospitality, Tourism Trends & Issues (Domestic & International), Tour Operations and Product Development Management.
SEMESTER VI: Marketing Of Airlines & Cruise, Marketing Of Hotels, Resorts & Tours, Entrepreneurship And Venture Management, Adventure Tourism, Dissertation - II, Environmental Tourism, International Marketing, Entrepreneurship Development in Tourism, Tourism Laws, Business Environment.
BBA in Hospitality and Tourism Job Prospects
Graduates and postgraduates will be given great opportunities in the industry after completing a program in the field of Hospitality and Tourism. Applicants who complete their training in the sector will obtain enormous opportunities in India and abroad, thus broadening the graduates' job prospects. The following are some of the employment opportunities and career prospects available in the industry:
Hotel and Restaurant Management
Hospital Administration and Catering
Hotel and Tourism Association
Airline Catering and Cabin Services
Club Management.
Candidates may choose any profile listed below
Catering Manager
Sous Chef
Travel Planner
Bartender
Guest Service Associate
Food and Beverage Supervisor
Hotel Director
Wine Taster
Travel Agent
Reservation Agent