BBA in Marketing Course details: Entrance Exam, Top Colleges, Job Prospects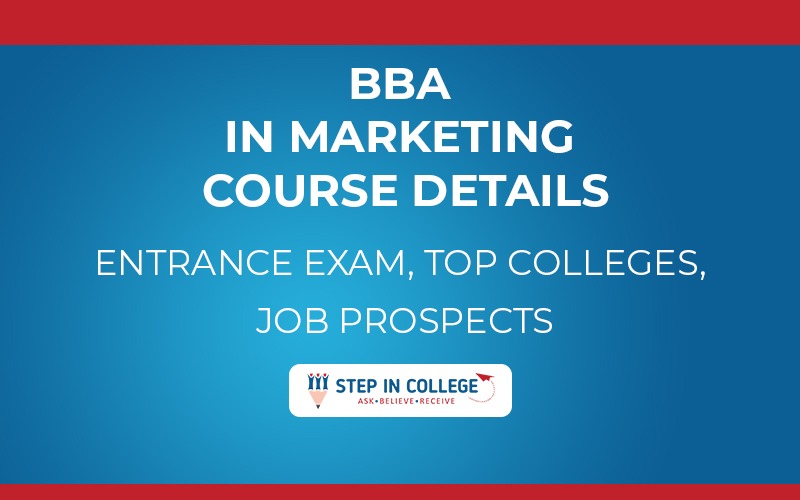 Published by : Step in college
For everyone in the market, marketing is one of the most significant factors. Each company focuses on marketing its products to be on the market, so they are always looking for qualified people who can boost their sales through marketing. For this undergraduate program, candidates who possess good marketing skills are perfect. In marketing, BBA involves training students with important skills and strategies so that they can provide the organizations or companies they work in with new heights. This course includes both traditional and new approaches to marketing and allows students to address real-life problems in the industry.
BBA in Marketing Course details, Eligibility, Syllabus, Entrance Exam, Top Colleges, Job Prospects | Stepincollege
Market analysis, product strategy, designing marketing campaigns, consumer behavior, advertising, market research, branding, customer feedback collection are some of the key topics that will be addressed in BBA training in marketing. Besides this, several practical courses are also included in the curriculum. The realistic approach of the curriculum makes it possible for students to grasp the meaning of marketing.
BBA in Marketing Course Eligibility
The basic eligibility of the BBA Marketing course for an applicant is to get a 50 percent score for 12th from any approved educational board with English as one of the subjects and should also be history in mathematics/commerce in 12th.
BBA in Marketing Entrance Exam
DU JAT- Delhi University Joint Admission Test
SET- Symbiosis Entrance Test
IPU CET- IP University Common Entrance Test
AIMA UGAT- AIMA Under Graduate Aptitude Test
PESSAT- PES Scholastic Aptitude Test
DSAT- Dayanand Sagar Admission Test
NPAT- National Test for Program After Twelfth
BBA in Marketing Top Colleges
Foundation for Liberal and Management Education, Pune
Alliance School of Business, Bangalore
RJ School of Management Studies, Baleswar
Vaishali Institute of Business and Rural Management, Muzaffarpur
Brihan Maharashtra College of Commerce, Pune
Suresh Gyan Vihar University, Jaipur
Ganpat University, Mehsana
GLA University, Mathura
Eastern Institute for Integrated Learning in Management, West Sikkim
CMJ University, Shillong
BBA in Marketing Syllabus
Subjects
Business Communication
Business Finance
Direct Marketing
Distribution Management & Logistics
Entrepreneurship Development & Project Management
Fundamentals of Information Technology
Industrial Marketing
International Business
Management Information System
Managerial Economics
Market Research
Research Methodology
Retail Marketing
Rural & Agricultural Marketing
Rural and Agricultural Marketing
Services Marketing
Strategic Marketing
BBA in Marketing Job Prospects: As we all know, in every company and organisation, marketing is a significant department. At all companies, there is always an opening for successful and competent marketing managers and executives. After checking for the vacancy, candidates who are looking for a career in marketing can apply to any organization. For those applicants who have completed their BBA in marketing degree, there is a wide selection. Some of the main areas where applicants can apply for a position are mentioned below.

NCs
Media houses
Retailers
Brand Management firms
Event Management firms
Advertising Agencies
Market research firms
Travel, tourism, and hospitality firms
Industries/Manufacturers
IT firms
Before applying, they can also check out the profile appropriate for them. Some of the profiles that these candidates have available are
Marketing Executive
New Product Manager
Market Research Analyst
Brand Manager
Marketing Manager
Marketing Communications Manager
Advertising Manager
Sales Manager
Every business requires a good marketing manager, though. Here are a few highly valued businesses where applicants may apply.
SBI
Nestle
TCS
Mudra
Amazon
Deloitte
Capgemini
Deutsche Bank
Wipro Limited