B.Sc. Biochemistry: Course Details, Entrance Exam, Top Colleges, Job Prospects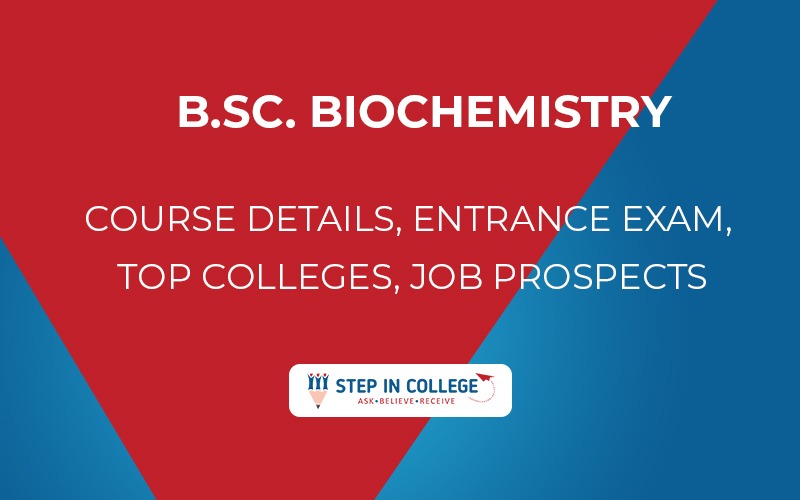 Published by : Step in college
B.Sc in Biochemistry is a 3-year undergraduate program that provides an in-depth understanding of biology and chemistry in the processes of plants, humans, and animals, human physiology, basic immunology, microbiology, enzymology, etc. The main goal of the curriculum is to help students understand the complexities and processes within the human body of the biological activities that take place.
B.Sc. Biochemistry Course Details, Eligibility, Syllabus, Entrance Exam, Top Colleges, Job Prospects | StepInCollege
In various industries, such as medical science, food and packaging, pharmaceuticals, medicine, and genetics, the knowledge acquired from studying biochemistry is widely used. The key purpose of the B.Sc in Biochemistry is to provide theoretical and practical sessions to aspirants with field-specific expertise and skillsets. Biochemistry is a branch of science that includes chemistry, which is applied to the study of living organisms and living organisms containing atoms and molecules.
B.Sc. Biochemistry Eligibility Criteria: The eligibility requirements for the B.Sc program in Biochemistry are identical to those for other B.Sc programs. The basic conditions of eligibility that must be met by the applicants are:
Candidates must have completed their Class XII (or equivalent) studies from either of the recognized Science Stream Boards.
To be eligible for the B.Sc in Biochemistry program, it is mandatory for applicants to have studied physics, chemistry, biology, and mathematics at the qualifying exam stage.
At the qualifying stage, the candidates should also have received a minimum aggregate of 50 percent or higher.
BSc Biochemistry Entrance Exams
IISER BSc Entrance Exam- The ISER exam is taken to award admission to one of the seven IISERs for the BS-MS degree program.
UPCATET- UP Combined Entrance Test for Agriculture and Technology is an entrance exam conducted to admit applicants from Uttar Pradesh State to various UG and PG programs offered at different colleges.
MGU CAT- This examination is used to offer admission to various subjects under the faculty of Arts, Science, Commerce, etc. at different undergraduate, postgraduate and doctoral levels. Mahatma Gandhi University conducts the examination.
LPUNEST- Lovely Technical University has taken this examination to deliver admissions for Law, Applied Medical Sciences, MBA, Hotel Management, Ph.D., Design, Agriculture, etc.
B.Sc. Biochemistry Syllabus
First Year: Biomolecules 1, Enzymology 1, Lab Course 1, Biomolecules 2, Enzymology 2, Lab Course 2
Second Year: Intermediary Metabolism 1, Molecular Biology 1, Lab Course 3, Intermediary Metabolism 2, Molecular Biology 2, Lab Course 4
Third Year: Plant Biochemistry, Clinical Biochemistry, Lab Course 5, Biochemical Techniques, Immunology, Lab Course 6,
B.Sc. Biochemistry Top Colleges
Sri Venkateswara College, New Delhi
Queen Mary's College, Chennai
Ethiraj College for Women, Chennai
St. Xaviers College, Ahmedabad
CMC College of Science & Commerce, Coimbatore
St. Xavier's College, Mumbai
The Oxford College of Science, Bangalore
B.Sc. Biochemistry Career Options and Job Prospects
Candidates have a wide range of career opportunities to choose from after completing a BSc in biochemistry. Interested candidates may also go to higher studies, such as MSc, MPhil & Ph.D., in the same area. The successful completion of the course makes applicants eligible in colleges and universities for the position of assistant professor and lecturer. For biochemistry graduates, areas such as cell biology, genetics, molecular biology, energy, and metabolism are ideally suited.
Employment Sector:
Medical Industry
Agriculture
Research Labs
Pharmaceutical Companies
Academic and educational institutions