Bachelor of Science (B.Sc.) in Botany: Course details, Eligibility, Syllabus, Top Colleges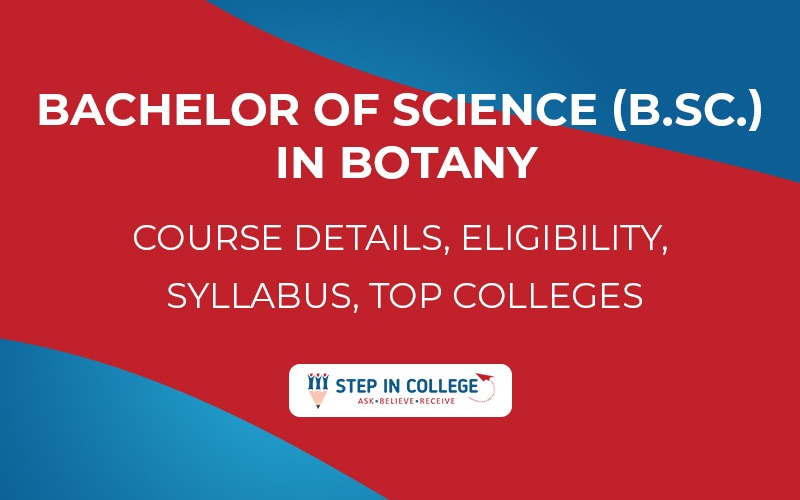 Published by : Step in college
B.Sc Botany is an undergraduate 3 Years course. The course is designed to research the kingdom of plants and their species present on the earth. After class XII, students who are interested in ecology, forestry, and plants will follow this course.
Bachelor of Science (B.Sc.) in Botany Course details, Eligibility, Syllabus, Entrance Exam, Top Colleges, Job Prospects | StepInCollegeIn the classroom
sessions, the BSc Botany curriculum covers research practices along with practical principles in laboratory sessions. For real-life experience and learning, Infield, Outstation events and projects are often coordinated. BSc Botany course may be selected by candidates who have an interest in the plant kingdom, environment, enjoy discovering exotic places, and want to work as researchers or careers such as botanist, conservationist, ecologist, etc.
Bachelor of Science [B.Sc] (Botany) Eligibility Criteria
Intermediate (10+2) research must have been completed by the candidates.
Candidates must have studied intermediate level English, Physics, Chemistry, and Mathematics or Biology. S
The minimum percentage required for 10+2 can differ in terms of college. The percentage range required for admission is from 55% to 60%.
Bachelor of Science [B.Sc] (Botany) Entrance Exams
BHU UET
OUAT
IISER IAT
GSAT
Bachelor of Science [B.Sc] (Botany) Top Colleges
Christ University, Bangalore
Hans Raj College, Delhi
Ramjas College, Delhi
Madras Christian College, [MCC] Chennai
Hindu College, Delhi
Fergusson College, [FC] Pune
St. Xavier's College, Mumbai
Darrang College, Tezpur
Maharani Lakshmi Ammanni College for Women, [MLACW] Bangalore
Banaras Hindu University, Varanasi
Bachelor of Science [B.Sc] (Botany) Syllabus
Year 1: Introduction to Biology, Algae, and Microbiology, Chemistry-I, Technical writing and communication in English / Computational skills, Mycology & Phytopathology, Archegoniatae, Chemistry –II, Biochemistry.
Year 2: Plant Resource Utilization, Mathematics, and Statistics, Cell Biology - I, Molecular Biology - 1, Plant Development and Anatomy, Ecology and Phytogeography, Cell Biology II, Molecular Biology - II.
Year 3: Plant Systematics & Evolution, Plant Physiology, Environmental Management / Bioinformatics, Genetics & Genomics -I, Plant Metabolism, Reproductive Biology of Angiosperms, Plant Biotechnology, Genetics & Genomics - II.
Bachelor of Science [B.Sc] (Botany) Job Prospects
Students may choose different professional courses based on the field of interest after completing BSc Botany. Check the list of various professions open for students of BSc Botany:
Botanist
Microbiologist
Horticulturist
Palaeobotanist
Taxonomist
Plant Biochemist
Weed Scientist
Plant Researcher
Plant Pathologist
Conservationist
Consultant in Farming