Bachelor of Science [B.Sc.] in Computer Science: Top Colleges, Eligibility Entrance Exam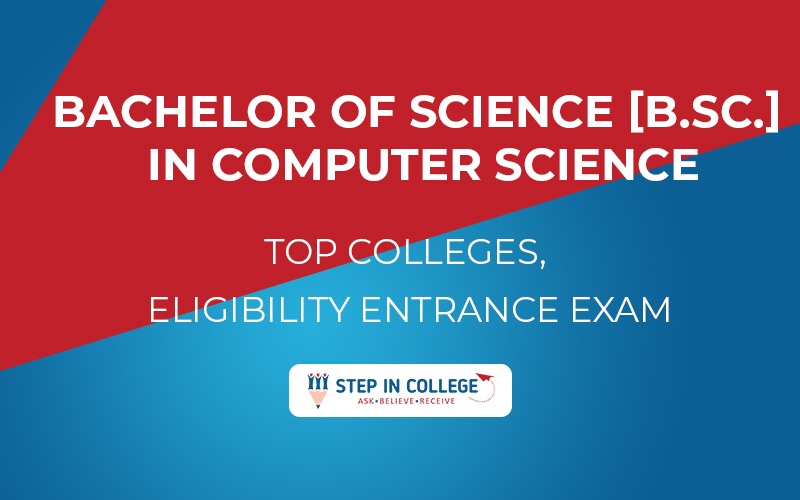 Published by : Step in college
Technical application of computers and information systems is the main agenda of the degree course. In the three-year degree course, students undergo different term papers, practical sessions, and theoretical programming foundations for learning. With the widespread development in technology, the demand for computer professionals is growing.
Bachelor of Science [B.Sc.] in Computer Science Course details, Eligibility, Syllabus, Entrance Exam, Top Colleges, Job Prospects | StepInCollege
This course is also available as a part-time, correspondence, and dual degree course at different institutes. In Computer Science, B.Sc makes students able to work with different IT and software firms as it focuses on computing, programming, and database techniques. Students research a broad variety of subjects during the three-year program, such as the operating system, the number system and codes, control systems, arrays, and functions.
BSc Computer Science Eligibility
The student must have cleared the higher secondary grade (10+2) from a recognised board to apply for admission to BSc Computer Science. Some colleges, such as Annamalai University, offer admission to the 2nd year of the programme for which the student must have a minimum of 75% marks in the preceding year of the programme in the same discipline or a 3-year diploma after the 10th standard in the technical area.
BSc Computer Science Entrance Exams
Banaras Hindu University Entrance Exam
Jamia Millia Islamia University entrance exam
Kishore Vaigyanik Protsahan Yojana [KVPY] entrance exam
BSc Computer Science Top Colleges
St. Stephen's College
Presidency College, Kolkata
St. Xavier's College, Mumbai
Madras Christian College
Christ University, Bangalore
Mount Carmel College, Bangalore
Birla Institute of Technology and Science
Indian Institute of Management and Commerce
National Institute of Technology
Rajiv Gandhi Degree College
Government Arts & Science College
BSc Computer Science Syllabus
Semester I: Introduction to Digital Electronics, Basics of Computer Science, Environmental Sciences, Foundation course in Mathematics, Functional English-I.
Semester II: Front Office Management, Discrete Mathematics, Computer Organization, Fundamental of Open Source Software-LINUX, Value and Ethics.
Semester III: Object-Oriented Programming using C++, Operating Systems concepts, Introduction to Data Structures, System Analysis and design, Technical Writing, Analytical Skill Development-I.
Semester IV: Database Management Systems, Introduction to Computer Network, Numerical Analysis, System Programming, Report Writing(Yantra), Analytical Skill Development-II.
Semester V: Python programming, Introduction to Software Engineering, Mobile Application Development, Personality Development Program, Mini Project-I.
Semester VI: Introduction to Web Technology, Project Work.
BSc Computer Science Job Prospects: Since the course is primarily targeted at computers and their uses, after graduation, there are several career opportunities that one can take up. To develop their skills and get better job opportunities, students should pursue higher studies like MSc, MCA, MBA, MCM. The curriculum is structured so that students are prepared for a career in the IT & Software Industry. The career profiles given to a BSc graduate in computer science are as follows:
Software Engineer
Project Manager
IT Project Manager
Programmer
Analyst
DTP Operator
School Teacher
Lecturer