Bachelor of Science (BSc) in Biotechnology: Top Colleges, Syllabus, Entrance Exam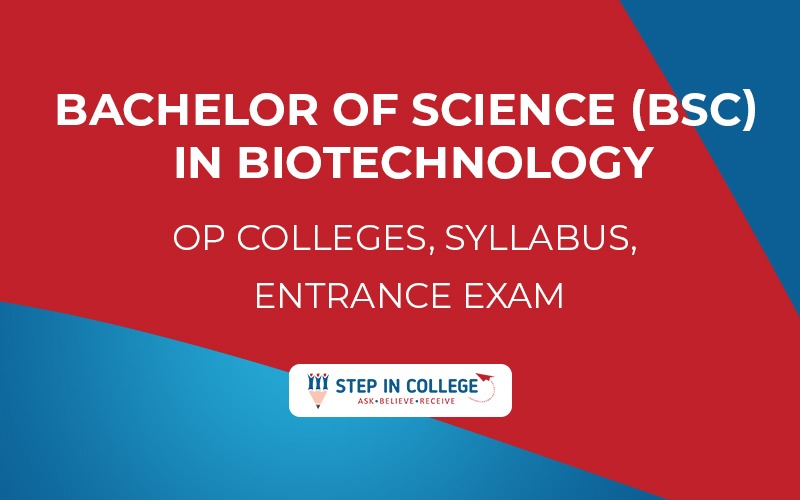 Published by : Step in college
Bachelor of Science [B.Sc.] in Biotechnology Is Undergraduate 3 years course. The course is at the intersection of Biology and Technology, two broad subjects. Biotechnology, in simple terms, is an area of applied biology that uses living organisms or biological systems to make technological advancements and to make use of them in different fields. It ultimately aims to enhance the quality of human life and the planet's health. The course provides detailed knowledge of bi-molecular and cellular activities and provides information on the various technologies to be learned.
Bachelor of Science (BSc) in Biotechnology Course details, Eligibility, Syllabus, Entrance Exam, Top Colleges, Job Prospects | StepInCollege
It encompasses a broad range of topics, such as genetics, molecular biology, and chemistry. This curriculum should definitely go to applicants who are intrigued by biological sciences and have strong problem-solving abilities and are proficient in computers. Graduates of biotechnology are calling for a range of high-paying job opportunities around the country. The industry is continuously changing and one can become a research scientist, a biotech analyst, a specialist in their respective fields after completing the course.
BSc Biotechnology Course Eligibility
The applicant must pass their 10+2 Secondary and Higher Secondary education from a recognized board on a mandatory basis. To be eligible for admission to the Bachelor of Science[B.Sc] (Biotechnology) course, a 50-55 percent HSE aggregate in Physics, Chemistry, Biology, and Mathematics must be secured. In Physics, Chemistry, Biology [PCB], the applicant must have received a minimum aggregate score of 60%. For the institute or college-specific entrance exams administered by the individual universities/colleges following the admission process for their college/university, aspirants must appear.
BSc Biotechnology Entrance Exams
All India Institute of Medical Sciences, [AIIMS] Biotechnology Entrance Test
Jawaharlal Nehru University, [JNU] Combined Biotechnology Entrance Examination
Combined Biotechnology Entrance Examination, [CBE]
Delhi University, [DU] Biotechnology Entrance Examination.
BSc Biotechnology Top Colleges
Vellore Institute of Technology, Vellore
IIT, Kharagpur
The Oxford College of Science, Bangalore
Manipal Institute of Technology, Manipal
IIT, Guwahati
Karunya University, Coimbatore
BMS College of Engineering, Bangalore
National Institute of Technology, Raipur
Madras Christian College, Chennai
Ramjas College, Delhi
BSc Biotechnology Syllabus
Semester 1: Macromolecular Structure and Analysis, Biophysics & Instrumentation, Cell Structure & Dynamics, Biomathematics – I, Chemistry.
Semester 2: Organic Mechanisms in Biology, Principles of Transmission Genetics, Principles of Microbiology, Biomathematics – II, Introduction to C-Programming & Digital Logic.
Semester 3: Microbial Genetics, Principles of Immunology, Plant and Animal Tissue Culture Techniques and applications, Plant Biotechnology, Introduction to Data Structure & Computer Organization.
Semester 4: Molecular Genetics, Computational Biology & Bioinformatics, Biodiversity & Taxonomy, Animal Biotechnology, Introduction to DBMS, Computer Network & Numerical Analysis.
Semester 5: DNA Typing, Proteomics & Beyond, Recombinant DNA Technology, Environmental Biotechnology, Industrial Biotechnology.
Semester 6: Model Organisms in Human Genome Project, Elements of Management Introduction and Entrepreneurship, Medical Biotechnology, Biotechnology- Social, Legal and Ethical Issues.
BSc Biotechnology Job Prospects: The area that will never cease to develop is biotechnology. This has resulted in an ever-increasing demand for graduates of BSc Biotechnology and work opportunities abound across the country for them. In a variety of industries, such as drug and pharmaceutical research, waste management, chemicals, energy, food processing, bio-processing industries, animal husbandry, environmental protection, genetics, engineering, you can easily find a preferred place. In both the private and government sectors, BSc Biotechnology professionals will pursue a broad range of career opportunities:
Research Interns- R&D Jobs
Safety Expert
Bioinformist
Clinical Research Jobs
Production Jobs in Pharma Industry
Scientific Writer
Biotech Specialist
QA/QC Jobs
Calibration Technician
Research Analyst
Scientific Assistant
Biostatistician
R&D Intern Jobs in Govt Labs
Academic Jobs in Colleges & Universities