Bachelor of Science (B.Sc.) in Geology: Course details, Eligibility, Syllabus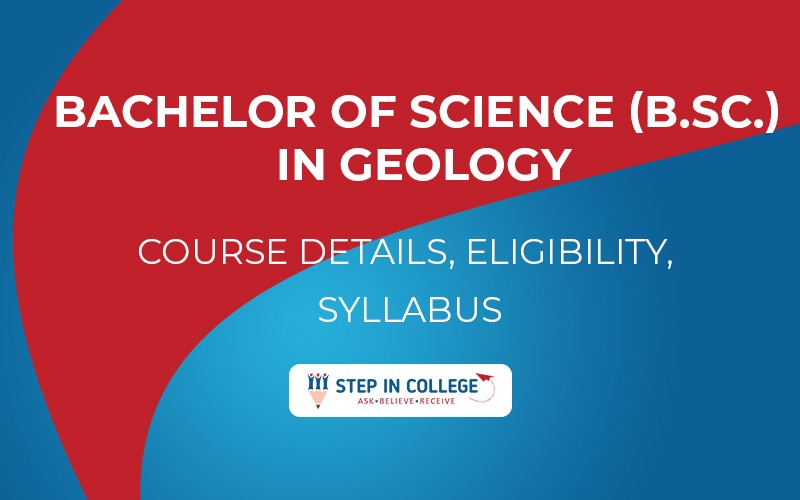 Published by : Step in college
BSc Geology or Bachelor of Science in Geology is a long undergraduate course. The duration of this course is 3 years. The curriculum teaches you about different rocks, minerals, fossils, crystals, etc. that are present on the surface of the earth and beneath it. This includes research into mineralogy, paleontology, petrology, economic geology, hydrogeology, stratigraphy, structural geology, etc. The course also requires compulsory fieldwork and practice of various topics in theory.
Bachelor of Science (B.Sc.) in Geology Course details, Eligibility, Syllabus, Entrance Exam, Top Colleges, Job Prospects | StepInCollege
In addition, this course gives you a great understanding of nature and various natural phenomena, such as earthquakes, volcanoes, tsunamis, and many others, how they occur, their after-effects, etc. Students can either pursue higher studies after completing this course or can work in various departments in both the private and government sectors.
After this course, MSc and Ph.D. courses can be taken with many specializations.
Also available as a distance education alternative is the course.
Bachelor of Science [B.Sc] (Geology) Eligibility Criteria
The applicant must have passed a recognized board level 12th or equivalent.
As the main subjects in class 12th, the applicant must have studied Mathematics and Physics along with one of the optional subjects such as Chemistry/ Biology/ Biotechnology/ Computer Science.
In the qualifying test, the applicant must have acquired a minimum aggregate of 50 percent.
Bachelor of Science [B.Sc] (Geology) Entrance Exams
CG PAT
IISER IAT
OUAT
GSAT
BHU UET
NEST
Bachelor of Science [B.Sc] (Geology) Top Colleges
Dibrugarh University, Dibrugarh
Maharshi Dayanand University, [MDU] Rohtak
MG Science Institute, [MGSI] Ahmedabad
Indian Institute of Technology, [IIT] Bombay
Fergusson College, [FC] Pune
Indian Institute of Technology, [IIT] Kharagpur
University of Pune, [UP] Pune
Presidency College, Chennai
Banaras Hindu University, [BHU] Varanasi
Indian Institute of Technology, [IIT] Roorkee
Bachelor of Science [B.Sc] (Geology) Syllabus
First Year: Earth Science, Geochemistry, Structural Geology, Mineral Science.
Second Year: Igneous Petrology, Metamorphic Petrology, Paleontology, Sedimentary Petrology, Stratigraphic Principles.
Third Year: Indian Stratigraphy, Engineering Geology, Economic Geology, Hydrogeology, Remote Sensing and GIS.
Bachelor of Science [B.Sc] (Geology) Job Prospects: Different construction firms, mining companies, and survey organizations hire geologists. India is on its way to infrastructural development and there is a need for capable geologists to build lasting structures on safe sites. Jobs in private companies as well as in government organizations are available after this course. Since geology is such a diverse field, candidates who want to pursue a career in geological research have plenty of scopes. In this field, pursuing a master's degree may open up numerous other opportunities. Some of the popular profiles that geology graduates can request are as follows:
Geologist
Mine Supervisor
Marine Geologist
Hydrogeologist
Seismologist
Petrologist