BBA Digital Marketing: Course Details: Course Details, Entrance Exam, Top Colleges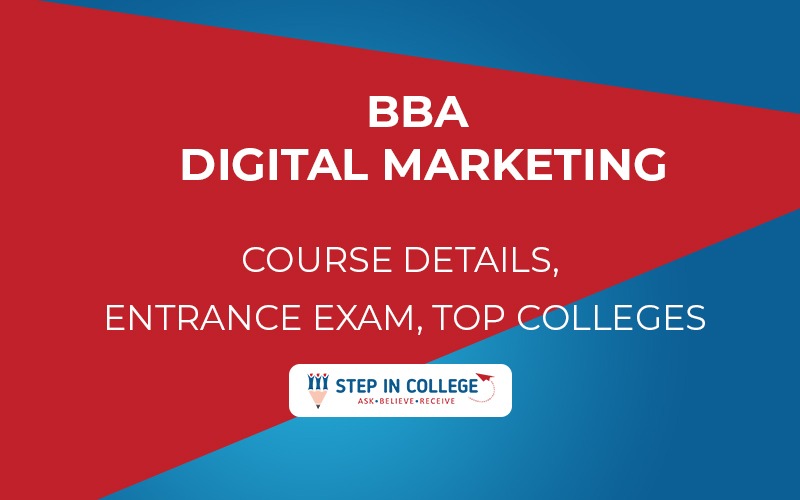 Published by : Step in college
The BBA is a three-year bachelor's degree in digital marketing. The new and trending division of marketing is digital marketing. Not only in India, but globally, digital advertising is a booming industry. With almost every organization turning its business online, the demand for digital marketers is increasing rapidly and opening doors for many job seekers. BBA updates students with some of the major skills in digital marketing, such as principles of revenue conversions, assessing marketing campaigns, and identifying tactics. This curriculum can be extended to candidates who have imaginative and inventive thinking, critical thinking skills, and strong interpersonal and communication skills. BBA is distributed over three years of digital marketing, split into six semesters.
BBA Digital Marketing Course Details, Eligibility, Syllabus, Entrance Exam, Top Colleges, Job Prospects | StepInCollege
The entire semester contained numerous subjects related to marketing and business research. A project which helps students to learn the practical skills of marketing is also included in the program. Many topics related to digital marketing, such as social media marketing, are part of the program's curriculum. Search Engine Optimization, Google AdWords, Youtube Ads, Google Analytics and Webmaster Tool, and Ad Campaign. It will encourage students to learn all the techniques to rate their website on Google's top searches.
B.B.A. in Digital Marketing Eligibility Criteria: The minimum requirement for a BBA in Digital Marketing will be entirely dependent on the candidate's university or college for admission. The applicant should have to satisfy all the admission requirements before going any further. Some common eligibility requirements for BBA admission in digital marketing given below may be reviewed by candidates.
The 12th exam with a minimum score of 50-55 percent minimum aggregate score (50 percent for SC/ST/OBC candidates) must have been completed by candidates seeking admission to the BBA in digital marketing.
The minimum percentage required for admission will be determined by the college and may differ according to the conditions set by the college for all categories.
B.B.A. in Digital Marketing Entrance Exams
PESSAT (PES Scholastic Aptitude Test)
DSAT (Dayanand Sagar Admission Test)
JUEE (Jagannath University Entrance Test)
NPAT (National Test for Programs after class XII)
DU (Delhi University) BBA Entrance Exam
BVP CET (Bharati Vidyapeeth Common Entrance Test)
DU JAT (Delhi University Joint Admission Test)
ITM NEST (ITM National Entrance and Scholarship Test).
B.B.A. in Digital Marketing Top Colleges
Christ University, Bangalore
Narsee Monjee Institute of Management Studies (NMIMS University), Mumbai
Shaheed Sukhdev College of Business Studies (SSCBS), New Delhi
Quantum University, Roorkee
Madras Christian College (MCC), Chennai
ICFAI Business School (IBS), Hyderabad
Kristu Jayanti College (KJC), Bangalore
New Delhi Institute of Management (NDIM), New Delhi
AIMS Institute, Bangalore
GIBS Business School, Bangalore
Flame University, Pune
B.B.A. in Digital Marketing Syllabus & Course Description
Semester 1: Business Accounting, Business Communication I, Business Computing, Business Economics I, Business Mathematics, Human Values & Ethics
Semester 2: Business Communication II, Business Economics II, Business Statistics, Corporate Social Responsibility, Design Thinking, Financial Management
Semester 3: Sales & Marketing in the Digital Age, Organizational Behavior, Logistics and Supply Chain Management, Understanding Digital Marketing, Internet and Related Technologies, Open Elective 1, Advanced Skill Development, Consumer Behavior & Market Research, Venture Ide
Semester 4: Advertising & Sales Promotion, Executive Communication, Human Resource Management, Industry Visit, Open Elective 2, Program Elective 1, Research Methodology & Report Writing, Social Media Marketing
Semester 5: Business Policy & Strategy, Customer Relationship Management, Data Mining and Business Intelligence, Digital Media Laws, Dissertation I, Executive Communication Pro, Programme Elective 2, Summer Internship
Semester 6: Dissertation II, Environmental Studies, Program Elective 3, Project Management
B.B.A. in Digital Marketing Career Prospects and Job Description: Digital Marketing, also known as Data-driven Marketing, offers its graduates, both in India and abroad, great career opportunities due to the growing importance of digital marketing and competition in various MNCs and business houses that have dedicated digital marketing teams.
Job roles
professional blogger
freelance digital marketer
You-tuber, etc.