BBA Entrepreneurship: Course Details, Eligibility, Syllabus, Entrance Exam, Top Colleges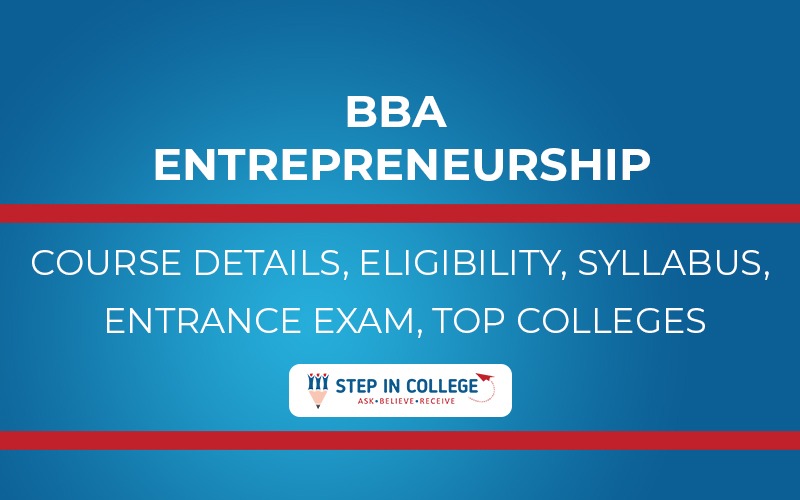 Published by : Step in college
The B.B.A. in Entrepreneurship is a Business Management 3 years undergraduate course. Entrepreneurship is the act of becoming an entrepreneur, the latter being someone with creativity and financial and business insight, translating ideas into goods/services that are economically beneficial. Entrepreneurship is defined as the conceptualization, launching, and operation of a business enterprise to provide goods and services, employment, gain revenue and contribute to the country's economy.
BBA Entrepreneurship Course Details, Eligibility, Syllabus, Entrance Exam, Top Colleges, Job Prospects | StepInCollege
Entrepreneurship courses provide not only business acumen skills and training, but also provide them with business creativity and growth tools and methods. In India, both full-time and part-time entrepreneurship courses are offered. Full-time entrepreneurship courses are offered primarily as BBA, MBA, and Executive MBA specialization or elective courses; and part-time courses are offered as short-term certificate and credential courses.
BBA in Entrepreneurship Eligibility Criteria
10+2 education from a recognized educational board completed in the Science Stream.
Preferably, the subject of trade is the primary subject of study at the level of 10+2.
At the 10+2 stage, a 50 percent minimum aggregate score (45 percent for SC/ST/OBC candidates).
BBA in Entrepreneurship Entrance Exam
Dayanand Sagar Admission Test (DSAT)
Sharda University Admission Test (SUAT)
Kalinga Institute of Industrial Technology Entrance Exam (KIITEE)
ITM National Entrance and Scholarship Test (ITM NEST)
Sri Padampat Singhania Admission Test (SPSAT)
Delhi University Joint Admission Test (DU JAT)
Symbiosis Entrance Test (SET)
Bharati Vidyapeeth Common Entrance Test (BVP CET)
National Test for Programs After Twelfth (NPAT)
Central Universities Common Entrance Test (CUCET)
Bharati Vidyapeeth Undergraduate Management Aptitude Test (BUMAT)
Under Graduate Aptitude Test-AIMA (UGAT-AIMA)
Bharati Vidyapeeth Deemed University Management (BUMAT)
Guru Gobind Singh Indraprastha University (GGSIPU CET BBA)
Alliance Undergraduate Management Aptitude Test (AUMAT).
BBA in Entrepreneurship Top Colleges
Flame University, Pune
IMS Unison University, Dehradun
ICFAI University, Dehradun
Sharda University, Greater Noida
Amity University, Noida
JB Institute of Technology, Dehradun
Tapindu Institute Of Higher Studies, Patna
Manav Rachna University, Faridabad
Atal Bihari Vajpayee Hindi Vishwavidyalaya, Bhopal
BBA in Entrepreneurship Syllabus and Course Description
Semester I: Management Foundations, Business Environment, Basic Mathematics & Statistical Techniques, Computers in Management, Financial Accounting – I, Introduction to Family Business Management, Polity & Society, English – I, Behavioral Science - I
Semester II: Quantitative Techniques for Management, Financial Services & Institutional Supports, Managerial Economics, Organizational Behavior, Analysis & Design of Business System, Financial Accounting – II, Environmental Studies
English, Behavioral Science – II
Semester III: Venture Management, Financial Management, Management Information Systems, Marketing Management – I, Cost & Management Accounting, Business Laws, Communication Skills – I, Behavioral Science – III, Summer Assignment & Project(Evaluation)
Semester IV: Personal Financial Planning, Marketing Management - II, Research Methodology & Report Preparation, Production & Operation Management, Analytical Skill Building, E-Business Management, Human Resource Management Communication Skills – II, Behavioral Science – IV
Semester V: Entrepreneurial Resource Management, Sales & Distribution Management, Change & Innovations Management, Business Tax Planning, International Business Management, Communication Skills – III, Behavioral Science – V, Summer Training (Evaluation)
Semester VI: Business Policy & Strategic Management, Project Management, Foreign Trade Procedure & Documentation, Industrial Relations & Compensation Management, Financial Inclusions – Micro Finance, Communication Skills – IV, Behavioral Science – VI, Dissertation
BBA in Entrepreneurship Career Prospects and Job Description
The reach of BBA entrepreneurship revolves primarily around the capacity of the applicants to start their business enterprises. In order to make them successful entrepreneurs, the curriculum allows them to acquire an awareness of the industry. Global and local companies must be able to distinguish, analyze and analyze. The applicant would be able to build new and independent business enterprises with the aid of the skills acquired while completing the degree. It equips the candidates with imagination to grasp an enterprise's set-up, processes, and development. These graduates are proficient in leadership, economics, and business operations.
Job role
commercial banker
franchise operator
research and development executive
business consultant.