BSc Anatomy: Course Details, Eligibility, Syllabus, Entrance Exam, Top Colleges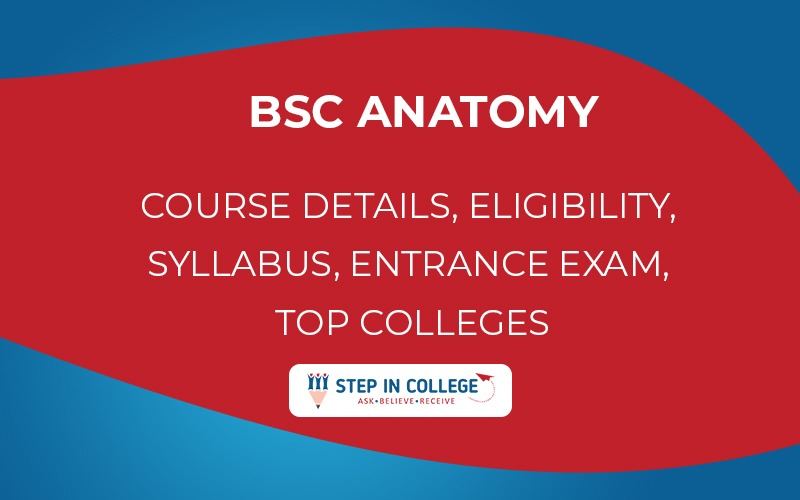 Published by : Step in college
B.Sc. in Anatomy is an undergraduate course in science. The duration of this course is 3 years. Anatomy is a biological and medical arm, which takes into account the nature of living objects. It is a local term that includes the anatomy of animals (zootomy), human anatomy, and plants (phytotomy). The rules and regulations of the institutes can be less or more than that. This course gives the candidates several jobs. In this course, graduates will find work in hospitals and the best choices are their own occupation.
BSc Anatomy Course Details, Eligibility, Syllabus, Entrance Exam, Top Colleges, Job Prospects | StepInCollege
The study of large organs, for instance, brain and microscopic anatomy, is also known as Gross Anatomy, and a study of small organs, such as brain cell nervous. They study how the human body and other animals function. Students are exposed to optical instruments in order to study the tissues and organs. You also hear about new technology for testing the body, such as X-ray, ultrasound, sonography, and magnetic resonance imaging.
B.Sc. in Anatomy Eligibility Criteria
10+2 education from a recognized educational board
Physics, chemistry, and English with Biology are the core subjects at the 10+2 level of study.
A minimum aggregate score at the 10+2 stage of 60 percent
B.Sc. in Anatomy Top Institutes
Baba Farid University of Health Science, Faridkot, Panjab
Rama University, Kanpur, Uttar Pradesh
Government Medical College, Amritsar, Punjab
B.Sc. in Anatomy Syllabus and Course Description
Year I: Anatomy, Physiology, Biochemistry, Medical Statistics and Research Methodology
Year II: Anatomy, Physiology, Biochemistry, Computer and Computer Applications
Years III: Anatomy, Physiology, Biochemistry, Psychology and Education
B.Sc. in Anatomy Career Prospects and Job Description: Aspirants can choose an incredible career path after completing a course in anatomy. For students, there are several job opportunities such as a trainee trainer for medical coders, demonstrator, medical scientists, and many more.
Job Types
Lecturer/Assistant Professor - Anatomy
Reader Anatomy
Medical Coder Team Leader/Trainer
Trainee Medical Coders
Medical Transcriptionist/Proofer
Configuration Analyst - Medical Coding
Demonstrator - Anatomy