Bachelor of Science B.Sc. Microbiology: Course details, Top Colleges, Job Prospects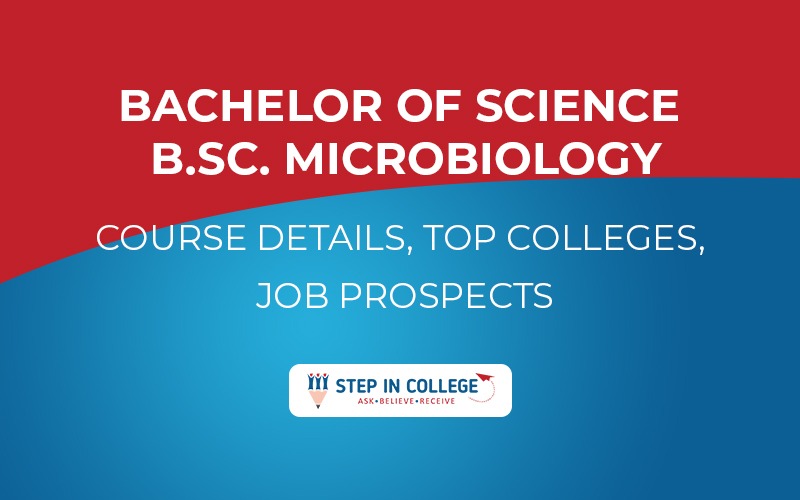 Published by : Step in college
BSc Microbiology is a full-time undergraduate 3 Years course. The Bachelor of Science in Microbiology involves the study of bacterial, viral, protozoal, and fungal biology.
Bachelor of Science B.Sc. Microbiology Course details, Eligibility, Syllabus, Entrance Exam, Top Colleges, Job Prospects | StepInCollege
The BSc course in Microbiology is designed to provide guidance on the properties of microorganisms and their effects on the human body. The program also includes diseases caused by various types of viruses and bacteria. Students who plan to pursue research careers related to the evolution and effects of microorganisms. The study of the pathogenic potential of disease-causing species in man is the main goal of this program. This curriculum also explores elements of Microorganism Biochemistry, Physiology, and Genetics. The curriculum is intended to prepare students in the field of Microbiology for a successful career.
B.Sc Microbiology Eligibility Criteria
The applicant must have passed a recognized board level 12th or equivalent.
As the main subjects in class 12th, the applicant must have studied Mathematics and Physics along with one of the optional subjects such as Chemistry/ Biology/ Biotechnology/ Computer Science.
In the qualifying test, the applicant must have acquired a minimum aggregate of 50 percent.
BSc Microbiology Entrance Exams
BSc Microbiology Syllabus
Semester I: Introduction to Biology, Chemistry, English, Introduction to microbiology, Information systems, Cultural education I, Microbiology lab.
Semester II: Physics, Microbial Ecology, Biochemistry, Creative writing, Mathematics, Cultural education II, Physical science lab, Biochemistry lab.
Semester III: Molecular biology, Mycology, Microbial physiology, Analytical biochemistry, Virology, General microbiology lab, Molecular biology lab.
Semester IV: Cell biology, Inheritance Biology, Immunology, Enzyme technology, Biostatistics, Food microbiology, Immunology lab, Food microbiology lab.
Semester V: Industrial microbiology, Medical bacteriology, Recombinant DNA technology, Environmental and agricultural microbiology, Research methodology, Medical bacteriology lab, Industrial microbiology lab.
Semester VI: Project, Pharmacology, Parasitology.
BSc Microbiology Job Prospects
With constant scientific innovations and advances taking place, microbiology is a developing field. For further study and analysis, there is a lot of scopes. Microbiology students pursuing a BSc are also eligible for overseas education and career opportunities. Based on examinations, government sectors often employ microbiology graduates for different roles. Microbiology projects are coordinated by various colleges and zoology laboratories, and BSc graduates are qualified to apply for these positions.
Bacteriologist
Virologist
Mycologist
Medical Microbiologist
Protozoologist
Food Microbiologist
Geneticist
Biotechnologist
Cell Biologist
Industrial Microbiologist
Biochemist
Immunologist
Environmental Microbiologist
Biomedical