Bachelor of Science (B.Sc.) Mathematics: Course details, Eligibility, Syllabus, Entrance Exam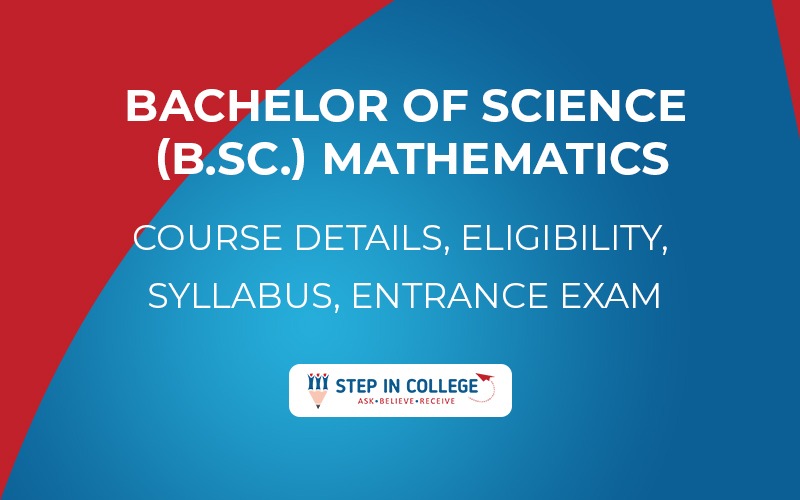 Published by : Step in college
Bachelor of Science (B.Sc.) in Information Technology Course details, Eligibility, Syllabus, Entrance Exam, Top Colleges, Job Prospects | StepInCollege
BSc IT (Bachelor of Science in Information Technology) is an undergraduate 3 Years course. IT demand and value are unavoidable and thousands of students are admitted in each academic cycle to the various IT courses. Information Technology is a technological sector providing numerous work openings at various levels. BSc in IT is a course that is basically about information gathering, storing, protecting, and handling. It typically takes about three to four years to complete a Bachelor of Science degree with a specialization in Information Technology.
The program's primary emphasis is on subjects such as databases, applications, networking, programming, creation, and testing of software, etc.
Some institutes also offer BSc in Computer Science through the distance education mode. The specifics of performing technology tasks related to the collection, storage, and communication of information between cell phones, computers, and other electronic devices are taught to students who register for the BSc Computer Science course. As a discipline, information technology emphasizes the safe management and accessibility of vast quantities of variable information across a wide range of local and worldwide systems. BSc in Information Technology as a course helps students to learn and understand the fundamentals of IT while also providing them with practical training on its application. BSc in IT is a program that includes both theoretical and practical learning and provides students with many career opportunities.
B.Sc Information Technology (IT) Eligibility Criteria
The candidate had to pass Class XII.
At least 50 percent must be the minimum percentage of Class XII.
In Class XII, the applicant must have studied Mathematics / Computer Science/ Statistics.
B.Sc Information Technology (IT) Entrance Exams
IISER
GSAT
NEST
UPCATET
GBPUAT
B.Sc Information Technology (IT)Syllabus
Semester I: Technical Communication Skill, Problem Solving Methodologies & Programming in C, Computer Fundamentals and Emerging Technology, Networking and Internet Environment, Practical-1(Based on CS-04 & PC Software), Practical-2(Based on CS-02).
Semester II: Data Structure Using C Language, Web Programming, Computer Organization and Architecture, Mathematical & Statistical Foundation of Computer Science, Practical-1, Practical-2.
Semester III: SAD, Software Quality Assurance & Testing, C++ and Object-oriented Programming, RDBMS Using Oracle, Content Management System Using Joomla, Practical (Based on CS-13 & CS-14), Practical (Based on CS-15 & CS-16).
Semester IV: Programming with Java, Programming with C#, Network Technology & Administration, Operating Systems Concepts with Unix/Linux, Practical (based on CS-19 & CS-22), Practical (Based on CS-20).
Semester V: CS-25. Programming with C#.NET, Advanced Java Programming, Software Testing and Project Management, Practical on CS-25, CS-26 & CS-27,
Project Development.
Semester VI: Programming with ASP.NET, MS SQL Server 2005 Database Administration, Network Management and Information Security, Practical Work,
Project Development.
B.Sc Information Technology (IT) Job Prospects
In almost all industries, the work positions that students with a BSc in Information Technology degree will apply for are enormous. They can do so by enrolling in the MSc program if BSc graduates in IT want to pursue higher studies and can even go for a Ph.D. later. After completing their undergraduate degree with a BSc in IT, students who wish to start working will easily find different job choices. For IT professionals who have proper knowledge of the subject, many sectors, particularly the technical sector, have requirements. Some of the most wanted job roles offered to students after a BSc in IT are described below.
IT Consultant
Network Engineer
IT Support Analyst
Web Designer
Technical Sales Representative
Software Developer
Systems Analyst
Applications Analyst
Quality Assurance Analyst
System Administrator
Strategic Information Planner
Hardware Specialist
Software Specialist
Network Expert
Information Architect
Information Security Coordinator
Computer Support Specialist