B.Sc. Forensic Sciences: Top Colleges, Eligibility, Syllabus, Entrance Exam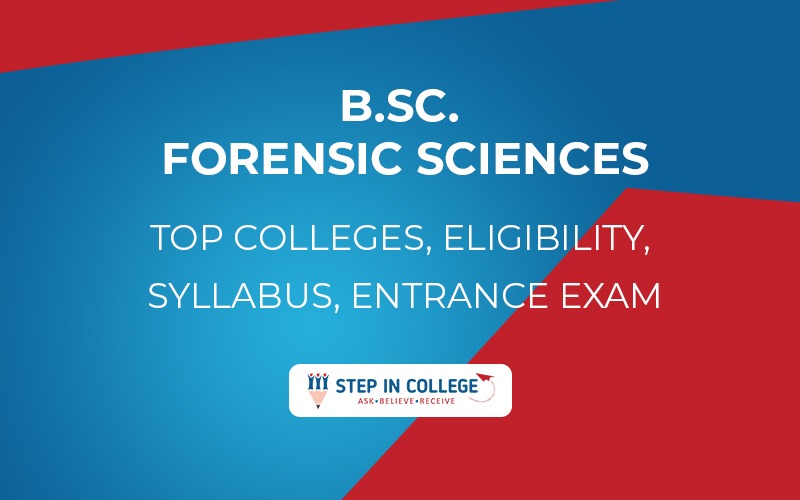 Published by : Step in college
BSc Forensic Sciences Course Details, Eligibility, Syllabus, Entrance Exam, Top Colleges, Job Prospects | StepInColleg
BSc Forensic Science is a graduate 3 years course. It is a field of study that involves the use of scientific knowledge for crimes. The students are taught to analyze the evidence found in crime scenes like the soil of the blood, the saliva of the body, the bones of the body, the fingerprints, and DNA profiling. Forensic research includes vital elements such as forensic pathology, neuroscience, psychology, forensic medicine, dentistry. It consists mainly of laboratory science which comprises related components of chemistry, biology, toxicology, ballistics, fingerprint sciences, questions, and impressions. The specialty includes investigations on the criminal scene, including scenes of fire and explosion and drug labs. The subject applies scientific knowledge to the administration of justice and has no limitations on topics. It uses all science faculty, including physics, chemistry, biology, and medicine.
BSc Forensic Science Eligibility Criteria
10+2 education from a recognized educational board
Physics, chemistry, maths, and biology are the core subjects at the 10+2 level of study.
A minimum aggregate score at the 10+2 stage of 55 percent
Some institutes have relaxation for the categories reserved.
BSc Forensic Science Entrance Exams
BSc Forensic Science Top Colleges
Manipal University, Manipal
Jamia Hamdard University, New Delhi
Mahatma Gandhi University, Kottayam
Osmania University, Hyderabad
Jss Academy of Higher Education & Research, Mysore
Amity University, Noida
K.L. University, Guntur
University of Mumbai, Mumbai
BSc Forensic Science Syllabus and Course Description
First Year: Introduction to Criminology, Psychological Factors, Crime and Socio-Cultural, Criminal Behaviour, Introduction to Forensic Science, English, Forensic Science Laboratory Expert, Testimony & Laws, Foreign Language 1 & 2, Crime Scene Investigation Importance, Behavioural Science 1, Physical Evidence in Forensic Science, Behavioural Science 2, Blood Pattern Analysis, Benzidine Test, Blood Analysis, Practical 1 & 2
Second Year: Fundamental Introduction to Biology, Analysis of Biological Fluids, Behavioural Science 3 & 4, Fundamental Introduction to Chemistry, Classification of Poisons and their Effect on Human Body, Foreign Language 3 & 4, Introduction to Toxicology, Communication Skills 1, Typewriting & Handwriting Analysis, Forensic Anthropology, Examination of Fraudulent Documents, Overwriting, Intended writing, etc., Photography
Third Year: Arson & Explosion Investigation, Compound Microscope, Microscopy-Simple Microscope, DNA Fingerprinting, Behavioural Science 5 & 6, Personal Identification, Ballistics - Classification of Firearms, Collection of Firearm-Related Evidences, Foreign Language 5 & 6, Wound and its Medico-Legal Aspects, X-RAY Diffraction Techniques
BSc Forensic Science Career Prospects and Job Description: Forensic science professions rely largely on one's field of expertise. Effective graduates will find jobs in public and private organizations, hospitals, and laboratories. Some businesses recruit graduates as paper experts. Anti-terrorism operations, mass disaster response, cybercrime investigations, human rights security, the environment, and intellectual property rights are all fields in which forensic science graduates get work. In the fields of civil services, banks, police and the pharmaceutical sector, paint industry, health science, biotechnology, and software professional professionals also find opportunities in their careers. The FSL is recruiting forensic scientists in India. These graduates are employed by the Central Investigation Office (CBI), the IB, and national police forces. Via a Union Public Service Commission test, CBI's Forensic Laboratory in Delhi hires such applicants. The following are some of the work profiles that can be accessed by forensic students:
Forensic Scientist
Private Investigator
Drug Analyst
Crime Laboratory Analyst
Forensic Serologist
Forensic Architect
Forensic Engineer
Forensic Toxicologist
Police Officer
Forensic Consultant