B.Sc. Zoology: Top Colleges, Eligibility criterias, Syllabus, Entrance Exam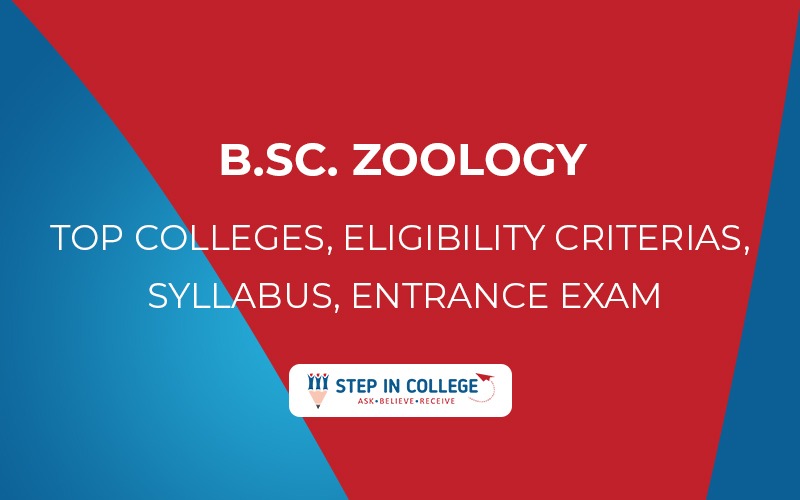 Published by : Step in college
BSc Zoology is a full-time professional undergraduate 3 years degree course. Zoology or Animal Biology is the biology industry that involves all animals that are alive and extinct and their relationship to their habitats. The curriculum for BSc Zoology covers the shape, function, and behavior of animals by studying specialized or experimentally traceable processes and explains general biological principles. With theoretical documents and practical lessons, it is well organized, providing students with practical experience and helping them easily understand scientific concepts.
BSc Zoology Course Details, Eligibility, Syllabus, Entrance Exam, Top Colleges, Job Prospects | StepInCollege
The subject areas are Animal Physiology, Molecular Biology, Biochemistry, Environmental Conservation, Biodiversity: Non-Chordata, Biodiversity: Chordata, Biology of Evolution, Biodiversity: Non-Chordata, Ecology, Immunology, Genetics & Genomics, Bioinformatics. This course gives students the possibility of experiencing the latest fields of biology such as animal biology, biodiversity studies, environmental conservation, ecosystem monitoring, and animal bioinformatics. The emphasis is also on the production of practical science knowledge for students. The course curriculum addresses BSc (Hons) Zoology students' current requirements. The contents were prepared to familiarize them with the expanding biological science horizons.
BSc Zoology Eligibility Criteria
10+2 education from a recognized educational board
Physics, chemistry, and biology are the core subjects at the 10+2 level of study.
A minimum aggregate score at the 10+2 stage of 50 percent
BSc Zoology Entrance Exams
BHU UET
MCAER CET
NEST
JEST
BSc Zoology Top Colleges
Miranda House, Delhi
Hansraj College, Delhi
St. Xaviers College, Ahmedabad
St. Xaviers College, Mumbai
Mount Carmel College, Banglore
BSc Zoology Syllabus and Job Description
First Year: Life and Diversity from Protozoa to Porifera and Cell Biology – 1, Life and Diversity from Molluaska to Hemichordata and Genetics – 1, Life and Diversity from Annelida to Arthropoda and Genetics – 1, Life and Diversity from Colentrata to Helminthes and Cell Biology – 2
Second Year: Life and Diversity of Chordates – 1, Mammalian Physiology – 1, Life and Diversity of Chordates – 2, Mammalian Physiology – 2
Third Year: Environmental Biology, Aquaculture and Pest Management – 1, Aquaculture and Pest Management – 2, and Developmental Biology
BSc Zoology Career Prospects and Job Description:
Graduates can find positions in the Indian Forest Service (IFS), animal biodiversity exploration, conservation of wildlife, environmental management, bioinformatics, and ecosystem monitoring, respectively.
In the fields of zoology, life-science, molecular biology, biotechnology, genetic science, toxicology, microbiology, biochemistry as well as the application of biological courses, such as environmental sciences, agronomics, forestry and wild animals, pharmaceutical sciences, etc., students may choose to graduate from the LLC.