B.A English: Top Colleges, Course Details, Eligibility, Syllabus, Entrance Exam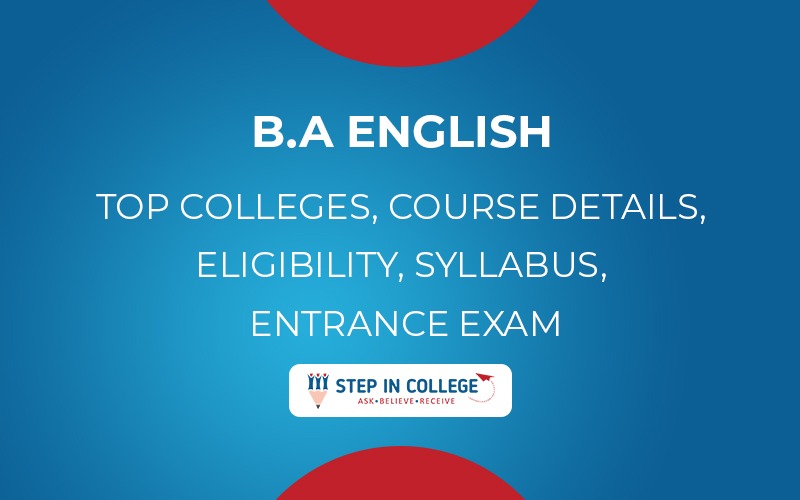 Published by : Step in college
B.A. English is a 3-year study course dedicated to the different nuances of written and spoken English. Careers in education, radio, and advertisement, writing and publishing are excellent training. BA in English focuses on linguistics studies and relevant literary fields, including Shakespearean plays, European Literature, and more. The curriculum provides comprehensive grammar and use knowledge of English, British literature, criticism, diversity, written and communication skills, etc. It helps to improve students' language skills in literary history, as well as in social, political, economic and intellectual backgrounds.
BA English Course Details, Eligibility, Syllabus, Entrance Exam, Top Colleges, Job Prospects | StepInCollege
The curriculum strives to present a broad selection of English literature. The goal of the Bachelor of Arts course is to give students the chance to react and read large-scale novels, to play and to create poetry with genres related to each other. The students will be introduced to broader sociocultural and political problems in relation to contemporary English at secondary level.
BA English Eligibility: The BA English eligibility requirements are given below:
The student must have passed a secondary exam (10+2) from a successful school to apply for this course. The secondary school is 10+2.
The school should be a member of a well-known Body, such as the ICSE, CBSE or any of its similar councils or boards.
The minimum aggregate is 5 percent relaxation for all SC/ST candidates.
BA English Entrance Exams: Every year, some institutions carry out their own admission tests during their admission process. The most important or famous BA English entry tests are as follows:
DUET: Delhi University Entrance Test
BHU UET: Banaras Hindu University's Entrance Examination
Jamia Millia Islamia University Entrance Exam
BA in English Syllabus
First Year: Indian Classical Literature, Indian Writing in English, European Classical Literature, British Poetry and Drama: 14th to 17th Centuries
Second Year: American Literature, Popular Literature, British Poetry and Drama: 17th and 18th Centuries, British Literature: 18th Century, British Romantic Literature, British Literature: 18th Century
Third Year: Women's Writing, British Literature: The Early 20th Century, Modern European Drama, Postcolonial Literatures
Ability Enhancement Course (Compulsory):
English/MIL Communication
Skill Enhancement Course (Any two):
English Language Teaching
Translation Studies
Creative Writing
Technical Writing
Business Communication
Soft Skills
Generic Elective (Any Four):
Media and Communication Skills
Language and Linguistics
Contemporary India: Women and Empowerment
Academic Writing and Composition
Readings on Indian Diversities and Literary Movements
Text and Performance
Language, Literature and Culture
Discipline Centric Elective:
Modern Indian Writing in Englis Translation
British Literature: Post World War II
World Literature
Literary Theory
Travel Writing
Autobiography
Research Methodology
Nineteenth-Century European Realism
The literature of the Indian Diaspora
Partition Literature
Science Fiction and Detective Literature
BA English Top Colleges
St. Stephen's College, New Delhi
Jadavpur University, Kolkata
Lady Shri Ram College for Women, New Delhi
Hindu College, New Delhi
Miranda House, New Delhi
Banaras Hindu University, Varanasi
Calcutta University, Kolkata
Savitribai Phule Pune University, Pune
Aligarh Muslim University, Aligarh
BA in English Career Options and Job Prospects: BA does not only open the knowledge base in English but also opens the doors in different areas such as teaching, media, publishing, advertisement, etc. He/she will certainly go to either the government or the private sector. Even further studies such as MA and Doctorate in the field are available to applicants. They can, however, also take technical courses such as Journalism and Mass Media, Film Editing, etc. Graduates of BA English find work in both the private and the public sectors in media houses, publishing houses, MNCs, and other industries.
A few of the career profiles to choose from are the following:
Social Media Marketer
Blogger
Writer
Teacher
Event Manager
Public Relations Officer
Translator