B.A Fine Arts: Top Colleges, Job Prospects, Course Details, Eligibility, Syllabus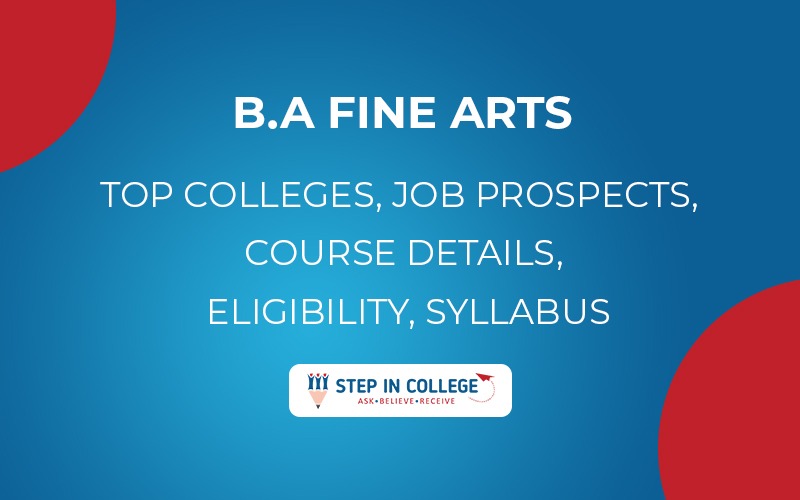 Published by : Step in college
Bachelor of Arts Fine Arts is an undergraduate 3 years course. Art types created specifically for aesthetics or conception rather than functional use are fine art or fine arts. As employed in the term art gallery,' art is also a synonym for fine art. This Fine Arts course helps students to learn the entire concept of production pipe-lining in 2D and 3D animation with the integration of conventional drawing and painting concepts in detail.
BA Fine Arts Course Details, Eligibility, Syllabus, Entrance Exam, Top Colleges, Job Prospects | StepInCollege
Instead of utilitarian importance, fine arts are studied primarily for their artistic value and their elegance. India is renowned for its comprehensive cultural mix and the course of fine arts enables students to practice any form of art to the fullest degree of freedom.
BA Fine Arts Eligibility Criteria
The candidate should pass their 10+2 from a recognized board in either stream,
A minimum mark of 50 percent
The applicant must have learned English or Hindi at the level of high school as part of the core subjects.
BA Fine Arts Entrance Exams
DUET
BHU UET
JMI Entrance Exam
AMU Entrance Exam
BA Fine Arts Top Colleges
Manipal Academy of Higher Education, Manipal
Savitribai Phule University, Pune
Aligarh Muslim University, Aligarh
Jamia Millia Islamia, New Delhi
Delhi University, New Delhi
Lovely Professional University, Jalandhar, Chandigarh
BA Fine Arts Syllabus and Course Description
YEAR I: History & Appreciation of Art, Aesthetics, Illustrations, Methods & Materials 1, Composition Painting, Press Advertisement, Portrait Painting, Poster Design
YEAR II: Specialization Courses, Aesthetics 1, Composition 1, Environmental Education, Graphics Printmaking, Methods & Materials, Ceramics & Molds, Magazine Advertisement
YEAR III: Specialization Courses, History & Appreciation, Indian Aesthetic, Portrait Painting, Methods & Materials 2, Composition Painting 3, Printmaking, Aesthetics 2, Life Study
BA Fine Arts Career and Job Description
Most students choose to go to higher education or look for work opportunities after completing the course. Most of the jobs are in the creative and entertainment industry. Any of the places where graduates can find jobs are media houses, marketing agencies, films, the music industry, art galleries, magazines, schools, colleges, etc. Depending on the discipline chosen, there are plenty of BA Fine Arts jobs available. You can work as an artist, graphic designer, director of art, singer, actress, visual artist, writer of screenplays, animator, cartoonist, etc.