Bachelor of Arts in Journalism and Mass Communication: Course Details, Eligibility, Syllabus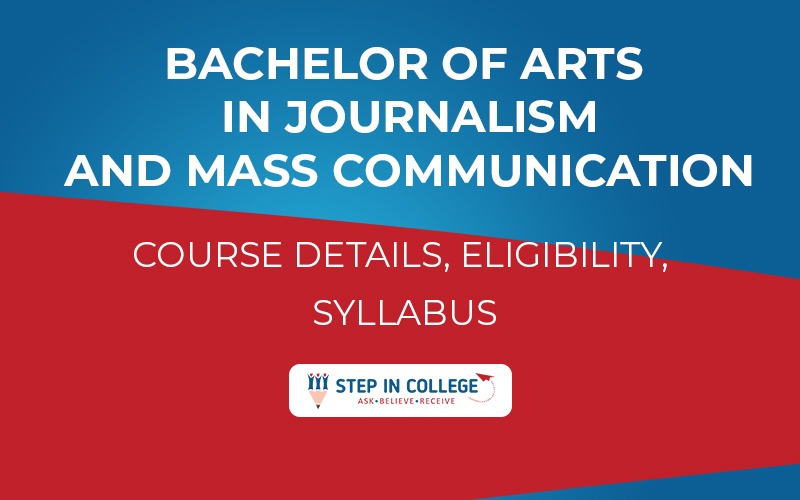 Published by : Step in college
Bachelor of Arts in Journalism and Mass Communication Course Details, Eligibility, Syllabus, Entrance Exam, Top Colleges, Job Prospects | StepInCollege
Bachelor of Arts in journalism and mass communication (Bachelor of Arts in Journalism and Mass Communication) is a 3-year program to enrich and communicate to the public knowledge about business, history, culture, budgets, government, entertainment and sports through mass communication methods like television, radio and web. The course offers integral knowledge at both the theoretical and practical levels as the profession of journalism is focused on reality, autonomy and accountability.
BA Journalism and Mass Communication Eligibility: Following is the eligibility for BA Journalism and Mass Communication, followed by universities:
Candidates who complete 10+2 schooling or equivalent, are eligible to participate in any program with an overall mark of 50%.
Institutions requiring an admission exam may consider both the admission examination scoring and previous academic records. Each institution shall determine the cut-off mark for the exam.
Classification of 5 percent marks should be granted to candidates of the SC/ST/OBC (non-creaming layers), otherwise qualified and other groups.
The nominee can also receive letters of recommendation.
BA Journalism and Mass Communication Entrance Exams: The central government, which is widely recognized, carries out several entrance tests, by several states of India and by some universities.
IPU CET
SPPU Entrance Exam
MH CET
JET
BA Journalism and Mass Communication Syllabus
Semester I: Fundamentals of Communication Skills, English Literature I, Fundamentals of Computers, Reporting-Theory, Reporting-Practical, Fundamentals of Journalism
Semester II: Writing for Media-Theory, Writing for Media-Practical, English Literature II, Introduction to Indian Constitution, Editing-Theory, Editing-Practical, History of Media
Semester III: Radio Broadcasting-Theory, Radio Broadcasting-Practical, Photojournalism-Theory, Photojournalism-Practical, TV Broadcasting-Theory, TV Broadcasting-Practical, Introduction to Cinema
Semester IV: Advertising-Theory, Advertising-Practical, Magazine Journalism-Theory, Magazine Journalism-Practical, Public Relations-Theory, Public Relations-Practical, Internet & New Media-Theory, Internet & New Media-Practical
Semester V: Environment & Media, Media Criticism, Media, Society & Development, Basic Media Research
Semester VI: Information Society, Media Law & Ethics, Organizational Behavior & Media Organization, Project
BA Journalism and Mass Communication Top Colleges
Savitribai Phule Pune University, Pune
Amity University Noida, Uttar Pradesh
University of Kashmir, Srinagar
Banasthali Vidyapith, Rajasthan
Guru Nanak Dev University, Amritsar
Lovely Professional University, Punjab
BA Journalism and Mass Communication Career Scope: After BA Journalism and Mass communication, students will go to higher education. Any of the following options are listed:
A degree in Journalism and Mass Communication or any of its specializations can allow graduates to gain more knowledge in journalism and of mass communication, then go into the field of M.Phil and Ph.D. in Journalism and Mass Communication. Through research in a related aspect, graduates may join the academic profession and/or contribute to the broad spectrum of journalism expertise and mass communication.
Among the top recruitment firms are:
Star India
NDTV Network
The Pioneer
Times of India Publication
India Today Group
India TV
Indian Express
Balaji Telefilms LTD.
ABC News
Sahara One Media and Entertainment LTD.
Big Entertainment
HT Media
BBC