Bachelor of Arts (B.A) in Political Science: Top Colleges, Course details, Entrance Exam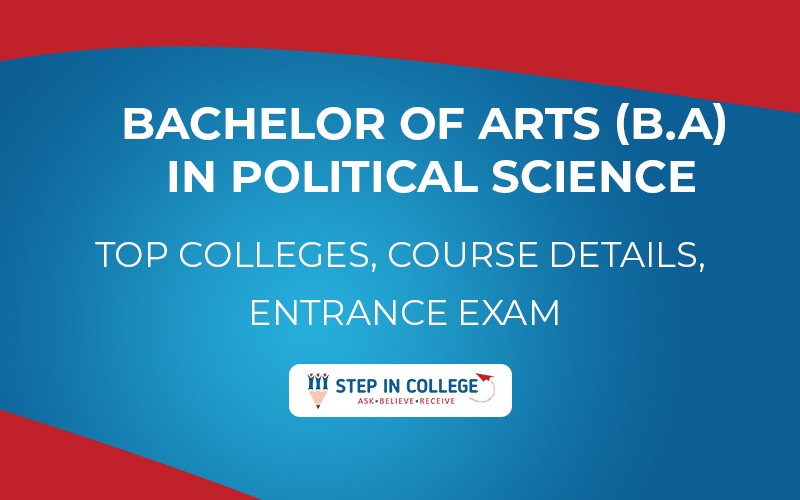 Published by : Step in college
BA Political Science or Bachelor of Arts in Political Science is an undergraduate program. The duration of this course is 3 years. BA Political Science focuses on the different ideas connected to politics. The entire course covers different governance structures, economics, sociology, international relations, global affairs, psychology, etc.
Bachelor of Arts (BA) in Political Science Course details, Eligibility, Syllabus, Entrance Exam, Top Colleges, Job Prospects | StepInCollege
The course provides an understanding of how a democracy works and teaches how political structures are viewed and evaluated. For students who are interested in politics and learning about the administrative aspects of the world, this course is perfect. The course as a whole revolves around government studies. It allows students to discover the vital elements of society's decision-making and the social, economic, and other structures and activities that affect the decision-making process. Not only are modern political methods involved, but the course also covers the history of political progress and numerous political movements around the world. The students learn more about India's and other countries' political activities around the world. The course is popular and is offered by top universities such as the University of Madras, the University of Punjab, the University of Delhi, and the University of Bombay.
BA Political Science Eligibility Criteria
The candidates from a recognized board should have passed Class XII.
In their class XII final test, the applicant should have received at least 50 percentage points.
Typically, the course is for learners who have completed arts class XII, but students of science and commerce are also eligible.
BA Political Science Entrance Exams
BA Political Science Top College
Lady Shri Ram College for Women, Delhi
St. Stephens College, Delhi
Christ University, Bangalore
Loyola College, Chennai
St. Joseph's College, Bangalore
Fergusson College, Pune
Stella Maris College, Chennai
St. Xavier's College, Ahmedabad
St. Francis College for Women, Hyderabad
Mount Carmel College, Bangalore
Ethiraj College for Women, Chennai
Kristu Jayanti College, Bangalore
BA Political Science Syllabus
Semester 1: Understanding Political Theory, Constitutional Government and Democracy.
Semester 2: Political Theory - Concepts and Debate, Political Process in India.
Semester 3: Introduction to Comparative Government and Politics, Perspectives on Public Administration, Perspectives on International Relations and World History.
Semester 4: Political Process and Institutions in Comparative Perspective, Public Policy and Administration in India, Global Politics.
Semester 5: Classical Political Philosophy, Modern India Political Thought.
Semester 6: Modern Political Philosophy, Indian Political Thoughts.
BA Political Science Job Prospects
A Political Science graduate may choose one of the following career paths-
State Legislator
Political Commentator
Policy Analyst
Legislative Coordinator
Legislative Analyst
Corporate Advisor
Public Opinion Analyst
International Research Specialist
Campaign Organiser